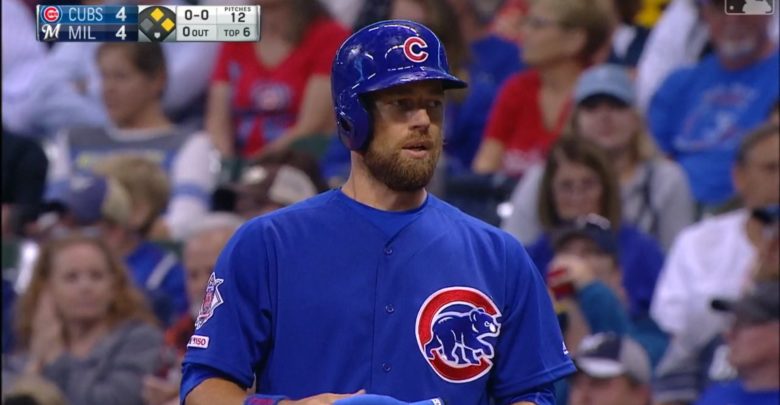 Ben Zobrist First Cubs Leadoff Hitter to Reach 5 Times Since…Ben Zobrist
It's as easy to wax hyperbolic about the results from two games as it is hard to take those things seriously, but I think we can all agree that Ben Zobrist is the perfect answer for the Cubs at leadoff right now. Maybe his impact will fade over time as we've seen with others who've tried to hold that spot down, but reaching base seven times and scoring five runs from the top spot in the order has really spurred the offense.
"That's the kind of thing that you feel good about, just setting the table for those guys coming up behind me," Zobrist told reporters after the game. "It's just nice to know that the pressure's not on. I just focus on finding a way to get on base."
That no-nonsense approach, or lack thereof, may be what has plagued the Cubs as they've sought a consistent leadoff hitter these past three seasons. Unlike others who've tried to fill the role, Zobrist isn't changing his approach or applying unnecessary expectations to himself. And while the extent to which those things have impacted various other hitters isn't known, it figures that the mental game is a factor.
Even if Zobrist does slow down, the example he sets for the rest of his teammates is going to be valuable over the remainder of the season. Like Nicholas Castellanos, who's driven Zobrist in twice, the injection of a little more urgency and just putting together professional at-bats can only help. Of course, reaching base five times like he did Thursday night helps even more.
Per Christopher Kamka of NBC Sports Chicago, that was the first time a Cubs leadoff hitter had reached that often since Zobrist did it almost two years ago. That's kind of wild, right? I mean, getting on base five times in a game isn't exactly commonplace, but you'd think someone would have managed to do it in the meantime.
Ben Zobrist is the first #Cubs leadoff hitter to reach 5 times in a game since Zobrist did it September 13, 2017 (2 hits, 3 walks)

— Christopher Kamka (@ckamka) September 6, 2019
Adding to the unlikely nature of the performance is the age at which it occurred. Also per Kamka, Zobrist is the oldest Cubs player to reach five times in a game since the immortal Trenidad Hubbard, who did so by recording four hits and drawing a walk on July 20, 2003.
Ben Zobrist with 3 hits & 2 walks, at age 38 years, 102 days is the oldest #Cubs player to reach 5 times in a game (via hit, walk or HBP) since Trenidad Hubbard (39 years, 70 days) with 4 hits and a walk on July 20, 2003

— Christopher Kamka (@ckamka) September 6, 2019
Those were the only hits Hubbard collected in 21 plate appearances that season and they were also the last of his 10-year career. That's both really awesome and a little sad, but it's pretty cool to have such an interesting bit of trivia unearthed.
It was the only four hits Hubbard had in 2003… and the last four hits of his MLB career.

— Christopher Kamka (@ckamka) September 6, 2019
There still enough time left for things to change, but for now the Cubs are rolling along with a "You Zo, we Zo" mentality.