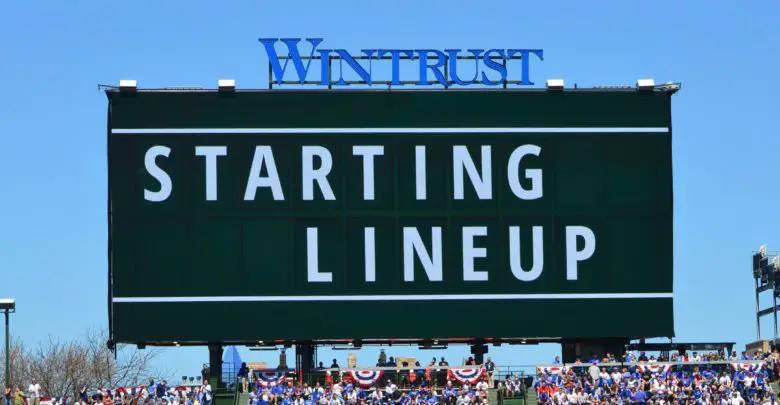 Chicago Cubs Lineup (9/3/19): Zobrist Leads Off at 2B, Contreras Catching, Happ at 3B, Lester Tries to Dethrone King Félix
Update: Kris Bryant has been scratched due to right knee soreness. Kyle Schwarber is now batting second and Ian Happ will bat sixth as he takes over for KB at third base.
Bryant has been inconsistent since tweaking that knee in San Francisco, so we'll see how the Cubs manage this moving forward.
---
Ben Zobrist is back! The 38-year-old will be batting leadoff and playing second base as he takes the field for the first time in nearly four months. He'll be followed by Nicholas Castellanos in right and Anthony Rizzo at first, with Kris Bryant sliding back to the cleanup spot.
Then it's Kyle Schwarber in left and Willson Contreras making his return to the lineup after exactly one month on the shelf. Jason Heyward has mercifully been moved down to seventh in center, and Addison Russell bats eighth at short.
They said you'd best not miss if you come at the king, and that hasn't really been an issue for teams facing Félix Hernández this season. The venerable 33-year-old missed nearly three and a half months with a shoulder strain, but he was being knocked around before and has been since. With 12 homers allowed in just 49.1 innings and a fastball that no longer averages even 90 mph, King Félix isn't sitting comfortably on the throne.
Or is it thrown? Either way, it's not been great. The curveball has become his go-to pitch now that the four-seam and sinker don't have their old velocity, though the sinker still accounts for around 30% of his repertoire. From there, it's a change, fastball, and slider. While his breaking pitches are still capable of generating whiffs and grounders, the decreased margin for error means mistakes are punished thoroughly.
That's why Hernández has to be aggressive early in the count, throwing what would be an MLB-high 71.9% first strikes if he'd pitched enough to qualify. He's working in the zone a little less than in the past, though not to a great enough degree to raise eyebrows, so patience a prerequisite when facing him.
Never someone who produced pronounced splits, Hernández isn't particularly susceptible to his opponents' handedness. Lefties have fared much better against him when he's pitching as a visitor this season, though we're only talking about 39 batters. Still, it's something to consider since T-Mobile Park in Seattle ranks 18th in park factor for home runs and runs scored.
Before you go thinking that sets up for Cubs lefty batter to bomb on the guy, consider that Wrigley Field ranks 27th and 24th in those respective categories. Or you could flash back to his start against the Cubs on April 30 in which he allowed four earned on homers by Anthony Rizzo and Daniel Descalso. Wait, what?
Yep, ol' Double D jumped on the second pitch of the game for his second and last homer of the season. Those homers from Descalso and Rizzo are the only two Hernández has allowed to lefties at home, so go ahead and tuck that little bit of trivia away for a rainy day. The Seattle legend also struck out eight with one walk, pretty typical performance for a junkballer against the Cubs these days.
Look for more of the same from him in this one and prepare to be frustrated for at least 3-4 innings as the Cubs bumble around with his stuff. They should be able to figure him out eventually, though, so don't be surprised by a big crooked number as they jump on his misses.
Jon Lester will take the mound for the home team boasting a relatively similar approach to his opponent. While Lester throws a tad harder and nibbles around the zone a bit more, it's still a matter of relying more on guile than pure stuff at this point. The old lefty needs to get outs via contact these days, which is fine as long as he's keeping the ball out of the heart of the zone and getting swings on the right pitches.
This one may come down to which aging pitcher makes the fewest mistakes, or, more likely, on which team takes the greatest advantage of said mistakes. First pitch is set for 7:05pm CT on NBC Sports Chicago and 670 The Score.
Kris Bryant was scratched due to right knee soreness.

New #Cubs lineup: pic.twitter.com/9pbDcnxsiq

— Chicago Cubs (@Cubs) September 3, 2019