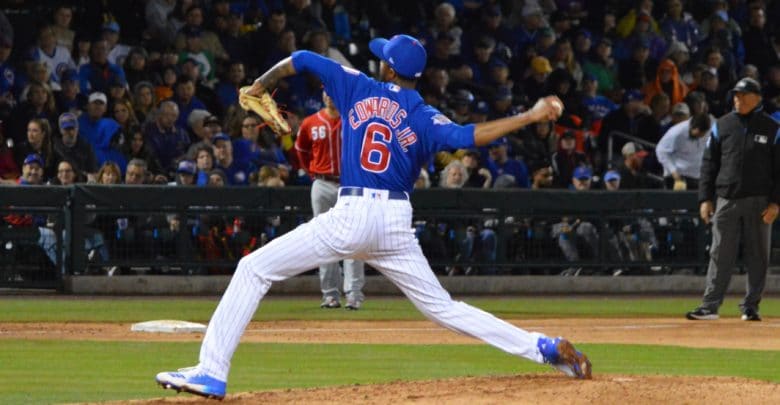 Cubs Trade Carl Edwards Jr. to Padres for LHP Brad Wieck
Well, this is interesting. More to come as details emerge, but Jesse Rogers is reporting that the Cubs have traded recently optioned righty reliever Carl Edwards Jr. to the Padres.
Cubs also traded Carl Edwards Jr. to the Padres, per source

— Jesse Rogers (@JesseRogersESPN) July 31, 2019
It was pretty clear something was preventing Edwards from taking full advantage of his considerable physical talents, so a change of scenery made all the sense in the world. Here's to hoping he can find a groove in San Diego.
According the Tribune's Mark Gonzales, the Cubs will receive 27-year-old lefty Brad Wieck in return. The 6-foot-9 reliever has posted a 6.57 ERA with 31 strikeouts and nine walks across 24.2 innings. His 6.11 ERA in Triple-A this season isn't much better, but his 34 strikeouts and six walks in just 17.2 innings sure do look nice.
Cubs get LHP Brad Wieck for Carl Edwards Jr. , according to source

— Mark Gonzales (@MDGonzales) July 31, 2019
Wieck is primarily a fastball/slider pitcher, using his mid-90's heater to set up the breaking ball. But that slide-piece is going to need some work because it's been a cement mixer. He has allowed 12 homers in just over 42 innings this season, mainly because the his main secondary has been really bad. Some of that may be a result of both the mental and physical strain of the testicular cancer surgery he underwent in January.
Maybe the change of scenery will benefit him as well.