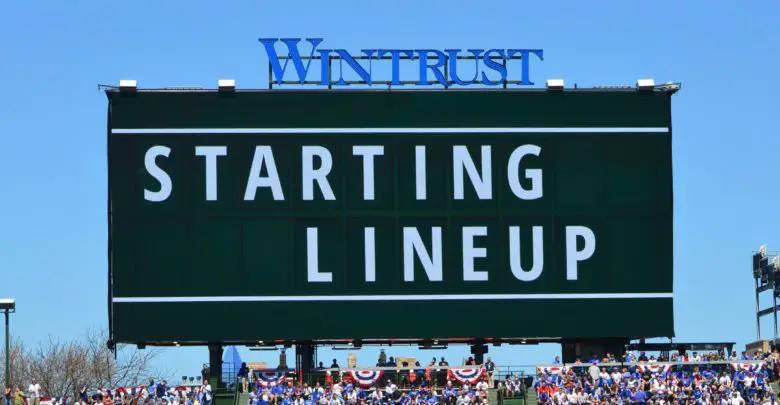 Chicago Cubs Lineup (7/13/19): Schwarber Leads Off, Contreras Catching, Lester Battles Lyles
Kyle Schwarber will try to keep his OBP in the leadoff spot from dipping below .300 (it's at .301 after yesterday's 0-for-4 showing) as he again occupies the top spot in the lineup. Javy Báez bats second at short, Kris Bryant bats and plays third, Anthony Rizzo cleans up, and Willson Contreras bats fifth.
Jason Heyward is in right, Addison Russell plays second, and Albert Almora Jr. patrols center. Given my druthers, I'd like to see Heyward up in the top spot against righties and Schwarber batting sixth, but c'est la vie.
They're no doubt licking their chops at the prospect of facing Jordan Lyles again after that July 4 fireworks display in which the Cubs pounded three homers and hung a seven-spot on him over four innings. The seven strikeouts to one walk tells you Lyles was at least throwing strikes, but his recent performance tells us he is going to toss a few fat pitches this afternoon.
He's allowed 26 runs, all earned, over his last 28.2 innings (8.16 ERA) and that prior start against the Cubs was the only one of his last six in which he's struck out more than six batters. Mainly a fastball/curveball guy, Lyles can sink the heater while mixing in a slider and change for good measure. Because his breaking pitches have been so ineffective, Lyles is really limited in what he's able to throw and will use the fastball as his put-away pitch.
Interestingly enough, Lyles got only one K against the Cubs on a secondary pitch, and that came when Jose Quintana looked at a curve. His other six punchouts were all from hitters swinging through his four-seam. Báez and David Bote, both of whom can jump on a fastball with the best of them, each whiffed twice. You'll take those misses when there are so many other hits, but it's hard to imagine the Cubs being beaten by the heater as often in this one.
Trying to make those inevitable runs stand up is Jon Lester, who's put together a solid run over his last four starts. Even as the lefty continues to show signs of age, he has likewise proven himself capable of shut-down performances. If the bats do what they're capable of, all the Cubs need Lester to do is keep the ball down and settle into a groove early.
That hasn't been a problem for him when facing the Pirates, though reliever Steven Brault has collected three hits in as many at-bats against Lester. Limiting Josh Bell will be a key as well, since the switch-hitting slugger makes this Pirates team go and always seems to love hitting against the Cubs.
First pitch from Wrigley is set for 1:20pm CT and can be consumed via WGN and 670 The Score.
Here is today's #Cubs starting lineup against the Pirates.

Game preview: https://t.co/Qe4AQmQknn pic.twitter.com/ZotzGOT3Vp

— Chicago Cubs (@Cubs) July 13, 2019