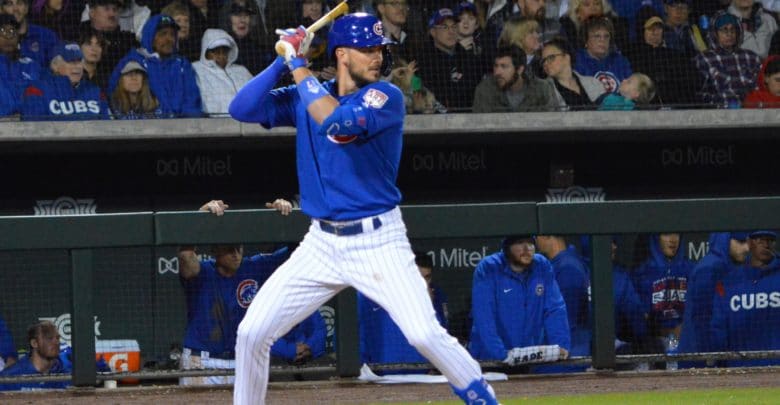 Kris Bryant, Adbert Alzolay, Ben Zobrist Primed for Big Second-Half Impact
The Cubs haven't exactly been consistent through the first half of the season, a reality to which everyone in the organization will cop. Not that they're going to be running around screaming about trading everyone off like you're starting to see in the more paranoid corners of fandom, but Theo Epstein was adamant that changes would be coming if the quality of play didn't improve.
The Cubs' baseball boss sounded as dejected as anyone's ever heard him publicly during a recent conversation with 670 The Score's McNeil & Parkins, and that was before the gut-wrenching walk-off loss in Pittsburgh. Not only did Epstein sound down, he sounded bad, as though he was wearing the gorilla suit from his Boston days and calling in from a secure location 50 feet underground.
But if things go according to plan in the second half, Epstein can snap the burner in two and set fire to the monkey suit. Even though the idea that the Cubs can just turn it on down the stretch is played out by now, there's plenty of reason to believe some adjustments and a timely addition from within can make a big difference.
That starts with Kris Bryant, who is quietly putting up one of the better seasons in baseball to this point. His 3.6 fWAR is tied for seventh in MLB and puts him on pace for around 6-7 fWAR, though that includes a very slow start. The power numbers haven't shown up yet, but Bryant's .255 ISO is right in line with his MVP season (.262) and there's reason to believe he's ready to break out.
Bryant's launch angle has decreased steadily over the last couple weeks, something that could be cause for alarm if not viewed in the proper context. As one of the standard-bearers for the launch-angle trend in baseball, Bryant is among those hitters being attacked by more high fastballs than ever. His length allows him to cover the entire plate and then some, but it also means he can have trouble barreling up high heat.
What we're seeing of late is a very conscious effort to "flatten" his swing in order avoid getting under those pitches. A move to the third spot in the order might help with that as well, putting Bryant in more run-producing situations and letting him put up bigger numbers. Some are all too eager to promote the notion that he can't hit in with runners in scoring position, but his career 123 wRC+ and 110 mark this season say otherwise.
Part of the issue is that rough opening month, during which KB hit .158 with a 53 wRC+ through the end of April (23 PA's) when batting with runners in scoring position. In the 44 plate appearances since, he's hitting .278 with a 142 wRC+ in those situations. Huh, it's almost like he's too good for that poor production to last.
He's also maybe a little too good, or too nice. Bryant had admitted to pressing at times and getting into a groove at the plate should allow him to simply let things flow.
"I just care so much," Bryant told Steve Greenberg of the Sun-Times. "Every big situation, I want to come through. Every big play, I want to make it. And then when I don't, I feel like it's the end of the world. I feel like I let everybody down."
A lot of that was carryover from a disappointing 2018 campaign that was trending toward being his best yet before a mid-May shoulder injury derailed things. Unable to help his team through a bulk of the season, Bryant put a lot of pressure on himself to come back stronger. And while he has come all the way back physically, he hasn't been completely able to drop all the mental baggage.
That's where the All-Star break comes in, oddly enough. Even though he's participating in the game, Bryant may actually be able to use these next few days as a way to hit the reset button and build back that supreme confidence.
"I actually think I'll be able to enjoy it more," Bryant said. "The first couple All-Star Games were kind of, like, such a whirlwind with coming up and starting to win again. I think we got to seven All-Stars in 2016 and it was just all about the Cubs. Now it's almost like we're — not an afterthought — but people know our team and what we're about now. I think I'll find a way to just relax and take it all in."
Another player who got to take it all in was Adbert Alzolay, whose ballyhooed debut and first start were dampened somewhat by a clunker in Pittsburgh. He was optioned back to Iowa after that, a function of Kyle Hendricks' return to the rotation more than of individual performance. But with Cole Hamels on the IL and the Cubs looking to keep their rotation healthy, the rookie will be in play.
Even if everything goes well, Alzolay's electric fastball and biting curve — with a changeup that he has thrown well at the MLB level — could make him a force in the bullpen.
"They said they have some plans for me in the second half," Alzolay told Tommy Birch of the Des Moines Register. "I'm prepared for [a possible bullpen role] because, to be honest, our rotation in the big leagues is good," Alzolay said. "If you go name by name, I could say we have the best rotation."
That role could become more clear as July wears on and the Cubs make good on frequent promises to ensure they're competitive down the stretch. Should the bullpen be reshaped, Alzolay may slot in as a long man/swing starter in the mold of Tyler Chatwood or Mike Montgomery.
When it comes to gaining additional clarity, there's still one big situation that remains unresolved. That would be Ben Zobrist, whose return has gone from unlikely to possible and now to expected. Epstein said prior to Saturday's win that the Cubs actually have an idea of when their long-absent veteran leader might come back, but he neglected to share any details.
"We expect him back later this year," Epstein said. "We have sort of a soft understanding of when that might be, but I don't want to put a timetable on it or overly rely on it, either. I think we're all looking forward to having him back if that's able to happen."
Of course, getting Zobrist back would further cloud an infield situation that has been anything but clear to this point. Robel Garcia is the latest to try his hand at second base, with David Bote and Addison Russell splitting most of the time there otherwise. Daniel Descalso has already faded into the background, so it's hard to see him getting any time if Zobrist does return, though there's still a little room in the outfield as well.
You have to think the Cubs are hoping to get Zobrist back not long after the break, since their trade deadline plans most certainly include adding a bat. Whether and how well Zobrist is able to reacclimate could make a difference in whether they need a lefty bat or a corner outfielder or what have you. It might also tell them which of their other players are expendable in deals.
There are clearly several other players whose performance will factor heavily in the Cubs' success in the second half, but these three offer impact in three very different ways. Who would you add to the list, or do you think it's more realistic to look for improvement from outside the organization?