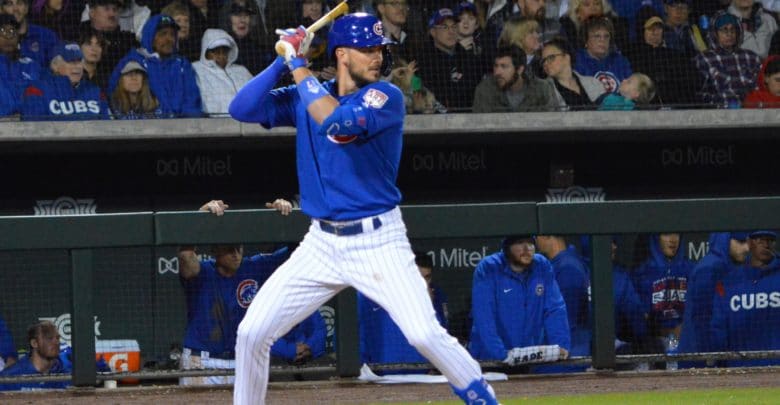 Kris Bryant's 'Most Special' All-Star Selection Could Spur Second-Half Surge
If you went simply by social media impressions, Kris Bryant is a mediocre player who should probably be traded so the Cubs can retool. And though such sentiments generally bubble up from the depths, it's true that Bryant has not had the kind of loud first half that really makes you sit up and notice if you're not already paying attention.
Though he's striking out less than ever while putting up overall offensive numbers that are very much in line with his MVP campaign, the slow start and a mere 41 RBI weigh heavily with casual observers. Never mind that his 3.3 fWAR is already one full win above last season's total, and in 105 fewer plate appearances. Or that he's done it with a BABIP that is just now creeping to within 20 points of his career average.
Like the team around him, something just feels a little, I don't know…off about KB this season. Do some man-on-the-street straw polls and the answer you'll get is probably, "Hitting with RISP" or "Clutch hitting," which makes a lot of sense. As Jesse Rogers noted, Bryant is hitting .406 with a man on first, but just .063 with one on second.
"Of course we'd like to control when we get our hits, when we get our home runs," Bryant said. "But I know we can't do that. As frustrating as that is, we need to stick with it. It's about having good at-bats and passing the torch to the next guy. When we do that, we're at our best."
Throw out any numbers and all manner of subjective observations and you can still see the absolute truth in what Bryant is saying there. When the Cubs are really rolling, it's because no one on the team is trying to play the role of hero. They're all just going up and doing what they can in that plate appearance at that moment.
You can't hit a six-run homer, so just settle in and get things done. Maybe their 14-15 June shakes them out of that funk as a team or maybe Bryant himself gets going in a big way. After all, there's no way the disparate batting numbers between having men on first or second can hold up for long.
Part of that could come from Bryant's All-Star selection, which may be the kind of thing that allows him to kind of reassess his season and boost his self-confidence just a bit. After all, it's not just fans that want to see the former MVP hitting bombs into the bleachers more regularly. But Bryant impacts the game in so many other ways that it's easy to miss his contributions at time. Even for him.
"It's just nice when you don't make it for a couple years, then you make it, it's like, 'Yeah, I'm still the same player,'" Bryant admitted to the media in Cincy after his participation to the Midsummer Classic was announced.
Making the All-Star roster is more tangible than wRC+ or ISO and it's more indicative of a player's cachet than his RBI total. Even as a pretty enlightened player, the drop in that latter measure is something Bryant has had to come to terms with as the Cubs' No. 2 hitter. Because even though some believe he's hitting like, well, No. 2 due to the the dearth of runs batted in, that's just a function of the order.
"A couple years ago, I started to put too much pressure on myself because 'Look, there's a dude out there finally,'" Bryant explained. "Then it kind of speeds up a little bit. Sometimes as a unit, I think, we do that. You finally see a guy on third with less than two outs, and you're like, 'I have to get him home, I have to,' and you're pressing, and it doesn't work out. And you're walking back to the dugout, shaking your head."
It's all about taking time to breathe, relax, and focus on what you're going to do with what you see in the moment. For Bryant, that means catching up to the high heat pitchers have been throwing with greater frequency as a foil to the launch-angle trend. Not that high fastballs are actually any harder to hit than before, but throwing low in the zone has fallen out of favor as sluggers mash those mistakes.
For a lanky hitter like Bryant, getting around on the high fastball isn't easy. Continuing to look opposite-field may help with that, as will dialing back the pull-heavy approach. Despite going to right more often than ever before, Bryant is also using the pull field at a slightly higher rate than in even his MVP season. Rather than trying to turn and yank the high stuff, riding it to center and right could boost those lacking RISP numbers.
Even if he just maintains exactly the same approach and gets the same results through the remainder of the season, Bryant could end up awfully close to his numbers from that 2016 MVP campaign. Though the homers and RBI totals most will point to might lag behind, the overall performance will be very similar. And that seems like something everyone involved will be pretty happy about.
It's entirely possible that Bryant's "quiet" season continues, but maybe this latest honor helps him to turn the volume up a little bit. Or a lot. While you never really know what's going to motivate a player, this seems like one of those things that will really help Bryant get rolling. I guess we'll find out soon enough.