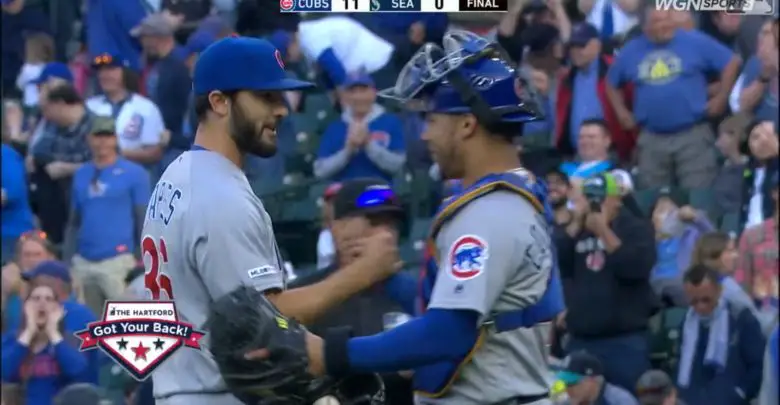 Dillon Maples Has Become Untouchable at Iowa Over Last Three Weeks
I'm going to assume you're all familiar enough with Dillon Maples that I can dispense with any detailed descriptions of his high-90's heat or the cutter/slider for which there exist no adequate superlatives. And I suppose I can also avoid talking about the control issues that have prevented him from being the bullpen mainstay his superior stuff otherwise says he should be.
When the righty was optioned back to Triple-A in early June, Joe Maddon said the next time he came up would be for good. The Cubs may not be able to stick to that, what with the subjective application of "production over talent," but Maples sure is looking good over the last few weeks.
It didn't start out that way, since he gave up four runs despite allowing just one hit (a single) in his first action after being sent down. Maples walked three with only one strikeout and appeared to still be reeling from his last two outings with the Cubs.
After coming on in relief of Mike Montgomery with one on and one out in the 9th inning of a 1-1 game against the Cardinals, Maples walked the only two batters he faced. Steve Cishek came on and allowed a walk-off single. Maples again failed to record a strikeout his next time out against the Angels, but the Cards game really stuck in his craw.
"The good ones can do that, like I didn't do in St. Louis," Maples told Luke Stuckmeyer on the Cubs Talk podcast (starting from 13:08 in player below). "Step off, collect yourself. Not necessarily slow it down, but just go right back at it with that same attitude.
"So that's what I've been doing when I got sent back down. Just every day, bringing that attitude."
The ability to just let the last batter go, whether the result was good or bad, is something Maples has been trying to master for the last several years. He even talked with yours truly about it at Cubs Convention prior to the 2018 season, though he displayed even greater transparency in the more recent interview above.
It's impossible to say for sure whether he's really figured anything out in a handful of minor-league outings, but Maples' recent performance suggests he may have done just that. You'll be forgiven if you believe this is simply another mirage in the endless desert of "Maybe this is the time" through which Maples has wandered, but the stats are eye-popping.
Since that implosion on June 7, Maples has thrown 5.2 innings across six appearances and has yet to yield a hit. He's struck out 12 batters and walked only two in that time, one of which came against the first and only batter he faced in a weather-shortened game on June 22. Just filthy.
It's not as simple as the Cubs bringing him right back up, since they really do want to make sure the next time is the last. They need to believe Maples has gotten the mental approach dialed in, at least to the extent that they can feel more confident in his ability to perform consistently in high-leverage situations.
So I guess that's bad news for Triple-A hitters. If he's really gotten his mind right, though, it'll soon be bad news for the rest of the majors.