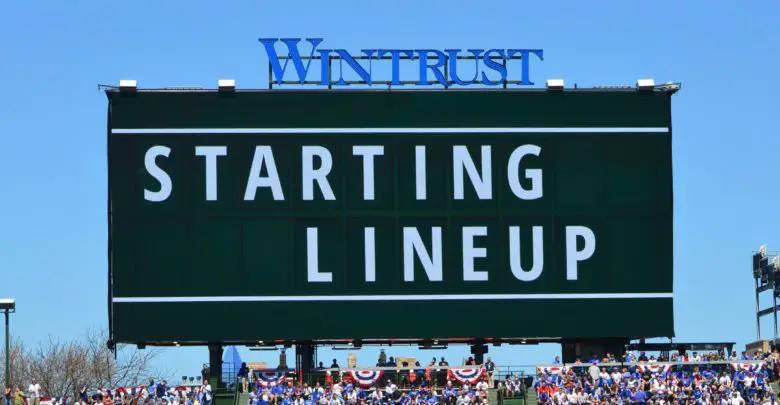 Chicago Cubs Lineup (6/19/19): Bote at 2B, Almora in CF, Lester Goes for Split
Is there anything better than scoring a single run — on a first-pitch homer, no less — against a team's No. 5 starter, then getting to turn around and face their ace the next game? If there is, I'm not aware of it. I had a lot of fun watching last night's game, mainly because I spent it plucking my beard hairs out one by one rather than subjecting myself to whatever it was the Cubs were doing.
Wait, I was actually watching the game, it's just that I couldn't tell the difference between actual mild torture and what was unfolding on television.
Kyle Schwarber's leadoff home run was about the only good part of the loss and he'll have an opportunity to do that again tonight. He's been much more aggressive over the last couple weeks, a change in approach that coincides quite nicely with something that might have been written here earlier in the month.
Kris Bryant bats second at third, Anthony Rizzo is at first, Javy Baez cleans up at short, and Willson Contreras is back behind the plate. Jason Heyward is in right, David Bote plays second, and Albert Almora Jr. bats ninth in center.
Taking the bump for the Sox is Cy Young candidate Lucas Giolito, he of the 10-1 record and 2.22 ERA. There's been a lot of talk about how the big righty finally figured things out this season, but the guy's still almost a month away from his 25th birthday. One of the big prizes in the Adam Eaton trade with the Nationals, Giolito had a rough go of it last year in his first full season.
He's clearly fixed a few things mechanically and approach-wise this season, as his uptick in velocity is matched by across-the board improvements in his stat line. His 94 mph fastball has really played well and Giolito is throwing it much more after ditching a sinker that wasn't doing anything for him.
That makes his changeup even more of a weapon, and he's throwing that quite a bit more as well. Then he comes in with a slider that he uses to put righties away, occasionally mixing in a show-me curve that really just serves as a filler. The change, though, is just a nasty pitch that Giolito likes to use when batters get ahead in the count. That's happening less than ever before, since he throws first-pitch strikes 63% of the time.
Largely because of that offspeed pitch, Giolito has actually been much tougher on left-handed batters this season, holding them to a .483 OPS and .211 wOBA. Righties aren't much better, however, with respective marks of .546 and .251 coming into the game.
Giolito is 9-0 in his last 11 starts and has given up as many as five hits only once in his last eight starts, though he's given up at least three hits in each of his last nine starts. That's a lot of numbers that may say nothing other than to reinforce the idea that the Cubs are going to have to take full advantage of anything they get. The Yankees weren't able to do that last week, scoring just one run on four hits and four walks.
The best course of action for Cubs fans tonight is to expect the worst and hope for the best, since at least you won't be disappointed. Although it's certainly not inconceivable that Giolito will stumble and have a nice little course-correction game. Hey, a boy can dream.
If that doesn't happen, Jon Lester is going to need to be much better tonight than he has been lately. He can start by changing his sequencing to induce more swinging strikes with the changeup, which means throwing it more frequently after the four-seam instead of the cutter. Actually, he just needs to get the cutter working better in general.
The Sox are decent against lefties but couldn't get much of anything going against Cole Hamels last night, so perhaps Lester can do more of the same.
First pitch is again at 7:05pm CT and you can catch the Cubs broadcasts on ABC-7 or 670 The Score. We can probably assume there'll be fewer random interviews with fans throughout the ballpark tonight, though perhaps those will be part of the Sox broadcast on NBC Sports Chicago.
Here is tonight's #Cubs starting lineup.

Game preview: https://t.co/nXxjjvOZB9 #EverybodyIn pic.twitter.com/41JVvicaIs

— Chicago Cubs (@Cubs) June 19, 2019