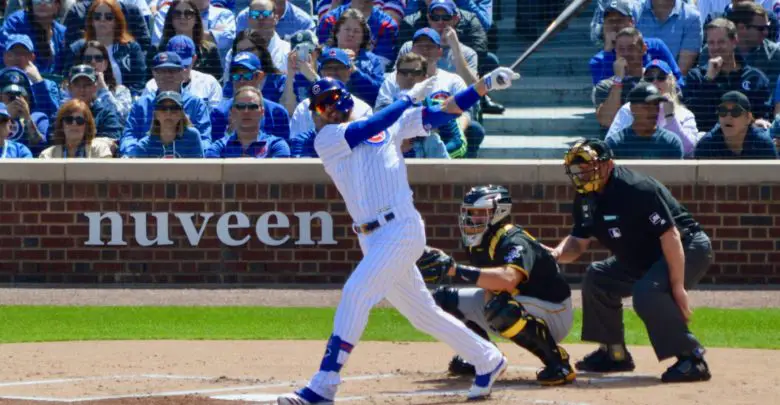 Kris Bryant's Streaky Performance Largely Dictated by Luck
Kris Bryant is on track to rival his 2016 MVP numbers this season despite what appears to be streaky performance in the campaign's opening months. So far in 2019, we have seen Bryant hit like a league-average hitter in April, then post an 1.162 OPS in May before dipping a little in June.
As the game of baseball is always a circular mechanism, Bryant's ebbs and flows in the success department are to be expected. After hitting 10 home runs in 115 May plate appearances, the former he has managed only two mid-way through June. And both of those came in the first two games against the Dodgers in LA, prior to which Bryant had logged 13 straight games without a longball.
His slugging percentage was not the only thing suffering in June, as he owned a .220 batting average prior to a three-hit effort on Friday. Nevertheless, his elite on-base skills have continued to shine through in the form of his 11.1% walk rate and .389 OBP on the month.
What has been troubling for Bryant, however, is a shift in his batted-ball profile this month. Hitting baseballs in the air has always been a staple of Bryant's game, a result of his father's instruction to match the path of the pitch with a swing characterized by "upness." For evidence of how Bryant has benefited from that philosophy, just look at his trophy case.
That said, it becomes very clear when Bryant hits a rough patch because he begins rolling over on pitches instead of driving them into the gaps on a line. In June, the slugger's groundball rate has increased more than eight percentage points from May while his fly ball rate is down by almost exactly as much.
Combine more grounders with an elevated strikeout rate (22.2% as of post time) and it's easy to see why Bryant has been "struggling." But even with out as many balls hit in the air, he's maintained a knack for hitting the ball hard. So while the box score numbers say he's out of sorts at the dish this month, Bryant has actually improved his hard-contact rate in June.
Since June 1, Bryant has seen a more than 12-point increase in hard-hit percentage, helped along by a near season-best 89.5 mph average exit velocity. That mark is 1.2 mph higher than what he posted in May, leaving one to ponder the reasons for his downturn.
All peripheral signs point to Bryant actually being better in June compared to May, but he was on track to rival his lackluster April prior to the offensive outburst in LA. The difference, it would appear, is that Bryant is finally beginning to see a shift back to normal in the luck department.
For his career, Bryant has amassed a .340 batting average on balls in play, which we can now reasonably expect from him for the foreseeable future given the significant sample size. But he's only at .299 in 2019 and that number was at .296 his first 46 June plate appearances despite the hard-hit balls we just discussed.
One could see the law of averages working back in Bryant's favor on the balls he put in play Friday night. In the 1st inning, he grounded a ball through three men on the right side of the diamond for a base knock. Already with two hits when he batted in the 8th, Bryant rolled a ball just wide of the first baseman and into right field, a ball that may have been handled by someone like Anthony Rizzo.
After going 2-for-3 on balls in play Friday, Bryant is now sporting a more in-line BABIP of .323 through 54 June plate appearances.
With one home run to the opposite field and the other pulled into left-center, Bryant now has 15 homers on the year and a 147 wRC+ just one point lower than what he posted in 2016. Add in improved luck of late on balls in play and the recipe for success once again comes into focus for Bryant.
As we have seen multiple times already this season, what some might perceive as slumps aren't really slumps at all. Rather, a downturn in Bryant's numbers often result from a minor mechanical shift  — like his faulty hand path early on — that prevents him from lifting the ball as much. All the while, his solid hard contact percentage provided light at the end of the tunnel.
The light this time has been a combined four hits over his last two games that have propelled his June numbers back to "normal" range. Still hitting only .267 this month, Bryant is now 34% above league average at the plate with plenty of meat left on the bone for improvement. Considering how hard he's hitting the ball and how much room he's got to compensate for overall poor fortune so far, the sky is the limit.