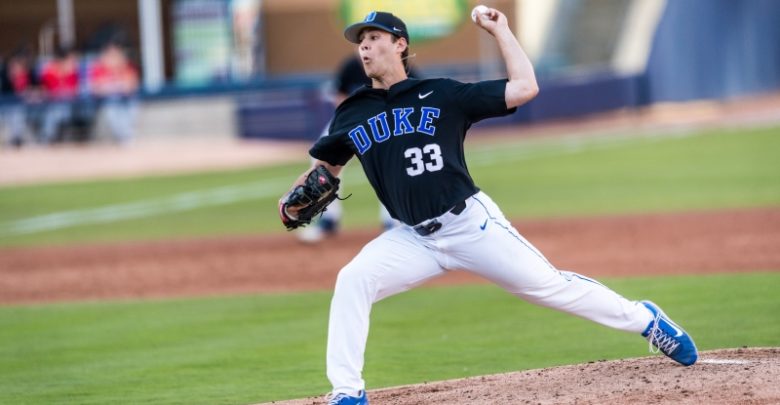 Chicago Cubs Day 3 Draft Review: 7 Notes Final Segment of Mysterious Draft Class
It can be a bit much to research, analyze, and digest 30 picks in just one day, but there were a few standouts from the Cubs' selections during the draft's final segment. It looks like the Cubs took a lot of flyers on players that slipped a bit this year, part of a revamped strategy that includes taking a few more risks.
Some of those picks could pay off and some could bomb, but those are the ones most worth discussing.
1. Catchers – It's not something people pay much attention to, but the Cubs usually usually draft three or four backstops each year. Last year they got nothing and had to convert a few players in addition to signing a few undrafted free agents. This year, the Cubs got two players in the top 10 rounds and and added more later in Jake Washer, who hit 16 home runs this year for East Carolina.
ICYMI: Jake Washer had himself a day (and night). pic.twitter.com/fLGcFV9Rzl

— ECU Baseball (@ECUBaseball) June 3, 2019
2. Second Mesa team — Beginning with last year's draft, the Cubs started drafting a few more high school and junior college picks than they have in the past. That second team in the Arizona Rookie League can help those very young prospects get more playing time and also allow them to play for two seasons if need be before going to Eugene at 20 or 21 years of age.
3. High school kids still a bit of a mystery — I'm still going to do some research on 13th round pick Porter Hodge, as all I can find so far is that he was the winning pitcher on the Utah 5A state championship squad. But he's a big boy and I'm looking forward to getting more information about him and several others. Johzan Oquendo (pronounced Joe-zan) is another about whom not much is written, but he looks decent in a video.
4. Lots of risky picks — By that I mean the Cubs took several college pitchers who did not have their best seasons this year. Some of them hardly pitched at all and, if they did, you definitely do not want to look at the stat line for very long. Adam Laskey of Duke is one such arm. The left-handed starter was one of the top freshman in the country two years ago, but has had trouble ever since. Maybe the Cubs saw something they can build around or fix. They did this several times throughout the day, picking guys who statistically struggled in 2019. Add in the fact that four out of the first five arms they took on Day 2 all have had TJS before.
5. Only six position players in top 20 selections — Out of the six, second-rounder Chase Strumpf figures to be the only one to find his way to Eugene to start his career. The Cubs are relying on their international class and the young players they took the past two years out of high school and junior college to fill up that squad. It should be pretty crowded in Mesa this summer.
6. Pitchers ramping up slowly — Most of the 22 pitchers the Cubs took will be lucky to throw 20-25 innings in July and August to get a sneak peek of their talents. Outside of the relievers, these guys are going to have to wait until next year to really stretch it out. It's kind of nice for the two teams in Mesa to see these guys pitch maybe once a week for an inning or two while they work on tweaking their mechanics and pitches.
7. Best way to describe draft this year is just…odd — I'm going to withhold judgment and not evaluate any new prospects too much this year. Still, we should be able to see a few things from a handful of them as short-season ball opens. Strumpf should get some run, but you should not expect too much out of No. 27 overall pick Ryan Jensen, who has already thrown 100 innings this year. It's just going to be a mysterious time for this draft class until they get going full bore next spring.
Here is the full list of all 40 picks across three days: