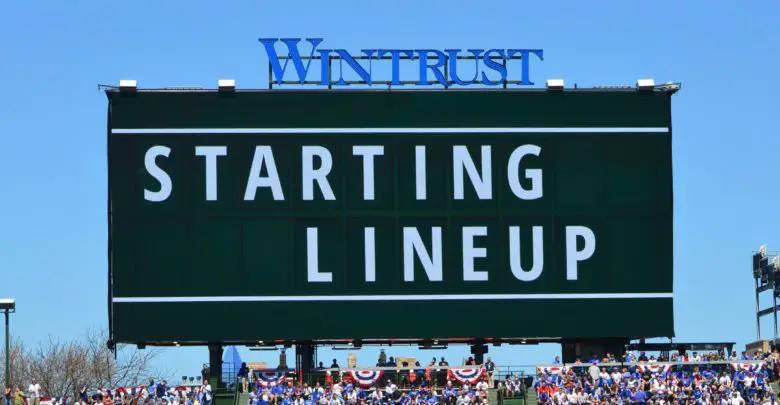 Chicago Cubs Lineup (6/5/19): Schwarber Leads Off, Almora Absent Again, Darvish Pitching
Kyle Schwarber leads off in left, Kris Bryant is at third, Anthony Rizzo is at first, and Javy Báez handles short Wednesday evening. Carlos González is in right, Willson Contreras is catching Yu Darvish for a change, Jason Heyward is in center, and David Bote is at second.
Albert Almora Jr. fans surely aren't happy will his lack of playing time since CarGo arrived, particularly in a case like this in which the opposing pitcher has been much tougher on lefties. Who knows, though, maybe it's just a temporary thing.
On the mound for Colorado is hard-throwing righty German Márquez, who remains somewhat infamous in Cubs circles due to a beanball last season. Contrary to what many people inexplicably clung to even into this season, however, taking a pitch to the face did not impact Bryant's offensive performance. And though it certainly didn't Márquez, he ended up having a breakout season in 2018.
No one seems to know exactly what prompted the sudden rise to ace-dom, but a combination of several things came together for him over the course of the season.
Fantastic, ace-like, stellar, and everyone celebrated. Some have pointed to his curveball locations improving lower in the zone, or how he removed heaters in favor of more sliders, or how he vastly improved his fastball command. Maybe it's one of those suggestions. Maybe it's all of it. Maybe it's a product of a really great sixteen game run that has lost its momentum entering a new season six months later.
His performance has improved across the board this season, with better numbers everywhere except strikeouts, which are down to 8.75 K/9 from 10.56 last year. Márquez is getting more grounders and giving up fewer homers, but the more noticeable growth has come in his control. His 1.79 BB/9 makes him one of only 12 pitchers under 1.8 and means he's got a lot more room for error.
More than just a control pitcher, Márquez brings the power with a 95-96 mph four-seam/sinker combo that he offsets with a decent slider an excellent curve that gets tons of whiffs and grounders. As helpful as that's been at home, Márquez has been absolutely dominant on the road this season en route to a .467 OPS and just three homers allowed over 43.1 innings.
Interestingly enough, Márquez has been much harder on left-handed batters this season, limiting them to a .138/.207/.225 slash on the road. Right-handers are only at .200/.222/.286, so it's not like they're beating him up. But here's the thing: He will give up hits. Opponents have racked up at least seven knocks against him six times in 13 starts, including three games of 10 hits, though only one of those came away from Coors.
The Cubs are going to have to be very patient tonight, picking out their pitches and making their contact count. Because of his swing-and-miss stuff and propensity for generating grounders, Márquez can often wipe a hit or two off the board with a strikeout or a double play. This may be a game in which the Cubs just need to wait the starter out and get to the pen.d
The ability to do that will depend on whether Darvish can build upon his recent successes and perform better at Wrigley We're past the point of hoping for baby steps or explaining away why was looked like a bad start was actually good, so it's time for Darvish to bring it and show us what he's got.
First pitch from Wrigley is at 7:05pm CT on WGN, MLB Network (out-of-market), and 670 The Score.
Here is tonight's #Cubs starting lineup. #EverybodyIn

Game preview: https://t.co/bLAAXmTVOA pic.twitter.com/pxiTMsKHuM

— Chicago Cubs (@Cubs) June 5, 2019