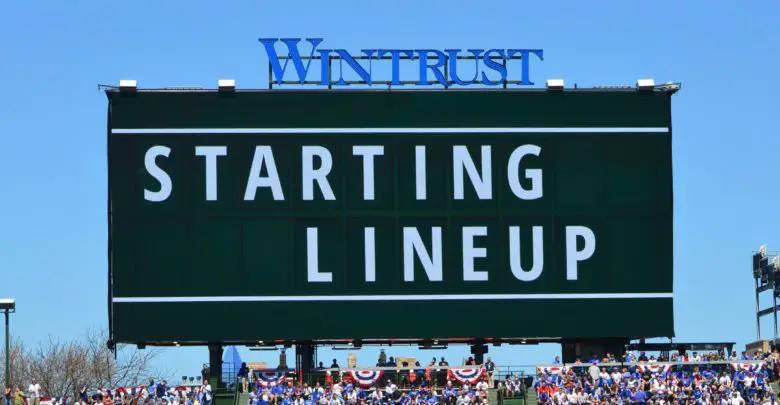 Chicago Cubs Lineup (5/31/19): Schwarber Leads Off, Javy Back at Short, Darvish Opens Series
Kyle Schwarber opened the Cubs' Wednesday win with a homer and he'll get the party started once again in the leadoff spot. He's followed by Kris Bryant, who'll try to liven up the Gateway City at third base. Anthony Rizzo is at first and Javy Báez returns to short and cleans up.
Jason Heyward bats fifth in right, Addison Russell is at second, Victor Caratini is catching, and Albert Almora Jr. is in center. That's four left-handed bats, which actually seems a little light given the matchup.
Miles Mikolas received a four-year, $68 million extension in February, but he could have made much more by selling the Ricketts family his minority ownership of the Cubs. In four starts against his division opponents last season, Mikolas went 3-0 with a 1.38 ERA. He struck out 18 men and walked only three, and just one of the 24 hits he surrendered left the yard.
The unheralded righty, someone I had wanted the Cubs to sign, originally inked a two-year, $15.5 million deal ahead of the 2018 season after remaking himself with three successful seasons in Japan. He was a revelation in St. Louis, going 18-4 with a 2.83 ERA and finishing sixth in the Cy Young vote. Things haven't quite gone the same this year, though.
Despite allowing nearly the same BABIP and slightly elevated hard contact with only a few more fly balls, Mikolas has been haunted by the home run ball en route to a 4.76 ERA and 4.85 FIP. Maybe that's a combination of Rob Manfred's juiced balls and a few other factors, but the Cubs should be looking to drive those numbers even higher after already setting a single-month home-run record.
Mikolas has a mid-90's fastball and he's throwing the sinker much more than in any previous season, dialing back the slider at the same time. His curve is meh and his changeup has been atrocious, but if you're looking for a culprit for the increase in homers, it's the slide-piece. After holding opponents to a .457 OPS with it last season, Mikolas's slider has given up 1.013 this season.
Left-handed batters are just wearing this dude out, racking up eight of the 12 homers he's surrendered and putting up a .963 OPS with a .401 wOBA. Because Mikolas doesn't have a ton of swing-and-miss ability and isn't going to walk too many batters, the Cubs may want to get aggressive early and see if they can catch a cement mixer or a mistake fastball.
The one thing to watch out for, though, is that they're going to see a lot of pitcher's strikes. Mikolas works the fringes and tries to get hitters to swing at stuff that looks good but really isn't. So perhaps I'll amend the above recommendation to say that a selectively aggressive approach is best. Which I guess is pretty much always true.
Rather than sit on a specific pitch, Mikolas's varied approach means Cubs hitters are better off looking for location and jumping on whatever lights up their target. Based on the factors above, I'll say Schwarber is going to mash and Rizzo is going to annihilate a hanging curveball.
Yu Darvish is going for the Cubs and it sure would be peachy if he could have one of those starts that even those folks disinclined to look past runs allowed can agree is good. Too often this season, we've had to add liberal salt to justify positive assessments of the righty's performance, so I'd appreciate a little help. It starts with locating the four-seam.
If Darvish can just throw strikes with the hard stuff, his secondaries suddenly start jumping off the page. It's simple as that, really. Against a St. Louis team team that has fallen apart offensively over the last month, particularly of late, Darvish doesn't even need his best to get by. But his best would be fun as hell to watch.
First pitch from Busch Stadium is at 7:15pm CT and can be seen on NBC Sports Chicago or Facebook Watch (out-of-market) or heard on 670 The Score.
Here is tonight's #Cubs starting lineup.

Stream on @NBCSChicago: https://t.co/rGCuW1XI7C pic.twitter.com/XqGCzmqx0E

— Chicago Cubs (@Cubs) May 31, 2019