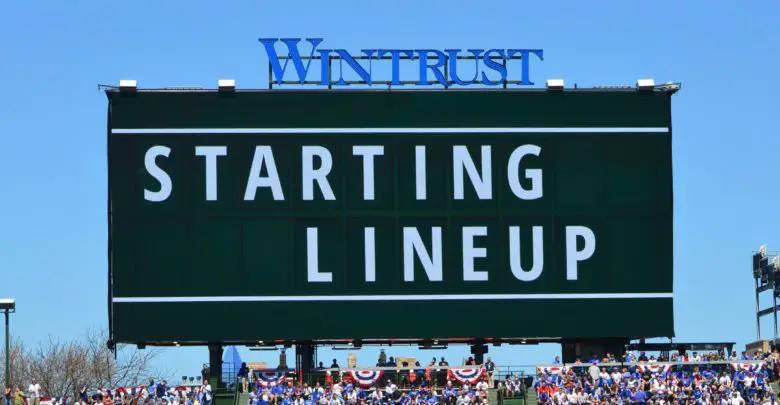 Chicago Cubs Lineup (5/22/19): Javy Returns(!), Bryant in RF, Hamels Facing Phillies for First Time
The Cole War is upon us as 35-year-old former Phillies great Cole Hamels takes the mound against a man nearly a decade younger in rookie Cole Irvin. It'll be the first time Hamels has faced his old team since the 2015 trade that sent him to Texas, and he's doing it from the spot where he made his last Phillies start. Something big happened that game, I just can't remember exactly what it was.
Oh well, on to the lineup.
Kyle Schwarber is leading off in left, Kris Bryant is in right, Anthony Rizzo is at first, and Javy Báez returns to the lineup at short. He looked a little hobbled when he walked off last night, but he's obviously feeling fine. Purely speculation, but I wonder if a clean MRI gave the Cubs confidence to okay a cortisone injection. Or maybe it's still sore and he's just taped up.
Willson Contreras bats fifth behind the plate, Albert Almora Jr. is in center, Addison Russell bats eighth at second base, and David Bote is at third.
Irvin is making just his third big-league start, but he's already got "crafty lefty" written all over him. The young southpaw sits 89 with the fastball and backs it with a slider and change, tossing a few sliders in there for good measure. He doesn't miss many bats, never averaging much more than 7 K/9 even in the minors, but he lives in the zone.
Having never seen him pitch, I'm reliant upon the stats to tell Irvin's story. As such, I'm having a hard time getting a read on him. He doesn't throw hard, walks very few batters, and gives up more flies than grounders, yet he's limited homers to a great degree.
Here's the thing, though: His two starts this year have come against the Royals and Rockies, with the latter taking place in Philly. With the weather in Chicago expected to be sunny and warm all day, Irvin could be in for a rude awakening against an offense that has the feel of wanting to bust loose. And if the rookie keeps throwing a crazy number (75%) first-pitch strikes, that 2.77 ERA is gonna take as bad a beating as his mistake fastballs.
Lefties have hit him better so far, though we're only talking 11 batters at this point. However, that trend will continue if he keeps pitching them the same way. He's very fastball-heavy on first pitch (64%), with the sinker and change (18% each) as the secondaries. And if a lefty batter gets ahead, he'll see fastball nearly 80% of the time. The Cubs should be jumping on this dude.
Righties have had a tougher time thus far because Irvin does a much better job of varying his repertoire and incorporating the offspeed stuff. Still, he catches a ton of the zone and it's just a matter of recognizing what's coming and not being fooled by the change of pace. As much as it can be foolish to call an outburst by the offense, I see big things for the Cubs in this one.
That'll help Hamels, who could really use some early run support. Not that he's been giving up a bunch of runs or anything, he hasn't, but it's taken him a while to settle in over the last few games. He just hasn't been as consistently sharp and has let too many hitters wriggle off the hook.
As with the offense, I've got a feeling that facing his old team will give Hamels a little extra boost. And if the Cubs do hang some crooked numbers, this one should be smooth sailing. It better be, anyway, because the last thing I need is to be blamed for anything while finally attending my first game of the season.
First pitch from Wrigley is at 7:05pm CT on NBC Sports Chicago, MLB Network (out-of-market), and 670 The Score.
Here is tonight's #Cubs starting lineup.

Stream on @NBCSChicago: https://t.co/rGCuW1XI7C pic.twitter.com/GIaGDKtOFp

— Chicago Cubs (@Cubs) May 22, 2019
Ed. note: I published this while getting a tattoo, which is apropos of nothing but I thought it was cool.