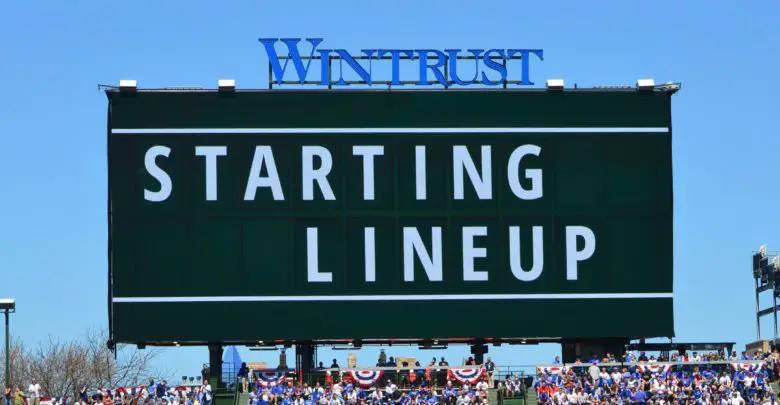 Chicago Cubs Lineup (5/19/19): Schwarber Leads Off, Bryzzo at Corners, Hendricks Looks for Series Win
You'd take a split against Max Scherzer and Stephen Strasburg six days a week and twice on Sunday, but the the Cubs don't have to face either of them in this one. Wait, did that even make any sense? Not really. Anywho, on with the lineup.
Kyle Schwarber is in the top spot once again, followed by Kris Bryant at third base and Anthony Rizzo at first. Javy Báez plays short and cleans up, Willson Contreras is catching, Daniel Descalso is at second, Jason Heyward is in right, and Albert Almora Jr. plays center.
They'll be going up against Jeremy "Bat Outta" Hellickson and his 6.00 ERA (5.80 FIP), which should provide much easier sledding. The 32-year-old righty's homer numbers make him look like John Lackey sans blood-lust, as he's already given up eight dingers in just 36 innings. He's also walked four batters three separate times, so the homers have done damage.
Hellickson is primarily a sinker/change pitcher, though he mixes in a fair number of cutters and curves as well. He appears to have almost totally abandoned the four-seam and has dialed back the curve in favor of the sinker and cutter. He'll touch the low 90's with the hard stuff, but works mainly in the 80's, so his success is dependent upon location.
In contrast with the home run numbers and league-wide trend, Hellickson hasn't really seen an uptick in hard contact. He's been pretty hit-or-miss in terms of performance, though, so the Cubs would really like an off day from him. Better yet, they should just make sure of that by jumping on mistakes early and getting into that beleaguered Washington 'pen.
Lefties have absolutely raked against Hellickson, so look for that to continue tonight. Not much else to say about it, the Cubs just need to take care of business against a pitcher who has no business beating them.
Kyle Hendricks takes the mound looking to extend his career-best stretch of three starts in which he's tunneling like Andy Dufresne. If he's even close to as good as what we've seen lately, this should be a fun game to watch. After the power-pitching performances by the Nats' top arms, seeing Hendricks do his thing will be a real treat.
First pitch from Nationals Park is at 6:05pm CT on ESPN and 670 The Score.
Here is tonight's #Cubs starting lineup.

Game preview: https://t.co/Y2TQaWNsGC #EverybodyIn pic.twitter.com/yHhcOqW9Se

— Chicago Cubs (@Cubs) May 19, 2019