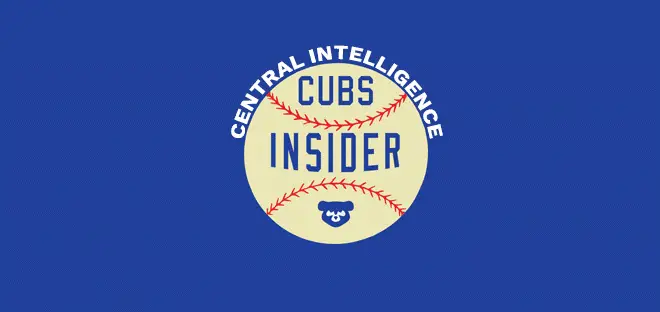 Central Intelligence: Week of May 12
Chicago Cubs
A .500 week leaves the Cubs still atop the division with a 26-17 record.
Kris Bryant is officially back. Before having his 26-game on-base streak snapped on Saturday, he had his second career three-home run game the night before. He is up to 11 dingers on the season and became just the 12th player ever to homer in three consecutive innings, leaving the yard in the 7th, 8th, and 9th.
Kyle Hendricks has given up just one earned run in his past three starts, making his May ERA just 0.36. This might be the best he has ever looked as a Major Leaguer.
Victor Caratini returned from his broken hamate this week, sending Taylor Davis back to Iowa. Caratini should be able to spell Willson Contreras a lot more over the season. Contreras caught the most innings in the Majors last year and is well on pace to do it again this year.
Milwaukee Brewers
The Brewers went 3-4 this week and sit 1.5 games back of the Cubs at 27-21.
Top prospect Keston Hiura has been called up to the big leagues, and probably to stay. So far, though, it's been a struggle. Hiura is slashing just .200/.304/.200, with seven strikeouts in 20 at-bats. One thing is for sure, this guy has too much raw talent for that to keep up. He will be a good one.
BREAKING: Christian Yelich hit another road home run. Two of them, to be exact, and in the same game against the Phillies The splits are now 15 home runs at Miller Park and just three on the road. Nobody is denying how good he is, but the power discrepancy is such a weird thing.
Zach Davies should probably be included in early season Cy Young talks. So far in nine starts, he has a 1.54 ERA and has given up just 46 hits in 52.2 innings. He has struck out just 46, but has only walked 16.
Pittsburgh Pirates
A 4-3 week puts the Buccos all the way up in third place at 23-20.
How about Josh Bell? Last year, he hit just 12 home runs. This year he has 14 already, with three multi-homer games this month. He is hitting .426 with 10 dingers.
The Jordan Lyles career resurgence is a thing. His ERA still sits under 2 after a seven-inning, 12-strikeout performance on Friday against the Padres.
Pittsburgh acquired some pitching depth this past week, getting Chris Stratton from the Angels. In his first two appearances, he has a 7.20 ERA. The Pirates have been so good at reclamation projects like this. Can they do it again?
St. Louis Cardinals
Looking at this Cardinals roster on paper coming into the season, it's hard to imagine them in fourth place, right? After a 2-4 week, they are just 24-22.
After a dynamite return to the Big Leagues last year, this year has been a struggle for Miles Mikolas. He signed a four-year contract extension before the season started, and his ERA is up to 4.88 after being blasted for seven runs in just 1.1 innings on Friday. In 10 starts, he has yielded 10 homers. The Cardinals would really benefit from him finding the 2018 magic again.
Carlos Martinez made his 2019 debut on Saturday night, pitching one inning in relief to finish off an 8-2 win. It will be interesting to see how he is used from here.
After a dismal 2018, Dexter Fowler is having a nice rebound season. After Saturday, his slash line is .274/.406.385, a .790 OPS. This is a welcome sight for Birds fans as his first year in St. Louis back in 2017 was arguably the best of his career.
Cincinnati Reds
What a weird season it has been for the Reds. A .500 week brings them to 21-25, but the oddest thing is that their run differential is +29.
Luis Castillo stat update: 1.90 ERA, 61.2 IP, 34 hits, 25 walks, and 76 strikeouts with a .163 opponent average. That's going to be tough for Davies to beat.
The Reds ended the Cubs consecutive series wins streak at eight on Thursday. Losing to Cincinnati this week was the first time the Cubs had lost a series in nine straight series.
Joey Votto is slashing just .212/.324/.346 so far this season, and his strike out rate is at a career high 23.6 percent. Is age finally catching up to the future Hall of Famer, or is this just his usual slow start?