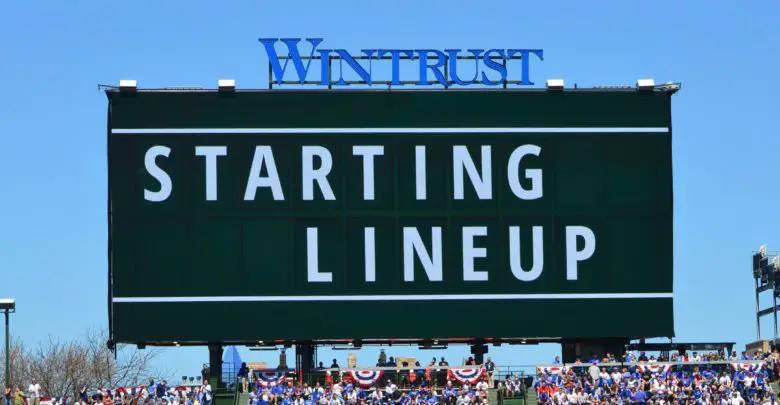 Chicago Cubs Lineup (5/16/19): Schwarber Leads Off, Caratini Returns to Play 1B, Q Answers Bell
The last part of the title is a pretty fitting play on words, since the Cubs took one on the chin last night and need to recover against the Reds' best starter in order to keep their series winning streak alive. They'll have to do it without Anthony Rizzo, who remains out with a stiff back. On a positive note, he is on track to return to the lineup Friday in Washington after doing tee work and hitting soft-toss flips this afternoon.
Hoo doggies, Joe Maddon is on one tonight. Batting leadoff and playing left is none other than Kyle Schwarber, a move that is sure to have more than a few people getting mad online. Kris Bryant bats second and finally moves back to third base after manning the other corner for a few games. Daniel Descalso is batting third at second base and Javy Báez is playing short.
Willson Contreras is catching and Victor Caratini is in there playing first base just 5 weeks to the day after he broke his left hamate bone. The Cubs activated him Thursday afternoon, optioning Taylor Davis to Triple-A Iowa to make room. Jason Heyward is back near the bottom as he fights through a slump and Albert Almora Jr. plays center and bats eighth.
That aforementioned starter, 26-year-old righty Luis Castillo, has exploded onto the scene this year with a 1.76 ERA and 70 strikeouts in just 56.1 innings (11.18 K/9). He's also got some weird indirect Cubs ties, so we're going to examine the degrees of separation before getting down to business.
Originally signed out of the Dominican by the Giants in 2011, Castillo was traded to the Marlins in 2014 for former Cub Casey McGehee. Two years later, he was traded to the Padres as part of a now-infamous deal that included former Cub Andrew Cashner and current Cub Colin Rea. But Rea's subsequent elbow issues, which the Marlins claimed were masked by the Padres' use of false medical records, sent Castillo back to Miami.
In January of 2017, Castillo was once again traded for a former Cub, going from Miami to Cincy as part of a package for Dan Straily. Yet another reason the Marlins are the Marlins. If you're keeping score at home, that's three trades, all of which involved at least one player with Cubs ties. Weird, right?
Anyway, Castillo has been fire this season. His four-seam/sinker combo sits 96 and can touch a few ticks higher, then he wipes hitters out with a decent slider and an absolutely filthy changeup. In terms of overall value (11.9 runs saved), it's the best offspeed pitch in the game right now and is tied with Justin Verlander's slider for best overall pitch.
Here, just watch…
Luis Castillo, 96mph Fastball Movement. ? pic.twitter.com/yR18JmLJmE

— Rob Friedman (@PitchingNinja) April 21, 2019
Luis Castillo, Wicked 88mph Changeup. ? pic.twitter.com/3prBS9ytJT

— Rob Friedman (@PitchingNinja) May 5, 2019
You'll notice that he's firing from a low arm slot, making it that much harder for hitters to pick the ball up out of his hand. Righties have stood almost no chance against Castillo to this point in the season, slashing .133/.206/.204 with a paltry .189 wOBA. Only Padres changeup specialist Chris Paddack (.115) has a lower mark. Lefties are more productive (.281 wOBA), but only because they have a better angle and have walked more while also wearing three of Castillo's offerings.
For the Cubs to get over on Castillo, they're going to need to be patient and sit back on that change. It makes up a third of his pitches and he's sometimes thrown it as much as 43% of the time, particularly to lefties, so maybe it's just about guessing correctly. Again, that's easier for lefties because he'll throw them tons of four-seams and changes.
Righties, on the other hand (get it?), will see a lot of fastballs early in the count. Once it goes even or Castillo gets ahead, however, all bets are off. He'll use all four of his pitches with nearly equal frequency, skewing a little more to the slider and change with two strikes. And with that sidearm delivery, it may just come down to taking advantage of a mistake.
I don't mean to sound all doomy and gloomy, because this Cubs lineup can obviously get over on some really good pitching. But Castillo is just nasty right now and getting a win may depend on letting him beat himself.
Going for the Cubs is José Quintana, who seems to have fallen back into some of his old ways lately. By that I mean getting a little cute and not attacking hitters early with the fastball. He's at his best when he's getting ahead in the count by simply throwing strikes, then using the changeup and curve to get bad swings. The reason that sounds so simple is because it is simple.
Q isn't the kind of pitcher who just blows you away with velocity or electric stuff, so he really needs to be working the zone and pitching efficiently. Despite last night's fireworks, this Reds lineup isn't scary and needs to be attacked each and every at-bat. That includes Derek Dietrich and Joey Votto, both of whom bring a little lefty thunder to the mix.
Not that Quintana should tempt fate, but he has yet to allow a home run to a lefty batter this season. The focus in this one should be on keeping the ball down for groundball contact that he's been getting at a career-high 51.9% so far.
First pitch from Great American Ball Park is once again at 5:40pm CT and can be consumed via either NBC Sports Chicago or 670 The Score. And since I've already done so twice, I'll exhort you one final time to give the Reds' call a chance to bring some dark comedy to your life. But only if the Cubs are winning, otherwise it'll just drive you insane.
Here is tonight's #Cubs starting lineup. #EverybodyIn

Stream on @NBCSChicago: https://t.co/rGCuW1XI7C pic.twitter.com/NwZAZ90WzX

— Chicago Cubs (@Cubs) May 16, 2019