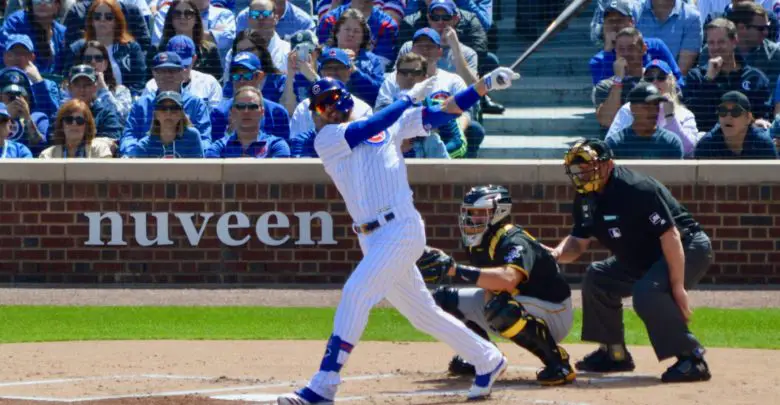 Kris Bryant Hasn't Just Regained MVP Form, He's Surpassed It
Kris Bryant looked lost at the outset of the season, lunging into his swing and whiffing on pitches that split the heart of the plate with average velocity. He just wasn't himself and it was obvious to anyone who'd seen him play before, even in his injury-plagued 2018 season. The pronounced difference had a few people pronouncing Bryant dead, or at least ready to pull the plug on his life support.
But you see, that's the problem: The issues had nothing to do with physical inability to perform. There were some mechanical flaws — like the lunging and an errant hand path that created a big hole in his swing — and perhaps some mental hurdles to clear, but nothing that should have caused legitimate concern. All spring, Bryant was being asked about labor relations, the possibility of signing an extension, and expectations following all the talk of urgency heading into the season.
The former MVP may have been among those Jon Lester said were pressing a bit much during that halting 2-7 start. And that makes sense, right? Here's a guy who's basically succeeded from the get-go, winning pretty much every possible award for individual and team performance. Then he jams his shoulder and is a shell of himself while his team sputters down the stretch. You're damn right he's going to press in an attempt to turn that around.
Add to that the physical adjustments to get back to where he was after a season that saw him alter his swing and approach to accommodate the bum wing and you're looking at a hitter who was essentially starting over. Even as hard as he attacked his offseason workouts, there's simply no substitute for live game action.
Through those first nine games of the season, Bryant had a .687 OPS with an 85 wRC+ and a .299 wOBA. He struck out 11 times and drew only four walks. Simply put, he wasn't even close to being a league-average hitter. Things started to come around from that point, but the improvement was incremental and only discernible by those who were getting into more granular data.
As of April 12, the Cubs were 5-8 and Bryant had struck out 15 times against only seven walks over 60 plate appearances. His only home run was that Opening Day blast that had grown less portentous with each at-bat. That date is somewhat arbitrary, chosen in large part because of the strikeout total — which will soon become evident — and because it preceded a weekend off. Bryant was rested on Saturday, April 13 and the Sunday game was postponed.
Since then, KB has been an absolute monster. In his last 110 plate appearances, the lanky slugger has posted a 1.067 OPS with a 179 wRC+ and a .441 wOBA. He's hit seven home runs and has walked 21 times to just 14 strikeouts. That brings his season strikeout total (29) to just one more than his walk total (28), nearly to the magical 1:1 ratio he was seeking prior to last season.
As of right now, Bryant's 16.5% walk rate is the highest he's ever posted and his 17.1% strikeout rate is the lowest of his career. His 149 wRC+ is also higher than in either his MVP season (148) or in 2017 (146). And that's after staggering out of the gate. You can talk all you want about small samples, but this is very clearly sustainable production from a player who has defied league strikeout trends over the course of his career and who's still young enough to improve further still.
Just look at the way he's adjusted already this season, correcting his mechanical issues and re-writing the book pitchers were reading on how to attack him. If you want to see what that looks like, just check out what he's done since things really clicked for him back at the start of the month.
Going 1-for-4 with a double might not seem like some sort of benchmark performance, but that's why you have to go deeper than the box score sometimes. Bryant hammered four batted balls with exit velocities of at least 105 mph, the first time he'd done that since 2016, definitive proof that he was healthy and striking the ball well. The results weren't there because of an unsightly .263 BABIP that sat 77 points lower than his career average.
As a quick primer, batting average on balls in play is a measure of how frequently we should expect a batted ball to land for a hit. League average is around .300, but Bryant's has always been well above that because he generally hits the ball hard and in the air. For whatever reason, though, defenders were making plays and good fortune simply wasn't smiling on him.
That luck had to turn at some point, and that game in Seattle seems to have been the impetus for peripheral stats finally manifesting into results more casual observers can understand. By that I mean a 1.343 OPS, .533 wOBA, and 240 wRC+ with in just 49 plate appearances. For those who'd prefer things a little more traditional, he'd had a .333/.510/.833 slash with five homers, 13 runs, and 13 RBI. Oh, he's also walked 13 times against seven strikeouts.
There's also a case to be made for Bryant's switch to an Axe Bat after breaking his more traditional model during an at-bat in Arizona. He homered immediately and says he likes the contoured handle of the new stick, so that comfort could well be a contributing factor. Whether that's legit or just Dumbo's feather really doesn't matter, because he's crushing either way.
Bryant isn't just playing as well as he did in 2016, he's playing better. You can see it in the way he's spitting on pitches that are just outside the zone and turning on those he can drive. Pitchers are also making more mistakes than they were early on, which is inevitable after an uncanny streak of hitting their spots (more on that in most recent link above). And he's done it all while flipping between DH, 3B, LF, RF, 1B over the last 11 games.
And the best part is that there's reason to believe this is not only sustainable, but that Bryant can still do better over the course of the season. Not necessarily by maintaining his current May trends, more like settling into a groove that sees him continuing to pound home runs to all fields while walking more than he strikes out.
I just hope this year's Chef Series at Wrigley Field features some culinary artists who are well acquainted with crow, because a lot of it will need to be eaten over the next few months.