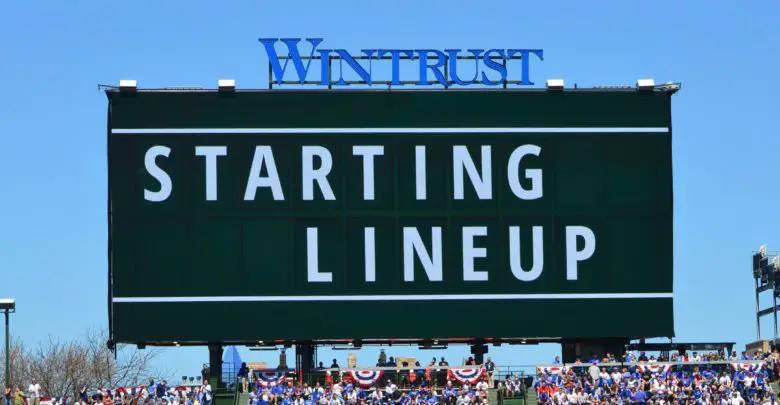 Chicago Cubs Lineup (5/12/19): Bryant at 1B, Rizzo Rests, Lester Looks for Series Win
Happy Mother's Day to all the moms of every kind out there. Please know you're loved and appreciated, even on the other 364 days that don't involve pink bats.
The Cubs are hoping to cook mom a collective meatloaf as they go for another series win and a bigger division lead. That starts with Jason Heyward at leadoff in right, followed by Kris Bryant at first. Wait, what? Yep, Anthony Rizzo is getting the day off in spite of a very favorable matchup, with Javy Báez sliding up into the three spot and Willson Contreras cleaning up behind the plate.
Kyle Schwarber is in left, David Bote is at third, Daniel Descalso is at second, and Albert Almora Jr. is in center. But what is up with Rizzo? With no definitive info at press time, the assumption is that Joe Maddon is giving his first baseman some additional rest with an off-day tomorrow. That's a common tactic, especially for a guy with a history of back tightness.
Update: It's been confirmed via Jesse Rogers that Rizzo is out due to a tight back. With a marathon game last night, Maddon didn't want to risk anything.
Trying to head them off will be 31-year-old righty Jhoulys Chacín, easily one of the best free-agent signings of last winter. CI's Brendan Miller continues to lament it each time Chacín takes the mound against the Cubs, adamant as he was that the well-traveled slider specialist was due for a breakout.
That opinion might not be as strong this season, what with Chacín pitching much more poorly, but we've seen how the Cubs can have trouble against breaking stuff. That's what they're going to see about half the time this evening, as the Brewers starter throws the slider at nearly a 49% clip. That's more than his sinker (35.6%) and four-seam (9.9%) combined, with only the splitter (6%) as a true secondary.
The slide-piece is about as good as ever, but the fastball has really betrayed him this season. That's led to a big increase in walks and significant decreases in hitters swinging at Chacín's pitches, which are finding the zone at a lower rate than ever. And when they do swing, they're hitting it hard. Chacín has given up eight homers and his 43% hard contact allowed is by far the highest of his career.
But the weirdest part of all this is a .208 BABIP against. That's 69 points below his career average and 42 points lower than his previous season-best of .250 set last season, which indicates that the righty has been getting very, very lucky so far. This has all the markings of a turnaround for a Cubs roster that has an aggregate .627 OPS against their opponent.
It would be far worse if not for Rizzo, who has a 1.333 OPS and three homers in 22 at-bats against Chacín. Given the reverse splits the righty is putting up so far this season, expect something big from Bryant. KB is showing better plate discipline than ever and hasn't homered in the series after going deep in four of the previous five games.
Had he not missed a couple starts with a balky hamstring, Jon Lester's 1.41 ERA would lead the majors. He's got a chance to qualify for that lead with six innings tonight, but let's not get ahead of ourselves. Lester lives for these big games and the chance to close out a series against a tough division rival on Sunday Night Baseball is right up his alley.
First pitch is at 6:05pm CT on ESPN, though you may want to tune into 670 The Score and sync up the audio.
Here is tonight's #Cubs starting lineup.

Game preview: https://t.co/pDIuBog3yc #EverybodyIn pic.twitter.com/yxbeJTL8Wb

— Chicago Cubs (@Cubs) May 12, 2019