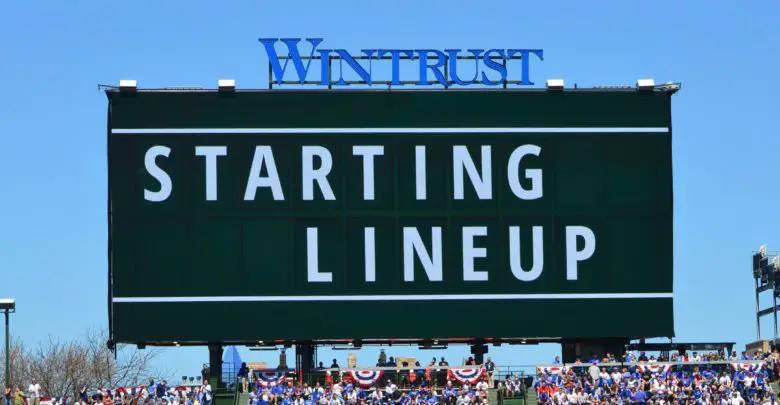 Chicago Cubs Lineup (4/17/19): ZoBryzzo at Top, Schwarber in LF, Hamels Pitching as Cubs Seek Sweep
Ben Zobrist is leading off in right for the series finale, followed by Kris Bryant back at third base and Anthony Rizzo at first. Neither half of Bryzzo has been what Cubs fans would like to see at this point, but there's hope that some adjustments and a little good fortune will get things moving in the right direction.
Javy Báez cleans up at short, Jason Heyward bats fifth in center, and Willson Contreras is hitting sixth behind the plate. Contreras has been crushing the ball this year, but it'll be very important for Joe Maddon to manage his workload in order to prevent a physical bonk similar to last year. That's a tougher task with Victor Caratini out.
Daniel Descalso is batting seventh at second base and Kyle Schwarber gets his first start of the series after getting a little time off to recenter himself. Perhaps hitting at the bottom of the order will do him good.
The Cubs may not have gotten to the beach during the day, but they'll get Sandy Alcántara tonight. Once a coveted Cardinals prospect, Alcantara was part of a multi-player deal sent to the Marlins for a dude whose legacy may be that he climbed the fence to catch a ball that landed on the warning track. Good times.
Alcántara is making just the 10th start of his career and fourth of the season and the results have been mixed so far. His 3.71 ERA is solid and he's allowed only three home runs in 51 innings, but his 1.40 K/BB isn't good at all. When you're talking about a guy with a fastball that sits 96 and a decent slider that should get whiffs, only generating 6.35 K/9 is a disappointment.
There aren't any major differences in his platoon splits this season, with lefties OPS'ing 33 points higher. Righties actually hit him significantly better last year, though that could be a matter of the sample. His minor league numbers reveal some inconsistencies in that regard, which is expected from adjustments to new leagues and working on secondaries.
Though he's always been a starter, you almost wonder if he'd be better served in the long term by moving back to a bullpen role. That's where he debuted with the Cardinals in 2017, when his fastball was around 98 and his swinging strike percentage was way up. Walks and homers were also elevated, so pick your poison. The Cubs would do well to rope-a-dope Alcántara in this one, making him throw a lot of pitches and tiring him early.
Expect him to stay away from lefties with hard stuff, doubling down late in counts. This could bode well for Schwarber, who's been eaten alive by breaking pitches lately and could really use a get-right performance. Righties will face a heavy dose of sliders, which Alcántara is nearly as apt to throw them with a first pitch as with two strikes. He does have a tendency to leave it over the plate, though, which is why the strikeouts aren't higher.
We'll see how Alcántara fares in his first start against the Cubs, and vice versa. He did see them twice as a reliever with the Cardinals, striking out the side the first time and giving up two runs on three hits and a walk 10 days later. More of the latter would be ideal.
It's always nice when Cole Hamels pitches on Wednesday because you get to say things like "Hole Camels going on hump day." Which is exactly the sort of thing you should expect from a highly professional outlet for top-notch journalism like we've got here. Sometimes it's just fun to say "Hole Camels."
Anyway, the lefty has gotten better each time out so far and has improved his game score by at least 20 points over three starts. He might not have that Yu Darvish velocity, but racking up a 99 after scores of 35, 57, and 77 sure would be nice. Hamels has not walked a better in his last 15 innings and is facing a Marlins squad that figures to be aggressive while trying to fend off the sweep.
First pitch is at 6:10pm CT and will be carried by NBC Sports Chicago and 670 The Score.
Here is tonight's #Cubs lineup in Miami. #EverybodyIn

Stream on @NBCSChicago: https://t.co/rGCuW1XI7C pic.twitter.com/jLHfmQwk6t

— Chicago Cubs (@Cubs) April 17, 2019