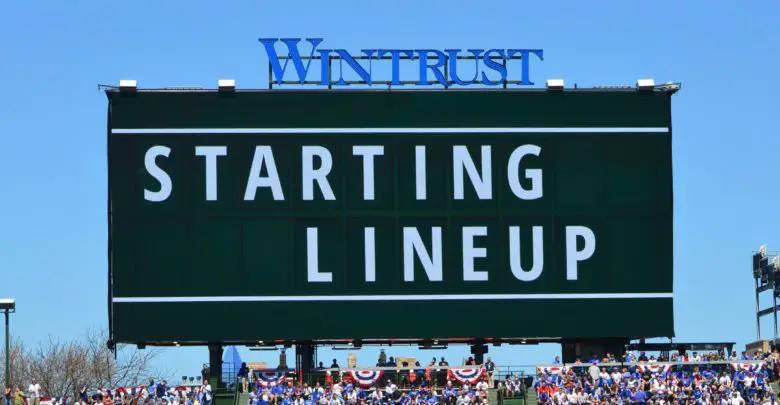 Chicago Cubs Lineup (4/15/19): Zobrist Leads Off, Bryant in LF, Darvish Starting
Ben Zobrist will lead off at second with Kris Bryant batting second but playing left field after his weekend off. Bryant has been lunging at the ball and falling out of his typical sterling mechanics, so maybe the change of scenery will help. Anthony Rizzo is batting third, Javy Báez cleans up at short, and Jason Heyward mans right.
Willson Contreras is catching, David Bote is at third, and Albert Almora Jr. is batting eighth with a righty on the mound. But this particular righty has a very heavy reverse-split profile, allowing 130 more OPS points and 49 more wOBA points to right-handed batters. Plus, Almora has a .755 OPS against righties and only .255 against lefties so far.
This series will present Cubs fans with a cavalcade of players they've never heard of, so let's hope righty Trevor Richards doesn't go making a name for himself. The 25-year-old sophomore did not face the Cubs in 25 starts last season and Daniel Descalso's single at-bat is the only experience anyone on the roster has against Richards. I don't know about you, but that freaks me out a little.
Despite a fastball that only sits 91 mph, Richards can miss a bat or two with his changeup. That offspeed pitch is easily his biggest weapon and he throws it nearly as much as the fastball. He'll work in a cutter and curve for good measure, but he's primarily going to work the four-seam/change combo all night long like Lionel Richie.
And as you might have guessed, he is comfortable rolling the offspeed pitch in there against hitters on both sides of the plate. It's got tumbling movement to righties, but he'll put a little more tailing action on it to keep it away from lefties. Richards' 18 strikeouts in 18 innings this season are offset by 10 walks, but he has only allowed one homer.
It's not like he's avoided hard contact, though, as he sits around league average there. The thing to watch in this one is whether the Cubs are able to time him up and wait back on the soft(er) stuff. That's a little worrisome given how even their best hitters have a tendency to put up really ugly at-bats from time to time, especially against hittable pitchers, but I've got a feeling the warm weather will do them good.
Speaking of which, Yu Darvish is going to be pitching in much better conditions than in his last start. I'm not going to try to convince you of the positives from that game against Pittsburgh, even though his control was much better and he was manipulating his breaking balls well in spite of the cold. Now he just needs to command the zone better and avoid loud contact.
First pitch from Miami is at 6:10pm CT and can be seen on WGN or heard on 670 The Score.
Here is tonight's #Cubs starting lineup in Miami. #EverybodyIn

Game preview: https://t.co/l1k0GcvE7e pic.twitter.com/5Wi3sTU7sL

— Chicago Cubs (@Cubs) April 15, 2019
Ed. note: I didn't put this in there originally, but I have to call a KB moonshot in this one. Something tells me he's going to catch a hanging change and terminate it with extreme prejudice. I'm also more than fine with Kyle Schwarber sitting in this one. Dude has been lost at the plate lately and facing a changeup-heavy pitcher with reverse splits probably isn't for the best right now.