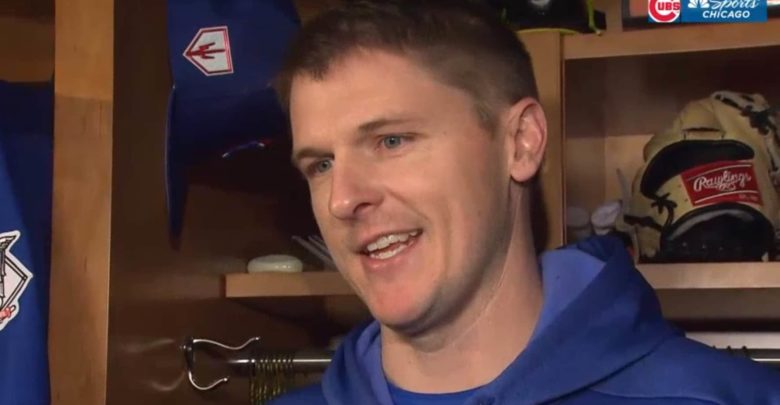 Brad Brach's Awful Outing Typifies Bullpen That Misses Zone, Can't Miss Bats
The Cubs' bullpen has caught a lot of flack for missing the strike zone, but making matters even worse is the inability to miss bats. Their MLB-leading 6.71 BB/9 mark — The Twins are second at 6.20 and the Cardinals third at 5.40 — would be at infinitely more palatable if there were more whiffs to go with it. And I'm not just talking about strikeouts, which the Cubs have done a fair job of racking up.
No, this is a matter of avoiding contact of any kind to get swings and misses. And in that regard Joe Maddon's relievers are among the worst in baseball. Their 9.9% swinging-strike rate is one of the three lowest in MLB right now and is down significantly from 11.2% last season and 12.3% in 2017. In fact, the bullpen is generating fewer whiffs than any Cubs unit since the disastrous 2012 season (8.8%).
It's early yet and getting Brandon Morrow back at some point should help, but this is damning evidence of what we already about their slim margin for error. In a game that has become more an more reliant on specialization and strikeouts, velocity is the preferred currency of the land. The increased focus on lighting up the radar gun is a league-wide phenomenon, but even more so among those pitchers who can afford to go max effort over shorter stints.
In 2010, only five bullpens had an aggregate average fastball velocity above 93 mph. By 2015, that number had tripled. And so far this season, 20 bullpens are exceeding 93 mph, with four more only two-tenths of a tick below. The Cubs, however, are not one of those teams. At 92.5 mph, they are 26th in all of baseball and dead last in the NL Central.
Part of this may be an outgrowth of a defunct organizational philosophy of safety and precaution, though that was more about development and less about acquisition. Still, the Cubs front office has tried and failed for years to populate their bullpen with consistently competent strike-throwers who can also miss bats. Whether they're playing it safe or have simply made poor personnel decisions, or both, it's resulted in relief corps that generally lack the ability to put teams away.
At this early juncture, Brad Brach stands out as an imperfect example of this M.O. Brought in as the Cubs' only significant bullpen addition this winter, no Cubs reliever other than the recently recalled Tim Collins has generated fewer swinging strikes (7.3%). This is the part where I'm required by baseball-writing law to acknowledge that there's a lot of noise in these stats yet, so one outing can have significant impact one way or the other.
For Brach, that was the Saturday afternoon appearance against the Angels in which none of his 25 pitches generated a swing-and-miss. In fact, only three of his pitches even coaxed swings at all. One lineout, one flyout, one single. Brach got called first strikes on four of the six batters he faced, all on fastballs, but got only one other strike at all (also called, also a fastball).
Of the 17 four-seamers he threw, 11 were called balls. That's roughly two-thirds of his fastballs failing to find the zone and it means only one of this fastballs generated a swing at all (Jonathan Lucroy's leadoff flyout). Just one. It's downright uncanny to throw that many pitches to get so few swings, especially fastballs. It's like double-doinking a field goal or something.
His final line was 0.2 IP with a pair of earned runs on three hits and a walk. But more than the results, it was the inability to even make the Angels' hitters work that was so disappointing.
Brach's velocity was also down a little bit on Saturday, though not to an alarming degree. Despite hitting 93.4 against Albert Pujols, the last batter he faced, Brach averaged just 92.2 mph and clearly possessed neither command nor explosiveness. That's not entirely unexpected, though, and not just because of his issues with mono prior to the season. Brach typically takes a while to ramp up to full speed, so there's reason to believe he's got more in the tank.
That should aid his numbers moving forward and help to boost and solidify the Cubs as a unit, something they sorely need. The 'pen isn't as bad as it looked early and it isn't as good as a long scoreless streak gave hope for. The issue, which has already been stated, is that the Cubs simply don't have enough pitchers who can go out there and miss bats. Period.
Carl Edwards Jr. was supposed to be one of those guys, but he lost the edge and was demoted to Iowa. They must have a helluva strop down there though, because he's sharpening things up in short order since being sent down. Speaking of which, Pedro Strop is just about the only consistent force in the bullpen and figures to be even once Morrow returns.
Thursday: 12-pitch, 1-2-3 inning for Carl Edwards Jr. with the @IowaCubs.
Today: 7-pitch, 1-2-3 inning for Carl Edwards Jr. with the @IowaCubs.

Pretty impressive.

— Alex Cohen (@voiceofcohen) April 14, 2019
Dakota Mekkes and Dillon Maples have been called for by fans, present company excluded, but they've combined for just as many walks as strikeouts (10) so far in Triple-A Iowa. James Norwood has elite velo and is another who many believe can have an impact at the MLB level, but he's still only pitched 32 innings above Double-A and the Cubs likely want him to smooth out his mechanics and develop his splitter into a true put-away pitch.
As with any of these early-season statistical pieces, you have to be careful not to put too much stock in the numbers themselves. You can, however, look at where the Cubs sit relative to the league and what trends are underpinning the stats. In this case, it ain't pretty and hasn't been for quite some time.
Maybe things will change and the Cubs will start throwing strikes and getting whiffs like all the spring flowers starting to pop up. Well, except in Chicago, where the weather is trying to kill them all. Gee, I hope that's not an allegory.