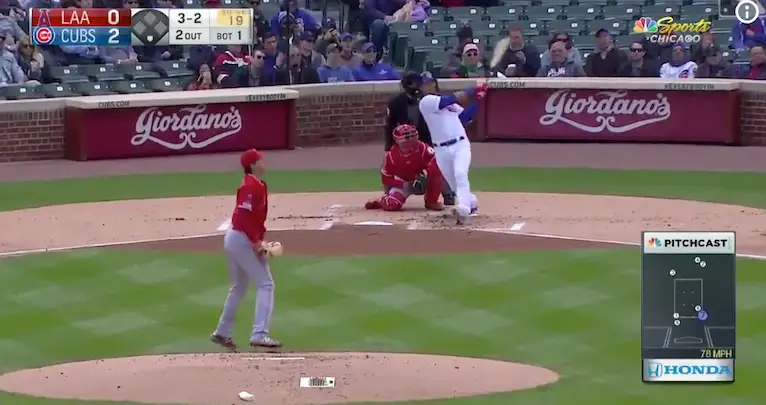 The Rundown: Cubs Staff Righting Itself, Contreras Has 5th Multi-Homer Game, Look at Drivers of MLB Contract Extensions
I know there are a few stragglers still walking the ledge but I think it is safe for Cubs fans to come inside and relax. Hey, a two-game winning streak! Great starting pitching has been the Cubs' M.O. when they've been at their best, and back-to-back superb efforts by Cole Hamels and José Quintana may be an indicator of good things to come.
The opening game of the Cubs/Angels three-game set featured a stellar performance by Hamels, who whittled his way through the Los Angeles lineup in relatively short order over eight strong innings in the 5-1 victory. The veteran lefty loves pitching at Wrigley Field, as his career-best ERA indicates.
.@ColeHamels' 1.61 ERA at #WrigleyField is the lowest all-time among pitchers with at least 10 starts there.#EverybodyIn pic.twitter.com/Yrw6TY1j9z

— Chicago Cubs (@Cubs) April 13, 2019
The Cubs scored all of five runs via the longball. Willson Contreras had a two-homer game and Anthony Rizzo and David Bote both went yard too. Rizzo's tater traveled an estimated 472 feet with a little help from a strong southwest wind. For Contreras, it was the fifth multi-homer game of his young career.
Albert Pujols accounted for the Angels' only run with his 29th career home run at Wrigley Field. He now has 635 career blasts, trailing Willie Mays by 25 for fifth place.
Game two is set for today and hopefully Kyle Hendricks can avoid getting knocked around in the first inning, something he has been annoyingly prone to.
Cubs News & Notes
How About That!
On Saturday, TMZ Sports reported the baseball representing the 762nd home run hit by Barry Bonds could reach a sale price of $750,000 after previously being sold for $376,612 in 2008.
The Padres are in first place in the NL West, and strong pitching performances are the reason.
Like the Cubs, the Red Sox are proud owners of their first winning streak of the season.
Khris Davis hit his major league-best 10th home run and his fifth in three games, as the Athletics rallied from a five-run deficit to beat the Rangers. For historical reference, it took Mark McGwire 21 games to hit his 10th home run in 1998, while Bonds reached that mark in 20 games in 2001. It took Roger Maris 40 games to hit his 10th home run in 1961. Oakland has played 18 games this season.
The National's bullpen is really struggling, and they blew another game yesterday despite a spectacular performance by starter Patrick Corbin.
The Giants and Rockies played 18 innings last night, with the Giants pulling out a 3-2 win after 5+ hours of baseball. The game ended at 1am with the Giants setting off a fireworks display that didn't sit well their neighbors.
The Royals ended a 10-game losing streak with an 8-1 win over the Indians yesterday.
Yasmani Grandal returned to Chavez Ravine for the first time this season and led the Brewers to an 8-5 victory over the Dodgers. The Milwaukee catcher was 3-for-4 with a home run and 3 RBI.
Yankees officially announce that they have placed Gary Sánchez on the 10-day injured list with a left calf strain. Sánchez was off to a tremendous start this season.
Travis Sawchik of FiveThirtyEight Sports takes a look at the drivers behind the recent and sudden increase of MLB contract extensions.
Friday's Three Stars
Cole Hamels – The veteran Cubs starter scattered four hits over eight innings with six strikeouts yesterday afternoon and picked up his second win of the season.
Eloy Jimenez – The rookie outfielder had his first multi-homer game, going yard twice at Yankee Stadium as the White Sox tripped up New York 9-6 in a rain-shortened game.
Willson Contreras – The backstop enjoyed a 3-for-4 day with two taters in leading the Cubs to their win against the Angels.
On Deck
Have you checked out the Cubs YouTube channel lately?
Extra Innings
Some Baltimore drinkers would have had open bar if only Chris Davis was able break his hitless streak last night. He didn't [insert sad trombone here]. Davis lined out as a pinch-hitter to end the game, extending his record hitless streak for a position player to 0 for 54. He did get a hit Saturday, though.
The patrons at Lee's Pint & Shell in Baltimore react to Eduardo Nunez catching Chris Davis' pinch-hit liner to end the game…and deprive them of open bar. https://t.co/JD51xZzizk pic.twitter.com/PegdCveZu6

— Eddie Matz (@ESPNeddiematz) April 13, 2019
They Said It
"One of our goals is to get back to that day-in and day-out level of attention to detail and level of competitiveness. 2016 will probably always be the gold standard for us. We really think we did that day in and day out all season and into the playoffs. It's ultimately what we want to get back to." – Jed Hoyer
"I got a second wind in the 17th inning." – Erik Kratz, after catching 265 pitches in 18 innings last night.
"We're going to be seeing $20 [million] and $30 million salaries regularly in arbitration. They [MLB teams] are going to try and push back on that. How do you do it? You pull those guys out of the system. They are capitalizing on good players they have been watching through the draft, through the minor leagues, and who are represented largely by unqualified or under-qualified agents. The teams have scouting reports on agents the very same way they have on opposing hitters and pitchers. They have heat maps. They know our tendencies, they know who will go to arbitration, who won't, whose business is failing and they need to vest their fees." – Anonymous Player Agent
Saturday Walk Up Song
What a Day That Was by The Talking Heads. Hamels sure loves himself some day baseball at Wrigley Field, am I right?