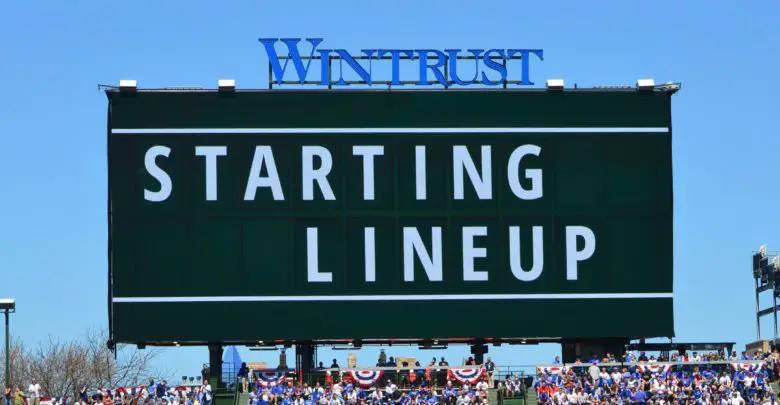 Chicago Cubs Lineup (4/13/19): Descalso Leads Off, Zobrist Second, Hendricks Tries to Avoid Slow Start
Daniel Descalso is in the leadoff spot and playing second base with Ben Zobrist batting second in right. That means two of the Cubs' primary No. 1 hitters are bunched at the top, which should be interesting. It also means Kris Bryant is getting a day off, perhaps to just clear his head a bit and try to hit the reset button.
Anthony Rizzo is at first, Javy Báez is at short, Jason Heyward is in center, and Willson Contreras is catching. Kyle Schwarber, who has been waving awkwardly at too many breaking balls lately, is in left for this one. David Bote is at third in place of Bryant and batting eighth. That is an absolute crap-ton of thunder at the bottom of the order, folks.
Opposing the Cubs will be Chris Stratton, the great-nephew of Eric Stratton, Rush Chairman. Damn glad to meet you. Okay, that's not true at all. Stratton is not related to either actor Tim Matheson or the fictional character known to his friends as Otter. But he'd be a lot cooler if he was.
Hitters have been able to tee off against Stratton like Bluto on that hippie's acoustic guitar this season, though maybe with slightly less malice. The 28-year-old righty has yet to complete five innings and has struck out only one batter in each of his first two starts. That comes against 11 hits and six walks, with his only saving grace being a general lack of hard contact.
Stratton is similar to his counterpart in that he relies on location and movement to get over on hitters. His fastball only sits 90 mph and he throws it about half the time, setting it off with a slider, curve, and change. Though it's only two games in, Stratton is showing a pattern of using the fastball much less and the slider much more than in the past. Of course, that hasn't helped him miss bats.
His career 8.5% swinging strike rate ranks 155th of 188 pitchers who've thrown at least 220 innings since 2016, and that rate is down to only 7.2% so far this season. Stratton doesn't strike guys out and his control hasn't been very good to this point, which means he'll whiff 10 Cubs and walk none given the way they tend to work. Or not.
Kyle Hendricks just needs to go out and attack this Punch-and-Judy lineup as a means of escaping his First Inning of Death woes. The Angels without Mike Trout and Shohei Ohtani are almost unrecognizable as an MLB team, outside of maybe Jonathan Lucroy and the 74-year-old Albert Pujols.
Two consecutive money starts by José Quintana and Cole Hamels and a stellar performance by the bullpen over the last week have the staff looking much better. An excellent effort from Hendricks would really have things moving in the right direction.
First pitch from a cool Wrigley Field will be at 1:20pm CT and can be seen on ABC-7 or heard on 670 The Score.
Here is today's #Cubs starting lineup. #EverybodyIn

Game preview: https://t.co/CLnmBsDXms pic.twitter.com/uVj3FPDatw

— Chicago Cubs (@Cubs) April 13, 2019