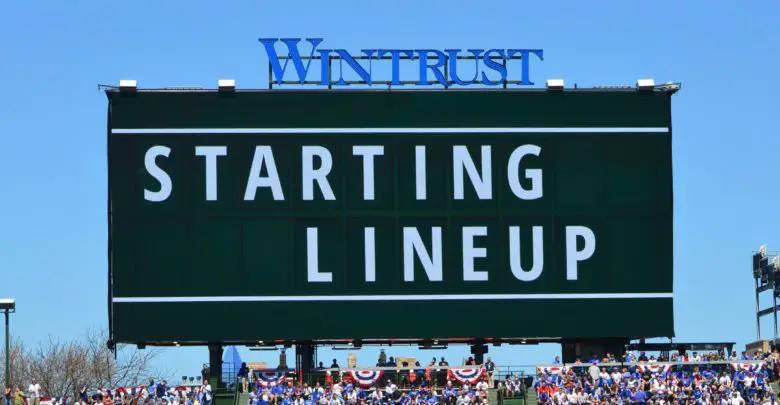 Chicago Cubs Lineup (4/1/19): Almora Leads Off, Bote at 2B, Hendricks Pitching as Cubs Try Not to Be April Fools
Albert Almora Jr. is leading off in center with a lefty on the mound, followed by Kris Bryant at third, Anthony Rizzo at first, and Javy Báez at short. Willson Contreras is catching, David Bote is at second, Jason Heyward is in right, and Mark Zagunis bats ninth in left.
Joe Maddon's decision to bat the pitcher eighth shows up for the first time in this one since the Cubs opened in an AL park. It's perhaps a little interesting to see Maddon shy away from the lefty batters given what you'll learn in a bit, but it worked out in Game 1.
Facing the Cubs will be 25-year-old southpaw Sean Newcomb, owner of a 5.17 ERA in three previous tilts against them. Newcomb has allowed 22 hits and walked 10 over a mere 15.1 innings in those starts (2.043 WHIP) and his career 4.7 BB/9 mark says Cubs hitters need to be patient in this one. He's got a 94 mph fastball and has struck out 19 Cubs, though, so he's not to be trifled with.
Newcomb sets off the heater with a changeup and curve, using his slider sporadically. None of his secondaries are particularly good, but they can keep hitters off-balance when located properly. As is the case with most lefties, Newcomb is generally tougher on left-handed hitters. Well, sort of.
He holds lefties to a lower average and strikes more of them out, but he has surrendered a .712 OPS to them vs. .670 by right-handed hitters. That's due to lefties walking more (12.7% to 11.4%) and slugging 72 points higher (.419 to .347). Which brings us around to wondering why Kyle Schwarber isn't in there facing what appears to be a perfect matchup for him.
Of course, all three of the homers the Cubs have hit against him have come from righties (Almora, Báez, Contreras).
On the mound for the Cubs will be the freshly extended Kyle Hendricks, who's looking to serve as the requisite mouthwash after the lingering bad taste from the last two games. He'd do well to overcome his early-inning struggles in order to do so, since the last thing this team needs right now is an early deficit. But if he settles into a groove and gets that changeup working, it'll be a sight to behold.
First pitch from SunTrust Park is at 6:05pm CT and can be seen on NBC Sports Chicago or ESPN. Those who are in the blackout zone but don't get NBCSC can still listen on 670 The Score.