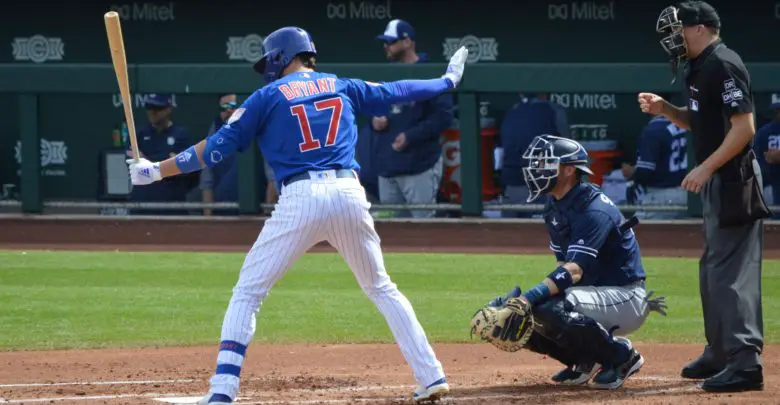 Kris Bryant Just Wants to Play Baseball, Doesn't Believe Cubs Have Had Extension Talks with Any Core Players
We're well past Groundhog Day, but it feels like the same stories keep repeating themselves. Or maybe it's more like Edge of Tomorrow in that we gain a little more knowledge with each cycle, just enough to make it seem worthwhile to ask the same questions over and over again with slightly different nuance.
Case in point, Kris Bryant keeps getting asked about a potential extension every time another young superstar signs a new deal. Nolan Arenado, or Norman Avocado as he's known in some online circles, signing an eight- year, $260 million extension whipped the Mesa media into a frenzy and had Bryant repeating the same answers he's given every year.
More questions were inevitable in the wake of Mike Trout's gargantuan 12-year, $430 million deal with the Angels. To be fair, no one is looking at Trout as a template for Bryant. Arenado's contract is much more of a realistic benchmark, given their shared position and contract status, but it's about the concept in general.
And the general concept is that Bryant would much rather spend his time trying to dunk a basketball than addressing his long-term future with the Cubs for the bajillionth time.
"I'm just getting tired talking about this stuff," Bryant said Tuesday, per MLB.com's Jordan Bastian. "It's really boring. I just want to play baseball. I just said boring again, that's not cool."
Wait, is that a hint that he's leaning toward signing with St. Louis when his rookie deal expires after the 2021 season? God, that would be awful. The truth of the matter is that Bryant just wants to get to the real games and leave all the ancillary storylines behind.
He's already said he's happy to listen if the Cubs want to present a reasonable offer, but it sounds like all that talk about not having any more money to spend on free agents applies to current players as well.
"There just hasn't been any talk," Bryant continued. "I think Tom (Ricketts) has a focus of going in with what we've got now and seeing how things are going to play out at the end of the year. Obviously, he's the guy running the show. It's his team. So I don't think there's been any talks with anybody.
"I think it's just kind of a different period for us this year. That's not a bad thing. It's just go out there and win and focus on this year rather than get ahead of ourselves and sign everybody to extensions."
Again, this is the same thing Bryant has been saying since people started asking him about an extension two years ago. He's been steadfast about his willingness to let everything play out and he's still got three seasons in a Cubs uniform, so it's not as though there's any pressure to get things done.
The same goes for most of the other players under the extension-eligible umbrella, though the Cubs may want to think about having some of those talks before long. With several marquis players off the board and lots of money falling off their books over the next two seasons, not to mention the new Marquee Network, that baseball operations budget is going to have plenty of room soon enough.
As for the whole "Aw, shucks" demeanor Bryant displays, that's totally legit; he really is an unassuming guy who just wants to go out and play baseball. Some people see his employment of the shark-skinned Scott Boras as evidence to the contrary, but it's actually very much in keeping with Bryant's persona.
Boras is known for taking complete control of his clients' contract negotiations, which means Bryant doesn't have to mess with the business side of things at all if he doesn't want to do. Of course, Boras's tactics have cost him more than one player in the past and Bryant has gone on record as saying he, not Boras, is the one in charge.
In the end, this is a story because there aren't any other stories to tell at this point. Bryant is only concerned about his his next at-bat or the next game, he's not plotting to screw the Cubs for manipulating his service time or holding out to break Trout's record. Nor is he going to acquiesce to a team-friendly deal that keeps him in Chicago for way under market value.
Barring another big extension by a another star player in the next week or so, we should be able to put this topic to bed for another 10 or 11 months.