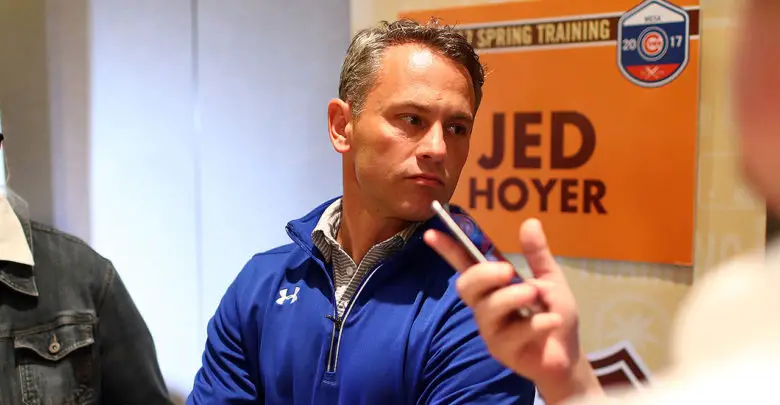 Jed Hoyer Hints Cubs Could Be Close to Extending Some Young Players, Progress 'Under the Radar'
A majority of the conversation surrounding extensions for the Cubs' core players has centered on Kris Bryant, and rightfully so. In addition to being the most decorated of their stars, he's also been vocal about ongoing service-time issues that some incorrectly believe will impact his desire to re-sign. And with Nolan Arenado's new deal effectively setting the market, Bryant has been asked about his openness to a big payday in Chicago.
This comes after multiple reports that the former MVP has previously declined extension overtures, including one that had him turning down "well north" of $200 million last year. As Bryant has had to reiterate multiple times, he's more than willing to listen if the Cubs come to him with an offer that makes sense. But even though he says he's the boss, guys who enlist the services of Scott Boras don't typically accept deals prior to reaching free agency.
General willingness aside, the prospect of an extension for Bryant is complicated by his elite status and future earning potential. As such, there are several other core players with whom the Cubs might be able to work things out more quickly. Anthony Rizzo will be coming off of his incredibly team-friendly deal following the 2021 season, which is when Javy Baez and Kyle Schwarber would also be coming up for free agency.
Bryant and Addison Russell are also in that class, but we've already addressed the former and it's unlikely the Cubs are looking to cement anything with the latter at this point. In addition to the issues he faces with ongoing treatment in conjunction with his domestic violence suspension, Russell is a Boras client and will likely be encouraged to thoroughly rehabilitate his image first.
Finally, we have Kyle Hendricks, who is perhaps the most pressing player of the group since he's controlled only through 2020. A Cy Young finalist in 2016, Hendricks is the youngest member of the current starting rotation and could be sort of the heir apparent to Jon Lester when it comes to leading the pitching staff into the next phase of competitiveness.
These players aren't creeping closer to expiry for lack of effort by the front office, but there isn't any all-consuming urgency to make something happen yesterday. And as Jed Hoyer recently shared with 670 The Score, the Cubs might actually be making a little progress on some of those fronts.
"There's no question, we've tried to extend a lot of these players over the last few years and haven't gotten anything done," Hoyer said during a visit with the Bernstein & McKnight Show. "Do we want to have some of these players — their contracts are up after '20 or '21 — do we want to extend them? Absolutely, we'd be crazy not to. We'll continue having that dialogue.
"We'll try to keep it under the radar. But of course these are players that we hope we can keep long term."
While the folks in the front office aren't going to share publicly the specifics of any negotiations, the part about keeping it on the down-low is telling. Hoyer tipped his hand ever so slightly by admitting that talks have continued and that some resolution may be in sight.
"Any time you have ongoing discussions, it's a positive," Hoyer said. "Both sides learn something about where the other side is. Sometimes you're so far apart, there's no point in continuing. But sometimes you're close and being that close can allow you at some point in the future to rekindle that."
We can discern from this that the respective parties are getting close, or at least closer, since there wouldn't any point in talking from opposite sides of a wide chasm. Just how close is up in the air, but someone willing to hazard a guess might list Hendricks and Baez as most open to signing long-term deals.
Some of that is their individual personalities, some is their representation. Both players employ the Wasserman Group, the same agency that serves Arenado and that is widely viewed as being somewhat amenable to working out deals with "hometown discounts."
Hoyer alluded to that concept as a factor in negotiations, though he certainly didn't mention any specific players or agents.
"The fact that these markets have really dragged for so long really extended, I think players are definitely talking about it and thinking about it — especially if you're playing in place that you like, where you're comfortable."
Given their lack of activity in free agency and the amount of money coming off the books over the next two years and beyond, now would be a good time for the Cubs to extend a player or three. Not only does it solidify the future, it'd generate the kind of goodwill the team has sorely lacked over the last few months. But given the lack of available funds, perhaps we'll have to wait for next year to see anything on that front.
And with Theo Epstein issuing a borderline threat about possibly being open to significant transactions, the Cubs may wait for the end of the season before consummating new deals. Let's just hope they're not still out of money at that point.