Cubs Prospect Profile: Could Zack Short Be a Dude in 2019?
If some of his more zealous supporters had their way, Zack Short would be the starting second baseman for the Cubs in 2019. The 23-year-old out of Sacred Heart University has quickly made his way through the system and has established himself as being, to use some fancy prospect parlance, a dude. Short still has a few things left to accomplish before he gets his shot at the majors, but he's not far from getting that opportunity.
Drafted in 2016, Short has displayed a penchant for two things as a Cub. He has shown the ability to hit for power at every level and he's also been to draw walks and get on base. His batting averages have not been the greatest, but with walk rates of 18, 14.4, and 15.6 percent over the last three seasons, he's pretty much ready when it comes to approach.
More than just a pretty plate appearance, Short was named the Southern League's best defensive shortstop by Baseball America in 2018. As part of the Cubs' devotion to creating and maintaining versatility, he has also seen time at second and third the past two summers Wherever he plays, he will be just fine when the ball is hit to him.
As good as the glove is, though, it's the bat that is going to get Short to Chicago. Here are four things to keep in mind as he gets at-bats in Mesa this spring with the big league club and when he makes his Triple-A debut at Iowa in April.
1. Forget about batting average
I could not care less what he hits, it's really about how often he can get on base. After all, it's not like the Cubs are going to call Short up and put him at the top of the lineup. He's going to be a guy that will come in and begin his career hitting eighth. Anything more than that is a bonus. If he gets on base with a walk rate of over 15 percent, the average will hardly matter because he'll be at about a .360-.370 OBP. Any manager would take that out of the eight hole.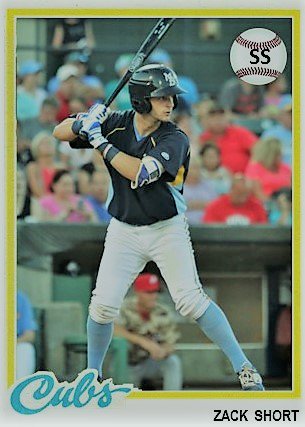 2. Absolute power may not corrupt absolutely
Short's power numbers in the Pacific Coast League could be a little deceptive this summer. He has socked a combined 30 home runs over the last two seasons in A-ball (13) and Double-A (17). If he can elevated the ball in the hitter-friendly PCL, he could crank out over 20 dingers as a shortstop this year. The power alleys of Albuquerque, Reno, Salt Lake, and Colorado Springs could allow Short to do some major power damage and boost his confidence.
3. Defense all over
The more reps he can get at second base this year the better. He doesn't necessarily need any more time at third, but maybe a few games in the outfield wouldn't hurt either.
4. Maintaining production
For the past few years, a lot of Cub prospects petered out at Tennessee and many have not been given the opportunity to even make it to Iowa. Short has risen quickly and he is going to need to continue that production in order to make it to Chicago. All the players the Cubs have called up the past six summers dominated at the upper levels of the system. Short has put up good numbers, but he really needs to turn it up a notch this year.
There really isn't a timeline in place when it comes to his arrival on the big-league roster. It would be nice if it's this year, but that's not necessarily built into his development plan. When he's ready, he will be ready. Some of it will also be about the the health of the players already occupying middle-infield spots on the 25-man roster, as Jason McLeod has said position-player call-ups this season will almost certainly come as the result of injuries.
That could mean staying at Triple-A even if he's walking enough to post a .400 OBP or hitting 20-25 home runs as a shortstop. I still think he is more than likely a year away from his big chance, but he could get a sneak peak at some point this year, even if it's just as a September addition. Ideally, what the Cubs want is for Short's production to force their hand at some point.