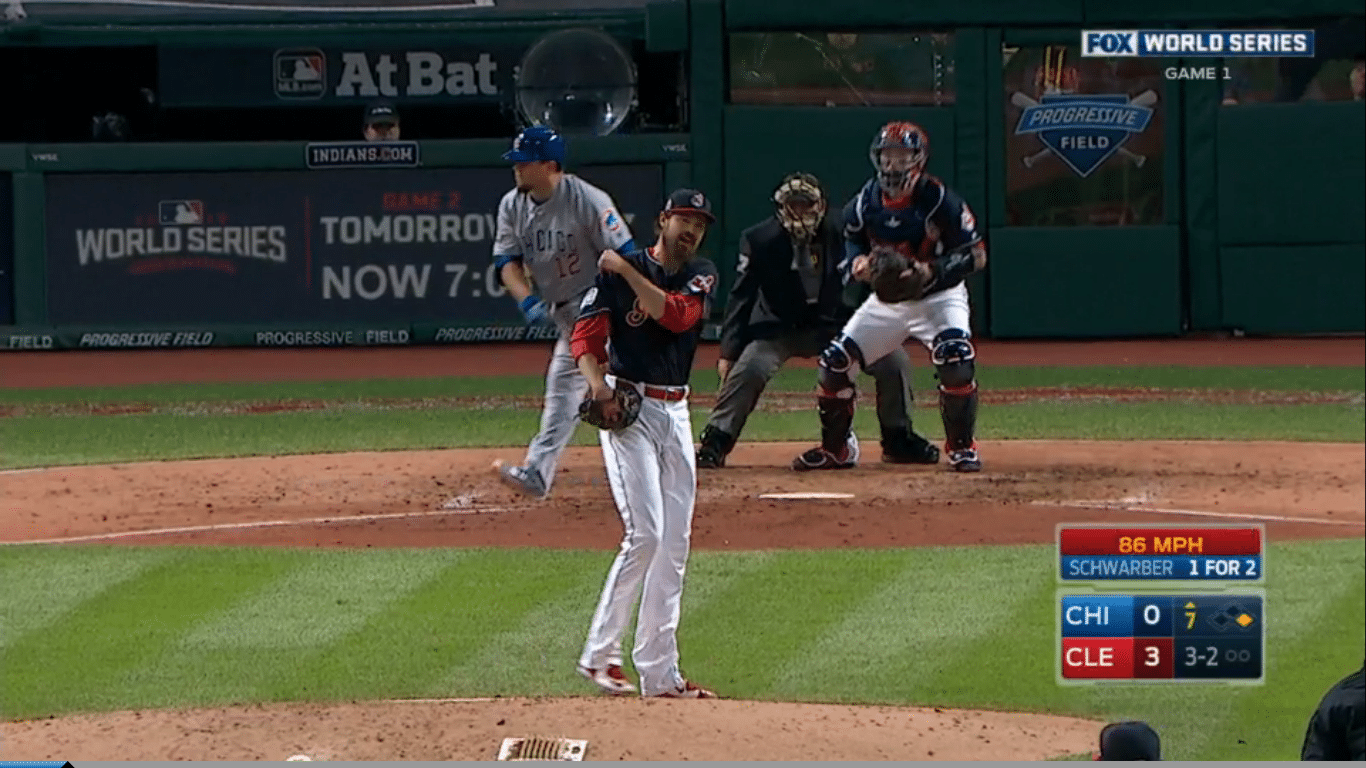 Cubs Have Reportedly Talked with Andrew Miller's Camp
While the sluggers at the top of the market are drawing most of the focus, it's been repeatedly reported — and stated by Theo Epstein himself — that the Cubs are not likely to spend what it'll take to play there. But one area in which they've got both the appetite and need to make improvements is the bullpen, which has some holes due to performance and defection.
And while Jesse Chavez signing with the Rangers might not be a defection, per se, there was a sense that he'd be back given his end-of-season claims. We can debate the merits of signing a 35-year-old reliever to a multi-year contract, but what's not up for argument is that Chavez personified "proven strike thrower" better than perhaps any previous reliever in Theo Epstein's tenure on the North Side.
He was also a veteran presence and seemed like a guy who really wanted to be there. That latter part isn't uncommon for someone who was just traded from a bottom-feeder to a title contender, it's just that Chavez possessed an "it" factor you don't often see. He, I don't know…fit. The edge and fire he displayed are things the Cubs may be looking for on the market in addition to mere performance.
The biggest need, of course, is someone who can shoulder some of the load at the back end of the 'pen, particularly with Brandon Morrow's status uncertain. Make no mistake, Morrow should be healthy to open the season. But for how long? And even if he experiences no setbacks, it's become obvious that he can't be relied upon to pitch too frequently.
Epstein pointed to Morrow pitching three consecutive days as the possible genesis of the stress reaction that eventually shut him down, so you can bet back-to-back outings are his limit. That's good for the preservation of Morrow's health, not so great for a guy who's expected to close games for a team that might play a lot of close games. The Cubs have averaged 46 one-run games over the last three seasons and the division isn't getting any easier.
With all that in mind, it's possible they could look to a very familiar name to either spell or supplant Morrow at the end of the game. Andrew Miller was a potential trade target in 2016, but the Cubs rebuffed the Yankees' request that Kyle Schwarber be included and, well, you know the rest.
Like Morrow, Miller is a failed starter who resurrected his career as a lights-out reliever back in 2012 with the Red Sox. Like Morrow, Miller is no stranger to the training room and the DL. The 6-foot-7 southpaw has dealt with myriad injuries over the course of his career and was limited to 37 appearances last season, which is either a good thing (lower financial commitment) or a bad thing (greater injury risk) when you're thinking about offering him a deal.
Which it appears the Cubs are doing, as Tom Loxas, occasionally of CI, tweeted Monday night. The seriousness of the talks are not known at this point, but it makes sense that they'd check in on the 33-year-old.
Cubs recently talked with Andrew Miller peeps. Risky and still could be costly, but I'd like that fit.

— TomLoxas (@TomLoxas) December 4, 2018
They key here is going to be money, which MLB Trade Rumors predicts will fall around $27 million over three seasons. But the Cubs were apparently unwilling to match a total of $8 million for Chavez over two years, so would they really go more than that for each of three seasons for Miller? And keep in mind that they still owe Morrow at least another $10.5 million ($9 million base, $1.5 from buyout), though the likelihood of him reaching his $12 million vesting option for 2020 is slim.
In theory, a righty-lefty punch of Morrow and Miller at the back of the 'pen could be incredible. Joe Maddon could use them in tandem in order to avoid taxing either too heavily, and Pedro Strop provides additional insurance in the all-too-likely event that one of them needs to convalesce for a while. And if Morrow is indeed gone after next season, the closer role would still be covered. But you're talking about a $20 million risk for 2019, which doesn't really jibe with what the Cubs are saying they're comfortable doing.
If Miller gets back to his 2016 form, paying him $9 million is a no-brainer. Remember the thing about Chavez and his 1.15 BB/9 being a godsend for the Cubs this past season? Miller averaged 1.09 BB/9 for a full season two years ago, and put up 14.89 K/9 while doing it. That's 13.67 strikeouts for every walk. Your mouth watering yet?
At the same time, his career average of 3.44 BB/9 as a reliever — the exact same mark he's posted over the last two seasons — is relatively pedestrian. Of course, a 13.44 K/9 average is enough to make up for a free pass here and there.
I don't really see this working out for a number of reasons, though there is one unique dynamic that could make it happen. Miller's performance dropped off after 2016, a trend I think is only fair to attribute to David Ross's Game 7 home run against him. So with the Cubs looking for Ross to assume a more prominent role with the team, perhaps the two could be reunited, thereby fixing Miller.
The parallels to Arthurian legend, specifically the Wounded King or Fisher King, are so strong that I want this to happen for that alone.