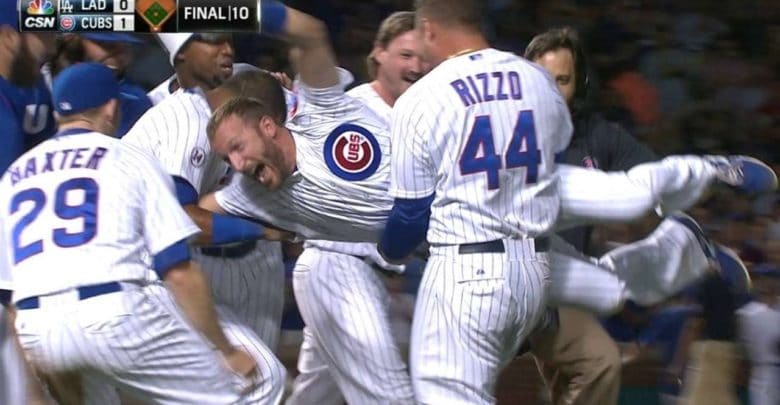 Former Cubs Cult Hero Has 'Emerged as Strong Candidate' to Join Maddon's Staff
Names like David Ross and Mark DeRosa have become commonplace when it comes to former Cubs with the potential to either join Joe Maddon's staff or replace him entirely, but it's a more stealthy character who may fit the bill. Not that Chris Denorfia has managerial designs, at least not in the immediate future, just that he is seen as a distinct possibility to shift from the front office to the clubhouse.
Citing two sources familiar with the situation, Patrick Mooney of The Athletic wrote (subscription) that Denorfia has "emerged as a strong candidate" to assume a role on Maddon's staff. ESPN's Jesse Rogers has mentioned as much as well. The easy assumption would be for the former outfielder to assume the assistant hitting coach role left vacant when Andy Haines took the top hitting job in Milwaukee, especially after former assistant hitting coach Eric Hinske caught on with Arizona.
But as Mooney puts it, Denorfia's title might be a bit more amorphous, not that the Cubs have ever really worried much about coaches staying in their clearly defined titular lanes.
Maybe it's more as a quality control coach than an assistant hitting instructor, but Denorfia earned immense respect from Maddon, inside the clubhouse and within the front office for his preparation, professionalism and ability to handle elite velocity during the team's surprising turnaround season in 2015. Denorfia maximized his talents as a 19th-round pick in the 2002 draft out of Division III Wheaton College (Massachusetts), lasting parts of 10 seasons in the big leagues.
If you're wondering exactly what a quality control coach is or does, think of it as something of the offensive version of what run prevention coordinator Tommy Hottovy has been doing. I guess that means we could call it what some in comments here and otherwise have mockingly referred to as a run creation coordinator. And when you get right down to it, that's exactly what the Cubs need.
Sure, there's value in having someone serve as a sounding board for players when it comes to making mental and mechanical tweaks. Hinske notably encouraged Anthony Rizzo to crowd the plate, among other things. But perhaps there's even more value in someone who can consume and digest data and scouting reports in order to better prepare players and staff members alike to make necessary adjustments to new pitchers and teams.
When Theo Epstein talked about the offense breaking, he was referring to the dozens of games in which they couldn't scratch out more than one run. And while there are myriad reasons for those struggles, one that appeared evident to fans was a lack of preparation. It's not enough to simply be better than your opponent and to assume that will be enough. Winning requires the ability to anticipate and adapt to that opponent, something that is increasingly important in this era of hyper-specialization.
Denorfia makes a great deal of sense because he represents a bridge, both from the front office to the coaching staff and from the computer to the field. Like Will Venable, who began his Cubs tenure as a special assistant to the president and GM before moving to first base coach, Denorfia rejoined his old organization in a front office capacity this past season. He also had Maddon's respect from his days as a player, so he's not exclusively anyone's "guy."
And at just 38 years old, Denorfia carries the wisdom of experience with a timely understanding of today's game. Like Hottovy — who is considered a favorite for the pitching coach gig — he may be seen as someone who is able to relate complex data-driven directives into concepts each hitter can properly understand and apply. Because each player is different, the best way to find success is to understand how to best approach them as individuals. I can't speak from direct knowledge, but something tells me Chili Davis was not a master practitioner in that regard.
So whether Denorfia — who I used to fondly refer to as the King in da Norf — is named assistant hitting coach or quality control coach (a role formerly held by none other than Henry Blanco), the duties would no doubt be similar. If, that is, he's actually moved into a new role at all. But it's certainly sounding like Denorfia will help to round out the staff, with former player Terrmel Sledge also mentioned as being in the mix.
My guess based on all I've heard and read so far is Hottovy as pitching coach, Denorfia as QC, and maybe Sledge as assistant hitting coach. So if you find a book with prop bets on such mundane topics, lay some money on different names/positions from what I'm thinking.