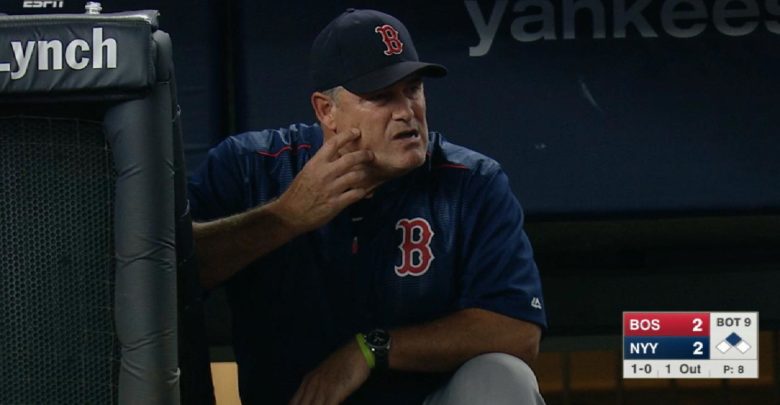 Report: John Farrell 'Highly Unlikely' to Pursue Cubs Pitching Coach Job
Reports of Jim Hickey's departure began about two weeks prior to him officially stepping down, so speculation about his successor gestated silently for a while. Once his departure was confirmed, however, a litter of rumors squalled to life. The biggest of those came in the form of John Farrell, the former Red Sox pitching coach and manager who has strong ties to both Theo Epstein and the Cubs organization.
The Tribune's Mark Gonzales named Farrell as a possibility and a report in the St. Louis Post-Dispatch referred to the current Reds scout as the "frontrunner" for the gig in Chicago (info on both in link above). But while he seems an obvious candidate in a vacuum, the reality of the situation is that Farrell's hiring might not go over too well with the current staff, particularly when Joe Maddon is managing under a cloud of uncertainty.
As The Athletic's Ken Rosenthal reports (subscription), Farrell is "highly unlikely to pursue the [Cubs] job," largely due to the circumstances surrounding it.
With Joe Maddon entering the final year of his contract, Farrell wants no part of a narrative that he might be viewed as a manager-in-waiting, the source said. Farrell, fired as manager by the Red Sox after the 2017 season, is sensitive to Maddon's position. He worked as a scout for the Reds last season with the understanding that he would not be a candidate to replace Bryan Price.
This runs contrary to an earlier report from Bruce Levine that said Farrell was expected to interview for the job, but things may have changed over the holiday weekend. And in true baseball retread fashion, Price was also among the names Levine mentioned as a potential Hickey replacement. Though his credentials as a pitching coach are strong, Price would likely engender some of the same sentiments as Farrell when it comes to Maddon looking over his shoulder.
Of course, there's more to it than just the idea that they might be looking to replace Maddon. Certainly neither man would be hired with the understanding that he'd be in line for the managerial gig, since that would create open friction and maybe even animosity. When Epstein talked about having an edge, he wasn't talking about a jagged one like the end of a broken beer bottle.
The other issue is that an established big league coach/manager like Farrell or Price would probably be loathe to take a job so tenuous as the one we're talking about here. Not only have the Cubs replaced their pitching coach in each of the last two seasons, but they could well be in line to do so again if Maddon isn't extended. And it's entirely possible that Maddon's replacement, assuming he's not Farrell or Price, would want to bring in his own guy.
Then again, we've already seen how the front office has exerted greater control over coaching staff decisions of late. Which is why the Cubs might prefer to promote an internal candidate, someone who knows the culture and would provide some much-needed continuity. Levine mentioned Lester Strode (bullpen coach) and Brendan Sagara (minor league pitching coordinator), but the man getting the most attention seems to be run prevention coordinator Tommy Hottovy.
Both Jesse Rogers and Sahadev Sharma have touted Hottovy's ability to translate analytics and scouting info alike to players, and the former pitcher's pedigree lends him credence. Hottovy has worked closely with catching coordinator Mike Borzello on several strategic initiatives and he's also been instrumental in the Cubs' free-agent recruiting efforts.
There are other external candidates as well, among them former Phillies pitching coach Rick Kranitz and Marlins pitching coach Juan Nieves. Even though signs are pointing toward the Cubs looking more within the organization, neither of these options carries the same cachet and potential to upset the apple cart as Farrell or Price.
With December nearly upon us and the Cubs in search of bullpen help, you can imagine why they might want to have this matter settled as soon as possible. My money's on Hottovy, but I can honestly say that nothing other than Farrell being hired would really surprise me at this point. Either way, expect to hear about a decision in the fairly near future.