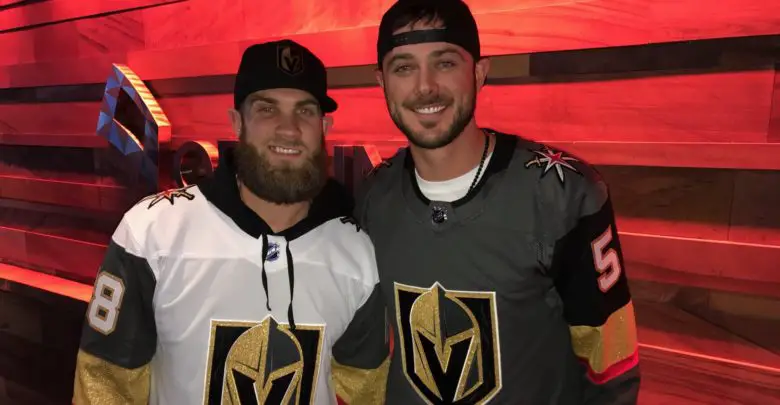 Cubs Heavy Favorites to Land Bryce Harper, Odds at Even Money
The offseason may have begun earlier than expected for the Cubs, which means one thing: Bryce Harper rumors jump to the forefront. Not that the idea of the soon-to-be 26-year-old superstar joining his Las Vegan buddy Kris Bryant in Chicago is novel by any stretch. Heck, Peter Gammons told 670 The Score back in June of 2017 that Harper wanted to join the Cubs.
"You know, I have people tell me that Bryce Harper really would prefer to play for the Cubs," Gammons offered.
The venerable scribe went on to say that he didn't see how the Cubs could make it work from a financial standpoint, but you can't easily put the toothpaste back in the tube on something like this. Keep in mind, Gammons was saying that when Harper still had a year and a half left on his deal with the Nationals. And the impeccably-coiffed slugger has dropped mad hints even since.
Like the time he used #Back2BackOneDay in the caption for an Instagram post featuring Kris Bryant. Or being photographed with fans wearing Bulls hat. Or naming his dog Wrigley. These are obvious signs of what his true intentions were and I'll accept no other explanation.
In all seriousness, it's just as likely he was engaging in a little playful trolling as much as anything else, but the folks whose livelihoods depend on likelihood sure seem to be taking Harper at his word. According to Odds Shark, Bovada has the Cubs at even money to sign Harper this winter. That makes them a massive favorite over teams like the Dodgers (+500), Phillies (+550), and Yankees (+600).
Updated odds for which team Bryce Harper will be on for the first game of 2019 (@BovadaOfficial):

Cubs EVEN
LAD +500
PHI +550
NYY +600
WSH +700
BOS +1100
LAA +1200
SF +1600

— Odds Shark (@OddsShark) October 4, 2018
It should be noted that these figures are affected by the money being wagered on individual team, as Vegas never wants too much on any one bet. So if a lot of money is being wagered on the Cubs, their odds would go down in order to stanch the losses should they end up "winning." As it now stands, the Cubs are a 50/50 that would require you to bet $100 in order to win $100.
What's really interesting to me is that the Dodgers and Phillies actually have better odds than the Yankees at this point. And I'm really surprised by the Nationals having the odds they do, given everything that's gone on there and the way they jettisoned pretty much everyone else who wasn't tied down. Even Harper was rumored to have been available in a trade, though that ended up not being the case.
His eventual destination will presumably come down to money, specifically who gives him the most. But a case could be made that the Cubs could both offer enough to land Harper and still offer less than other teams. There's already a precedent for it with several other players and the Cubs have some value props that could be as enticing as a few million extra here or there.
On the other hand, Harper is a Scott Boras client and those guys aren't generally keen on taking discounts of any sort. There's also the matter of his "down" year, at least if you view it in terms of his past production. Harper's 3.5 fWAR in 2018 fell short of the 4.8 he posted in only 111 games the previous season and his .249 average made some question his superstar pedigree.
A more in-depth look, however, reveals a .393 OPB — nearly 150 points higher than his average — that came in ninth in MLB. His strikeouts were up just a tad but his walks were up as well, and his second-half slash of .300/.434/.538 was more than solid. And that was all with a .289 BABIP that's 29 points below his career average, which means there's room for a return to even better numbers.
For the sake of comparison, Ben Zobrist led the Cubs with a .378 OBP and Javy Baez had a .554 slugging percentage. I'm not putting this information forth as explicit evidence for the argument that the Cubs should pursue Harper with gusto, but he's a generational talent and they've got an offense that could use a guy who batted .290 with a .982 OPS when he hit with runners in scoring position.
This is all pie in the sky right now and there'll be plenty of time to dissect it further as the winter blows in, but I do tend to take Vegas odds seriously.