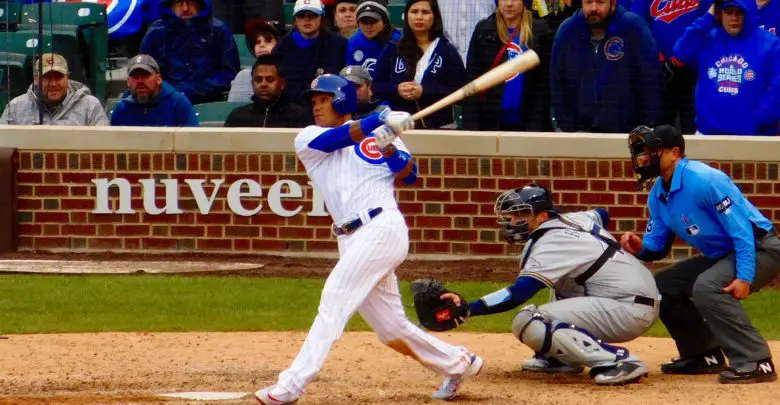 What Does Future Hold for Russell, Cubs?
Though his public comments formed their typical sheer semantic cliff, Theo Epstein nevertheless distanced himself and his team from Addison Russell in the immediate wake of renewed domestic violence allegations. And while he spoke naught of specifics when it came to a timeline or the Cubs' plans, there appear to be some footholds for us to climb here.
"I would say I know him in the baseball context,'' Epstein told the media at Guaranteed Rate Field on Friday. "One thing that we've learned as a society as we collectively try to wrestle with balancing how to appropriately handle accusations like this is it's important to step back and realize you know someone in one context and you don't really know them fully.''
One reaction to this statement would be to question the notion that an organization so prideful of its research into and awareness of character could be completely oblivious to what one of its players does with most of his life. Another would be to nod in agreement because abusers are masters of concealment.
When you get down to it, duality is at the heart of just about everything Epstein says, so looking at it from different angles can and should produce different context and meaning. But what I saw after chewing it over for a bit is Epstein sort of putting Russell out at arm's length and maybe even washing his hands after.
"Last year, this was a third-party accusation on social media," Epstein said. "Now this is a direct accusation from the accuser and potential victim so the situation has changed. He was not placed on administrative leave last year. We think this step is appropriate in light of the post.
"Given the facts last year, I think we handled it appropriately. Given the new information that came to light late last night and early this morning, we are also handling it appropriately. It would not have been appropriate and it would've sent the wrong message to have Addison wearing a Chicago Cubs uniform this morning. We fully support placing him on administrative leave."
So that takes care of the very immediate future, but what about the playoffs or next season and beyond?
Under the terms of its domestic violence policy, agreed upon by both the league and the players union, MLB can place a player on administrative leave for up to seven days while researching accusations like those leveled at Russell. They can then extend that for another seven days, after which the Commissioner can levy punishment — regardless of any legal findings — with no minimum or maximum thresholds set forth by the policy.
Russell being placed on leave Friday keeps him out until at least late next week, at which point it's easy to envision the league extending it. With the playoffs already underway by then, the Cubs would be forced to leave him off of the postseason roster, whether it's the Wild Card or the NLDS. And then comes the real question.
Because Russell isn't playing under a long-term contract, the Cubs could simply non-tender him this winter and allow him to become a free agent. That decision becomes much easier if a suspension is indeed handed down. Cutting him loose is the only real option at that point and any other choice would be a grievous mistake.
But what if MLB comes back with nothing? Do things suddenly become black-and-white at that point? They actually don't, as the Cubs would find themselves in a sticky web from which a change of scenery might be the only means of extrication.
Regardless of exactly how it plays out, I'd be surprised if we ever see Addison Russell in a Cubs uniform again.