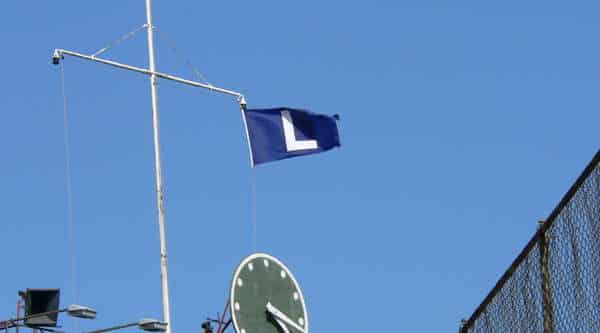 CI Recap (9/16/18) – Cubs 1, Reds 2: One Is the Loneliest Number, But Magic Number is 11
Stop me if you've heard this, but the Cubs played another one-run game Sunday to close out their series with Cincinnati. Trouble is, the home team only crossed the plate once and ended up on the short end of the final score.
The anemic offense wasted yet another stellar effort from Jose Quintana, who settled in nicely after allowing a first-pitch home run to Scott Schebler. Another solo shot from Phillip Ervin gave the Reds all they'd need to win, but Q allowing just those two tallies with seven strikeouts and three walks was a good sign.
After knocking Luis Castillo around in their three previous games against him, the Cubs could get nothing going in this one. Opportunities were squandered as their only run came on a sac fly in the 5th. But even that was not without its issues, since the Cubs had men on second and third with one out following a double that Willson Contreras pimped way too hard.
These are the games the Cubs really need to show up for down the stretch. They've been skating by here of late, which won't fly against better teams. (Box score)
Why the Cubs Lost
Uh, well, they only scored one run.
Key Moment
I guess we'll go with that 5th inning, in which Addison Russell drew a one-out walk and Contreras doubled to put two men in scoring position. Albert Almora Jr. hit a sac fly and Anthony Rizzo walked, but Ian Happ grounded out to end the threat. It was the only time they had two on in any capacity with less than two outs.
Stats That Matter
Quintana went five innings and allowed just two runs, the sixth straight game in which he's allowed two or fewer.
Kris Bryant had a pinch-hit single to right on a 98 mph fastball, a good sign after Saturday's ofer.
The Cubs had four hits, with that Contreras double the only one that went for extra bases.
Daniel Murphy hit the ball hard a couple times, but is now 11-for-64 (.172) after starting 11-for-27 (.407) with the Cubs.
Bottom Line
Losses suck, but they suck less when the Pirates beat the Brewers to shave one more game from the Cubs' magic number. That tally now stands at 11 as lead in the Central remains at 2.5 games.
On Deck
The Cubs fly to Phoenix for a trio of late starts with the Diamondbacks. Monday's first pitch is at 8:40pm CT an can be consumed on WGN and 670 The Score.