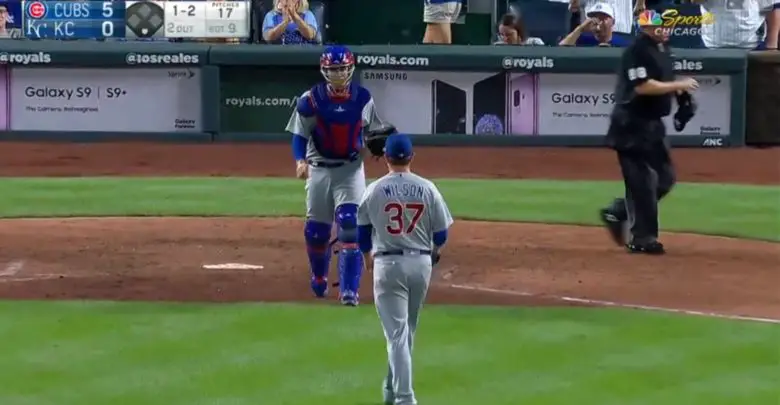 Justin Wilson Looking Like Potential Closer Thanks to Change in Delivery
Quick, when was the last time Justin Wilson walked a batter? No, it wasn't his most recent start. Not last week either. In the interest of time, I'll go ahead and give you the answer: It was August 2, which means he's currently riding a stretch of 14 walk-less appearances. And he's issued just one free pass is his last 17 appearances.
What's more, Wilson has given up only two runs and has struck out eight batters in that time. Wait, that can't be right. He's a big strikeout guy, it makes no sense that he'd K so few over so many appearances. Ah, but it does when he's pitched a full inning only seven times — three of which have come in the last 13 appearances — in that sample and has logged only 11 total innings.
Without even looking at any other results, we can surmise that Joe Maddon has been very calculated with his deployment of the hard-throwing lefty. By putting Wilson into, and also pulling him out of, very controlled situations, Maddon has done a masterful job of rebuilding the former closer's confidence.
Accurate though that may be, it also gives the manager and coaching staff a little too much of the credit for Wilson's turnaround. The pitcher himself was able to make a mechanical adjustment that led to improved results, which has in turn improved his mental state on the mound.
"Just looking at film, couldn't really find what was different," Wilson told NBC Sports Chicago's Tony Andracki. "So it was mainly just to make a change to try to trick myself, I guess.
"But then I found out I was over-closed. Changed the camera angle and looked at past film and paused it in different places. It wasn't a lot, but enough to throw me off."
This sounds like when I used to slice my drive so badly that I would occasionally turn 30-45 degrees to the right just so I could keep the ball in the fairway. Sure, Wilson's adjust was slightly less extreme, but remember that he walked nearly 10 men per nine innings after being traded to the Cubs last season (19 BB, 17.2 IP). As he put it, the small shift was a way to trick his body and mind
As with anything else, poor performance can get in your head after a while. The inability to throw strikes went from being what Wilson did to who he was, and that is a hard thing to overcome. To make matters worse, he wasn't going after hitters with that nasty heater. He was pitching defensively instead of attacking.
"[I]t's mainly more of just being aggressive in the strike zone," Wilson told Andracki of his changes this season.
The numbers bear out the claim. Wilson is throwing 59.4 first-pitch strikes, up over six points from last season and his highest since 2015 with the Yankees. He's also working in the zone with 47.2 percent of his pitches, a couple ticks above last season and again his highest since he was in those other pinstripes.
As you might imagine, swing and contact rates against him have gone up, resulting in a 1.32 WHIP that's more or less the same as last year (1.29). Even his overall BB/9 of 5.33 is a mere tenth of a point better than he posted in 2017. But considering those respective marks were 9.68 and 2.09 as a Cub in his first go-round, just being on pace with last season's numbers are a big win.
That pace has picked up over the last few months, specifically since a three-walk outing in Cincinnati on May 19. Prior to that, Wilson was putting up 10.9 K/9 and 8.31 BB/9 over 17.1 innings. In 33.1 innings since, he's pumped up to 11.88 K/9 with only 3.78 BB/9.
The former number represents the highest of any Cubs reliever this season and the latter is around the middle of the pack. He's also limiting home runs to the tune of 0.54 HR/9, a better mark than all but Carl Edwards Jr. (0.39). So let's see, that's an elite strikeout rate with much-improved walk rate and very few expensive mistakes. That sounds like…a closer.
Brandon Morrow is hoping to return within a week, but the Cubs can't count on him to work the 9th inning or even on back-to-back days in any capacity. Pedro Strop is an obvious option to handle those duties in the meantime, but Wilson continuing to show out like he has lately could earn him more and more high-leverage spots heading into the postseason. Maybe even in the postseason, given the structure and likelihood of tight games.
Regardless of when he pitches, Wilson's self-correction and Maddon's confident patience give the Cubs another option when it comes to the tightest situations in the biggest games.