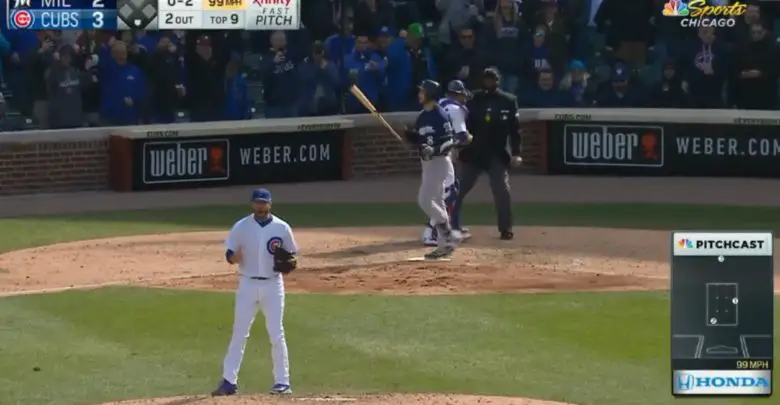 Morrow 'Trying to Be Confident' Despite Pain, Sunday Bullpen Could Determine Season
The Cubs are still targeting a mid-September return for injured closer Brandon Morrow, who will throw off the mound again this Sunday in DC. Morrow has been on the DL since the All-Star break and has only thrown one real bullpen session in that time, back on August 18 in Pittsburgh. He reported feeling a little residual pain afterwards, but was generally upbeat.
Nearly a month later, the pain is still there and the positive outlook is wearing thin enough to show the obvious worry beneath.
"I'm trying to be confident about it," Morrow told The Athletic's Patrick Mooney (subscription required) Thursday. "There's not really another kind of mindset that you can have. But I'm hoping it just holds up and doesn't hurt too bad.
"I don't know where the pain's going to plateau or how many outings it's going to take where I can't throw through it anymore or whatever."
You don't need to read between the lines to understand that Morrow and the Cubs are treading on thin ice with this thing. I mean, "hoping it just holds up" and wondering whether or how long he can pitch through the pain doesn't make it sound like everyone's bullish on the hard-throwing righty's ability to cut it loose when the time comes.
While Morrow has been playing long toss at distances in excess of 100 feet and throwing "with spirit" as pitching coach Jim Hickey put it a while back, going max effort is a different animal. And with time running out in the regular season, the Cubs need to see what happens when things are dialed up.
"It's good right now," Morrow said. "I don't know how it will be when I'm throwing it 98 miles an hour, but I'm going to try."
Morrow went on to say that the issue at the crux of the pain is a bone bruise, something he'd also described as a stress reaction in the past. As we learned in the wake of Yu Darvish being shut down for the season, a stress reaction occurs when new bone is not being formed at a level commensurate with its loss due to effort, or stress, and can be a precursor of a stress fracture.
With Darvish, the symptoms came and went during the course of his rehab but really flared up when he got into game situations. Even though he's hoping to push through what could be a similar issue, Morrow was very transparent in saying that neither he nor the Cubs' staff is certain of anything.
"I haven't had a bone bruise in my forearm before and I don't know that the trainers have worked with one, so it's hard to say," Morrow admitted. "It's just hard to predict what to expect."
Man, the more you hear, the more you sit back and wonder whether it might not be best to just shut the guy down. And that's still a distinct possibility depending on how Morrow feels after Sunday's bullpen. If all goes well, however, the next step would be another bullpen and a simulated game in short order. From there, the Cubs want to have him active for the Reds series September 14-16.
Far from arbitrary, that three-game set presents an almost ideal Petri dish for Morrow to test his right arm. It's at home against an inferior opponent and comes with enough time still left in the season for him to make a few more tune-up appearances.
That first live outing, should they get to that point, is likely to take place under very controlled circumstances. Ideally, the Cubs would build a huge lead and allow Morrow to work in low-pressure relief so as to better follow the script. Then they can gradually work him back into higher-leverage, longer outings.
Those won't come in back-to-back games and it's unlikely Morrow will be used as a closer until everyone involved is certain he can handle the workload. And given his above admission that he's not even sure how big he'll be able to go, it's not at all unreasonable to assume Morrow doesn't work a 9th inning again until next year.
Keep those fingers crossed, folks, at least until Sunday. Actually, you may want say a prayer or five while you're at it.