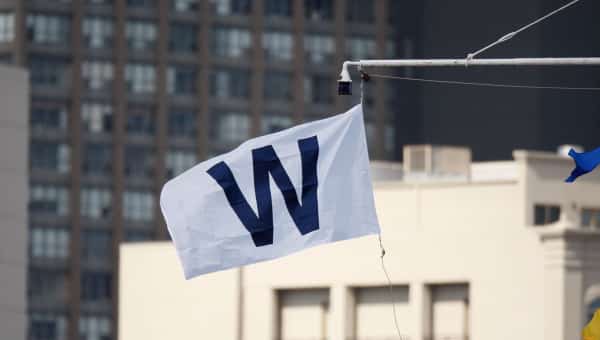 CI Recap (Continued from 8/28/18) – Cubs 2, Mets 1: Zobrist Walk it Off 17 Hours Later
Entering the second game of this three-game series, the Cubs had a season-best six game winning streak. They began the day with a 4.5-game lead in the division over the St. Louis Cardinals and a 5-game lead over the Milwaukee Brewers. Going up against one of the league's best pitchers in Jacob deGrom made extending their winning streak to seven games a difficult task.
The game took more than one day to finish and the crowd that returned for the finish was sparse, giving the final two innings sort of a minor league feel. Not that it mattered to the Cubs, who were able to take advantage of the Mets' bullpen to capture their seventh straight win. (Box score)
Why the Cubs Won
Cole Hamels delivered another strong outing in a match-up against Mets ace Jacob deGrom, pitching five innings of four-hit baseball. The bullpen came in and surrendered just one run before rain postponed the game in the 10th inning.
Key Moments
After play resumed at noon on Wednesday, both teams traded zeroes in the 10th. The Cubs held the Mets off the board again and then loaded the bases to open the bottom of the 11th. It all started with Javy Baez opening the frame by going from an 0-2 count to a walk, which is just incredible. After Albert Almora Jr. struck out with the chance to walk it off, Ben Gosh Darn Zobrist singled home the winning run on a 1-1 count.
Stats That Matter
0.69 – Cole Hamels dropped his ERA to 0.69 during his time with the Cubs after tonight's outing. He managed to keep the Cubs in this pitcher's duel, only giving up one run through five innings.
3 – Anthony Rizzo delivered three more hits in this one, raising his second half batting average to .357. He has been a huge part of the offense in the second half and continues to be a driving force down the stretch for the Cubs.
1 – Mets ace Jacob deGrom allowed just one run over eight innings, but was unable to earn a win.
The Bottom Line
A win is a win, no matter how ugly it starts or how late it finishes. The Cubs are going on that run we've all been waiting for, even if it is against bad teams.
On Deck
The Cubs and Mets conclude their three-game series on Wednesday as Alec Mills takes on Jason Vargas. In keeping with Joe Maddon's American Legion Week theme, it's going to be all hands on deck in this one. David Bote will get a start at short and we could see some other wackiness as the second game gets underway at around 1:30pm CT on NBC Sports Chicago.