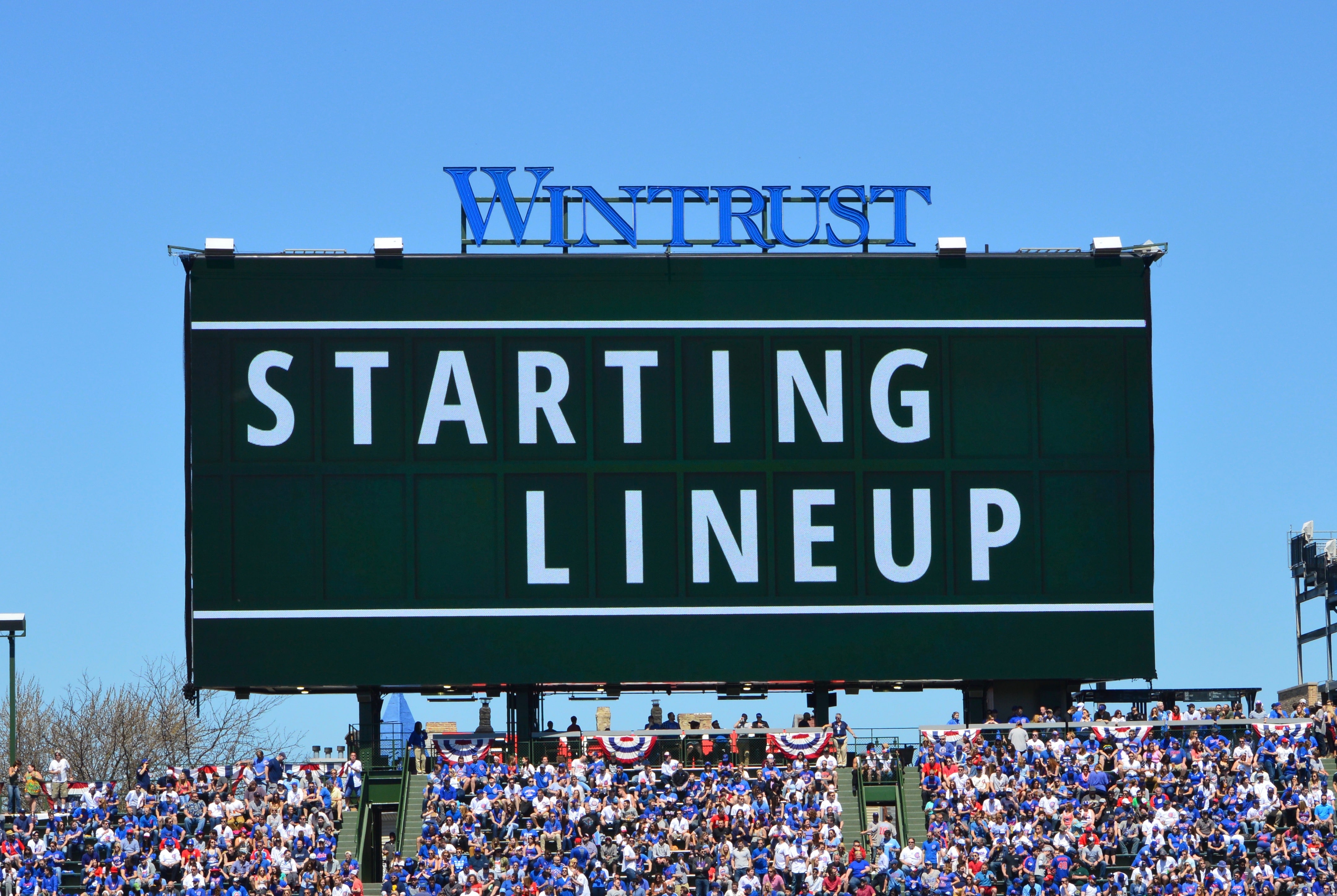 Chicago Cubs Lineup: Murph Leads Off, J-Hey in CF, Happer at 3B, Lelo Pitching
Murph is once again leading off and playing second, followed by El Mago at short, Tony at first, and Zorilla in right. J-Hey returns from a sore ankle to handle the duties in center, Willy the Beast is catching, and Schwarbs is in left. That leaves Happer to man the hot corner.
Many will no doubt wonder why Boat is not sailing away with third base duties, but today's matchup is much more favorable to lefty batters. Besides, the rookie does his best work as a replacement player.
Following two almost identically bad starts in which he allowed five runs apiece, Lelo held the Pirates to a single tally on just four hits. He also walked only two men, the fourth straight game in which he's walked two or fewer. That may not seem like much, but it's a good indicator for a man who's struggled with control all season.
The man who many know as Jose Quintana also busted out the changeup more frequently than he had in any previous start this season. Utilization of that pitch is something we've discussed when breaking down nearly every Cubs starter, both in terms of the using the changeup effectively and what it means for each pitcher's approach.
Cole Hamels has been a revelation since joining the Cubs, and his impact may be reaching his fellow starters. We've seen Hamels effectively shift his strategy mid-game to grind through outings in which he doesn't have his best stuff. And while that seems like a given, Cubs pitchers have been somewhat stubborn when it comes to their repertoire.
If Quintana is able to locate and to feel out both the Reds and his own stuff today, he'll post his second straight quality start. If not, well, I guess Boat will have to bail him out.
Going for the Reds will be Luis Castillo, a 25-year-old righty who's facing the Cubs for the fourth time this season. He's gotten mixed results against his division rivals in the first three efforts, but certainly hasn't embarrassed himself in any of them. And with a very solid run of starts over the last two months, Castillo appears to be hitting his stride.
One thing the Cubs probably can't count on is walks, as Castillo has issued no more than two free passes since June 16. He's got the kind of stuff to get guys out with strikes, following 96 mph fastballs and sinkers with 86 mph changeups. He's also got a slider that righties will see pretty frequently both early and late in counts, but the change is his real out pitch.
Castillo will lean very heavily on that offspeed pitch to lefties, using it for nearly a third of his total offerings to them. He'll pull the string on righties as well when he gets two strikes, so they'll need to be on their toes. Because of his tendency to hang some pitches up in the zone, Castillo does give up some big flies. That could really factor depending on what the wind is doing at Wrigley today.
Remember that thing about being mainly fastball/changeup to lefties? Yeah, they seem to be seeing Castillo's stuff pretty well. So say an .895 overall OPS with a .378 wOBA, numbers that jump to 1.017 and .429 when he's pitching on the road. Though he's pitched eight fewer innings on the road this season, Castillo has allowed 14 more earned runs, two more homers, and six more walks to go along with 31 fewer strikeouts away from Great American Ball Park.
There's absolutely no reason the Cubs shouldn't put in some serious work in this one, which I suppose could have some of you thinking that's exactly why they won't. But fear not, the bats will indeed come alive. Two Cubs homers and at least three doubles will have them pushing the pace in the Central.
First pitch is again set for 1:20pm CT and the game will be carried by ABC 7 and 670 The Score.
Here is today's #Cubs starting lineup. #PlayersWeekend

Game preview: https://t.co/d6W7AZvW4s #EverybodyIn pic.twitter.com/i6owOl0jow

— Chicago Cubs (@Cubs) August 25, 2018