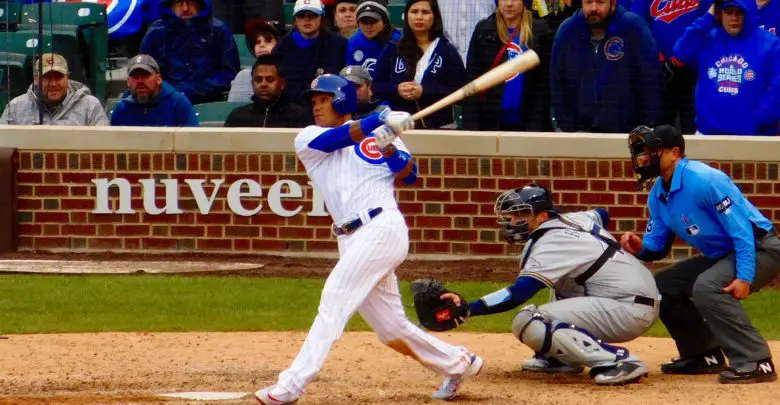 Hoyer Says Russell 'Probably Shouldn't Have Been Playing' Through Finger, Shoulder, Hip Injuries
Addison Russell's performance had been notably down for well over a month, with the stark drop-off coming after he reaggravated the left middle finger he had first hurt in early June. And whether it was a matter of compensation injuries or typical wear and tear, he developed issues with his shoulder — which gave him trouble last season — and his hip.
So when the addition of infielder Daniel Murphy forced the Cubs to clear a roster spot, Russell going to the DL was the obvious choice. What I still find at least mildly intriguing about the whole thing, though, is that Russell was initially in the lineup for Tuesday's game in Detroit before being scratched with shoulder inflammation.
The finger is what had been garnering all the attention prior to that, and it's also the official reason for the DL stint, but word of additional injuries was news to many. It was also weird to scratch him for one issue and DL him for another. Jed Hoyer addressed Russell's health and the overdue decision to give him a break when he joined 670 The Score's Mully & Haugh Thursday morning.
"When it comes to Addi, he's been playing so banged up," Hoyer said. "He went on the DL with the finger, but his shoulder's been barking a little bit, his hip has been bothering him. He's done such a commendable job of playing through injuries and we've talked about it so many different nights after the game that this guy's out there for his defense.
"He's out there playing for us, but he's certainly not playing even close to 100 percent, and I think it's affected his numbers."
I don't think there's any doubt the various issues were affecting Russell's numbers at the plate, which had been trending way up after an excellent June. His confidence appeared to be sapped as well, turning his at-bats into torturous affairs that were often hard to watch.
What's a little bit worrisome about this is that Hoyer and the Cubs obviously knew something was amiss, yet they waited this long to make the move. Not that they're slaves to the "Chicago tough" machismo that seems all too popular around these parts, but this isn't the first time a player has been asked or allowed to perform through injuries that clearly render him a shell of himself.
"Our hope with this DL stint is that he can just rest his body for 10 days or so, feel better, get some of the soreness out and really be able to help us down the stretch," Hoyer explained. "Because he's really kinda gone to the post for us and played when he probably shouldn't have been playing.
"And a lot of people probably didn't realize that and as his numbers sort of sank, we felt bad for him because we knew he was doing that for the team."
Hoyer couched it as Russell perhaps covering up how much the discomfort was really affecting him, lamenting that everything went on as long as it did. But, like, are their hindsight glasses just a pair of cheaters they bought from the rack at Walgreen's?
Every player and situation is different, but I've long been skeptical of how the Cubs' medical staff green-lights guys with questionable health. This year alone we've seen Kris Bryant play through and then come back too early from shoulder trouble, Yu Darvish's stress reaction go undiagnosed for months, and Brandon Morrow getting additional testing for what may be a stress reaction of his own.
To be sure, I'm not in that training room and have zero firsthand knowledge of what is going on with these players. And it's entirely possible that Russell's issues are the kind that can't get worse with continued stress. After all, it is late in the long season and no one is truly 100 percent healthy right now. But, man, this stuff seems to keep happening and the GM is out here saying the guy shouldn't have been playing.
I'm probably reading too much into that, though. Hoyer probably meant that Russell's inability to produce at the plate should have resulted in more rest, not that they were putting him at risk of further injury by playing him. Although is there really any difference? Am I just banging on this drum and producing a beat no one wants to dance to?
Either way, what's done is done and the Cubs are now resting Russell until at least September 1, after which point the new additions should afford him even more rest. For more of Hoyer's thoughts on Murphy, Bryant, Morrow, Darvish, and the outlook on the remainder of the season, check out the full podcast of his interview.