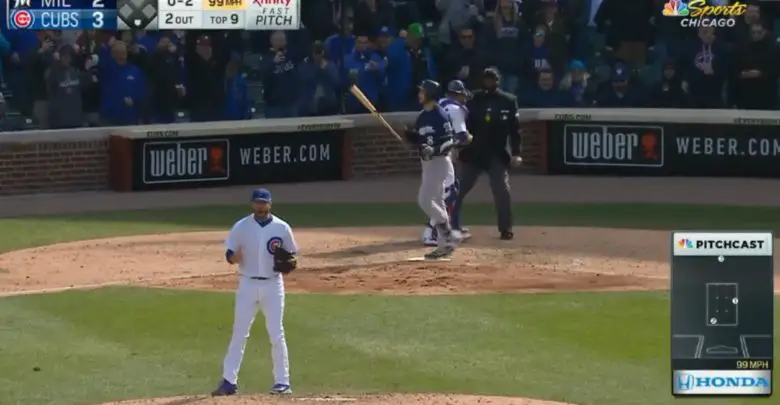 Brandon Morrow to Undergo More Tests, Possibly for What He Called 'Stress Reaction'
Ed. note: Morrow said Thursday that the "tests" were just a matter of meeting with the doctor for a checkup and that there had been no setback. Even so, the language he used to describe the issue is cause for a little worry.
Remember a little over a month ago when Brandon Morrow was placed on the DL for the second time and his "biceps inflammation" was supposedly no big deal? Oh, what I wouldn't give for a return to those halcyon days of blissful ignorance.
"It was bothering him a bit," Joe Maddon said at the time. "We thought it was manageable but now it's not, so we have to take a little bit of a break. We don't anticipate him being gone for a long time, but it seems to be prudent to go this course right now."
A week later, however, pitching coach Jim Hickey said the closer still had "a lot of pain in there" and that a quick return wasn't likely. Two weeks after that, Hickey reported that Morrow was throwing "with a lot of spirit, with a lot of effort" from flat ground. Things were heading in the right direction even though Morrow wasn't yet back on the mound.
"It's just kind of a deep thing that's just sticking around. I can't put my finger on it," Morrow said a few days before throwing off the mound again for the first time. "I think the muscle is healed, though. So throwing around some discomfort is going to be OK. I'm going to see if it's good when I continue to stretch it out."
Morrow threw a bullpen session last week in Pittsburgh and said that, though the pain still lingers, he hasn't lost any strength in the arm. His assessment of the session and his ability to return was mostly positive, but there was a poison pill hidden in his words.
"I threw the ball really well," Morrow told reporters after the session. "[There's] just stuff sticking around that I think I'm going to have to live with the rest of the year. So if it holds up and stays the same, I think I should be good."
Taken as a stand-alone statement, there's nothing much to see right there. But the way Morrow described his ailment, which may have seemed innocuous at the time, is being cast in a different light following the revelation of Yu Darvish's diagnosis and reports that Morrow was scheduled to undergo additional testing Friday in Chicago
Morrow described his injury as a "bone bruise," and "stress reaction." Nevertheless, he threw 25 pitches off a mound. Said he hadn't lost strength despite minor discomfort. Probably 2-3 more bullpens before minor league assignment

— Mark Gonzales (@MDGonzales) August 18, 2018
While we don't know exactly what test(s) Morrow is set for, his description of having a "bone bruise" and "stress reaction" is the same thing that just shut Darvish down for the season. As I went over in much more detail in the piece linked above, a stress reaction results from the body's inability to create new bone at a level commensurate with the stress being placed on it. If pushed too hard, this can lead to a stress fracture.
Because these injuries are relatively uncommon and are not acute, they're nearly impossible to detect via traditional imaging methods like X-ray or MRI. It required an arthrogram MRI, a more invasive imaging technique in which contrast dye is injected into the joint, to discover Darvish's issue. Such a measure is generally a last resort because it can cause further irritation to the area, but it may be necessary in order to suss out the source of chronic pain.
It's entirely possible that the additional tests scheduled for Morrow are completely non-invasive and involve nothing more than checking his range of motion and reaction to provocative stimulus. But after researching what happened with Darvish and overlaying that with what we've seen from Morrow — not to mention the closer very literally calling his injury a stress reaction — I can't help but think he may be set for more in-depth imaging.
Pedro Strop has served as an able replacement and Morrow wasn't going to return prior to September, which might alleviate the issues with an arthrogram (if that's at all the plan, which it may not be). Hickey had also pointed out that Morrow's role was more conducive to a quicker rehab process than what Darvish was subject to, and perhaps a closer's lighter overall workload mitigates the risks of pitching through such an injury to some extent.
Then again, the prescribed recovery for stress reactions starts with a minimum six-week throwing cessation. And while relievers throw far fewer pitches and innings, their recovery periods between outings are much shorter and the per-pitch stress is often greater.
I've perhaps wandered too far down a speculative path already, so I'll go ahead and leave off now until such time as we receive more official word. Regardless, it's a little concerning that Morrow is going for more testing on an issue that he himself described as being the same as what just ended Darvish's season.