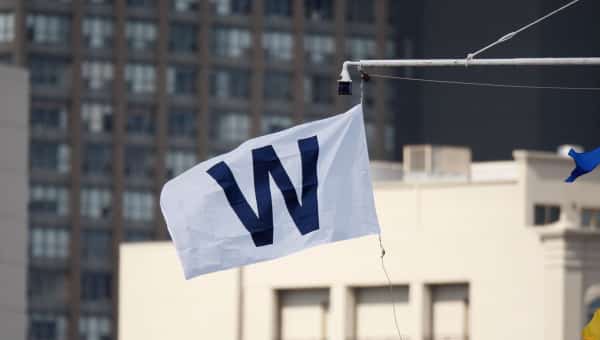 CI Recap (8/16/18) – Cubs 1, Pirates 0: Lester Outstanding as Cubs Blank Pirates
The Cubs began a six-game road trip against the Pirates in Pittsburgh on Thursday. Jon Lester, who has struggled mightily in the second half, was dominant from the jump and Chicago produced just enough offense to get him win number 13.
After allowing a leadoff single to Corey Dickerson to open his night, Lester got a double play from Starling Marte and never looked back. He threw six scoreless innings and struck out a season-high eight batters. His counterpart, Ivan Nova, was just as good early in keeping Chicago scoreless through three innings.
The Cubs scored the first and only run of the game in the 4th inning when Ian Happ pounded a hanging Nova changeup well into the bleachers in right-center. The offense did pretty much nothing after that other than a couple of infield singles.
Luckily for Chicago, one run was all that was required on Thursday. Steve Cishek took over in the 7th and pitched around a single for a clean inning. Carl Edwards Jr. got three ground balls for 1-2-3 in the 8th inning. Pedro Strop worked around a hit by pitch to record save number 10. (Box score)
Why the Cubs Won
The pitching, especially Lester, was terrific on Thursday. All six Pirates hits were singles and only one runner reached third in the game.
Key Moment
Happ's homer was the only extra-base hit and the only run in the entire game. The Cubs hit several other hard shots, but they all seemed to find gloves.
Stats That Matter
Lester had perhaps his best outing of the season: 6 IP, 0 R, 5 H, 8 K, and 0 BB. He got five outs on the ground and only one in the air. Another excellent sign was the large number of whiffs, something that hasn't happened often in 2018.
Jason Heyward got two more hits and seems to be heating back up at the dish.
Willson Contreras and Javy Baez each had singles, but the more important play from them came in the field. Contreras threw Marte out on an attempted steal in the 5th, assisted by another sick Baez tag at second.
Bottom Line
Every win is important this time of year and Thursday was no different. That said, Lester looking so good was probably the more important outcome.
On Deck
Game two of the four-game series is Friday at 6:05pm CT as Cole Hamels returns to the site of his Cubs debut. Trevor Williams counters him in a game that can be seen on NBC Sports Chicago.