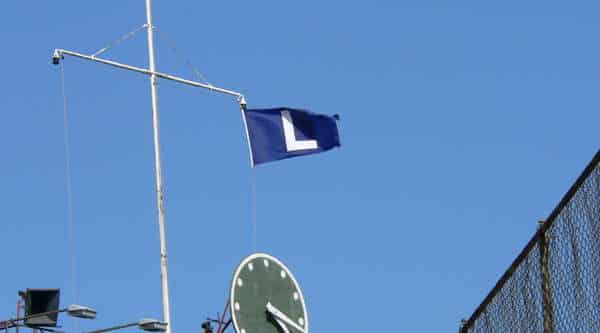 CI Recap (8/14/18) – Brewers 7, Cubs 0: Brewers, Braun Crush Cubs
After a dramatic walk-off victory on Sunday, the Cubs started a crucial two-game series with the Brewers on Tuesday. The momentum of David Bote's grand slam was quickly extinguished as Milwaukee jumped ahead early and never looked back.
Jose Quintana was not sharp in the 1st inning for the Cubs, as Lorenzo Cain hit the second pitch of the game for a long homer to left. After a one-out Jesus Aguilar single, Ryan Braun jumped all over a hanging curve to increase the lead to 3-0.
Jhoulys Chacin had the Cubs' number again Tuesday. Normally not a strike out pitcher, Chacin piled up 10 of them in his seven shutout innings.
Braun padded the lead with his second homer of the game in the 3rd inning on another hanging curve that he hit to the back of the bleachers in left. Erik Kratz took Jesse Chavez deep in the 6th inning to make it 6-0. The Milwaukee catcher made it 7-0 with a double in the 8th inning against Jorge De La Rosa. (Box score)
Why the Cubs Lost
Quintana put the Cubs in an immediate hole and the Chicago offense never showed up anyway, so a single run would have sufficed.
Key Moment
Cain's leadoff homer was a no-doubter, a harbinger of what was to come the rest of the day.
Stats That Matter
Quintana had been pitching better, but Tuesday was the second rough outing in a row: 5 IP, 5 R, 6 H, 5 K, and 1 BB. He has allowed 10 runs the last two starts. The big problem today was the curveball, which seemed to have no bite at all.
Ben Zobrist had a ringing double in the 1st inning, then vehemently disagreed with a called strike three in the 5th inning. Joe Maddon was ejected by home plate umpire Phil Cuzzi after the call, and Zobrist was ejected by Cuzzi after the 8th inning for getting after him about the call.
Javy Baez has been slumping, but doubled to break an 0-for-17 streak at the plate.
Bottom Line
The Cubs laid an egg to start their key series with the Brewers. This is the third lopsided loss for Chicago the last six games played, but they still have a two-game division lead and a win Wednesday keeps things right where they were before the series. The Northsiders need to start playing better because .500 baseball won't cut it the rest of the season.
On Deck
The Cubs go for the split Wednesday afternoon at 1:20pm CT. Junior Guerra goes against Kyle Hendricks in a game televised on MLB Network (out of market) and WGN.