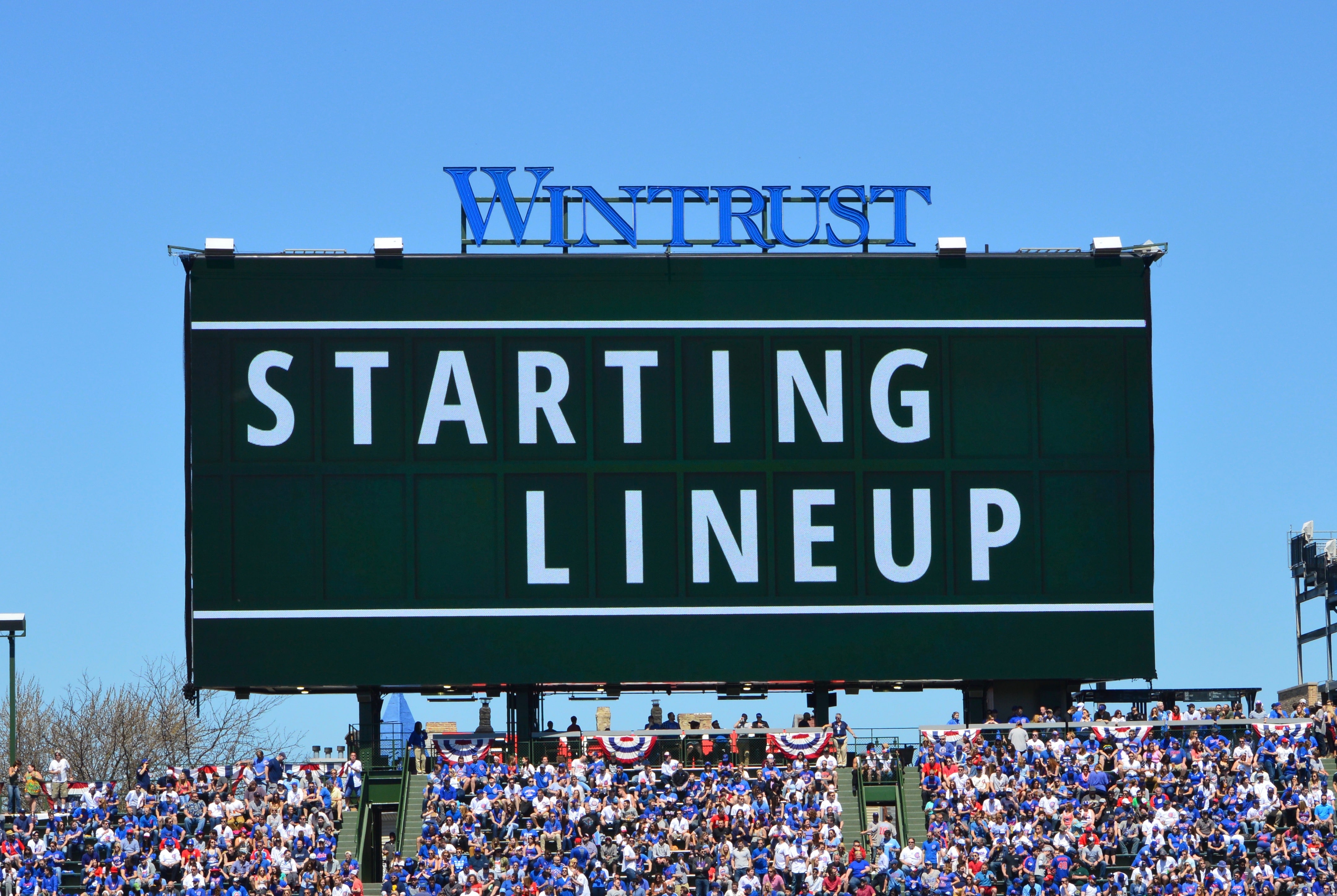 Chicago Cubs Lineup: Rizzo Leads Off, Javy Cleans Up as Chatwood Gets the Start
The greatest leadoff hitter of all time returns! As we've seen Joe Maddon do in the past, he's putting a slumping hitter atop the order to try and turn things around. Tony has just a .594 OPS over his last 30 games, so Joe is hoping some of that leadoff-spot magic can right the ship. Albert Almora moves one slot down into the two-hole where he'll be follwed by Kris Bryant, Javy Baez, and Willson Contreras who make up the middle of tonight's order. Addison Russell, Ben Zobrist (RF), and Ian Happ (LF) round things out in front of Tyler Chatwood.
When the Cubs held off announcing their starters for this final weekend of the first half, I had assumed they were tweaking things to skip Chatwood's turn in the rotation. As it turns out, they were just shuffling things around to give Jon Lester extra rest and essentially eliminate him from being able to pitch in Tuesday's All-Star Game.
So Chatwood gets the start with an extra day of rest under his belt and he'll be trying to halt his streak of seven earned runs allowed. Chatwood has walked seven combined over his last two starts, which is actually not bad. But he's given up at least seven hits in each and has given up 14 earned over 10.2 innings of work.
The amazing thing in all this is that he didn't wear a loss in either game as the Cubs hung 22 combined runs on the Twins and Reds. PetCo Park isn't exactly an offensive haven and the Padres' 349 total runs are barely ahead of the Mets (347) for lowest in the NL. What's really interesting, though, is that the Pads are actually a much better offensive team at home.
Their 9.2 percent walk rate is about 40 percent higher in San Diego than it is on the road (6.6) and their strikeout rate drops a little as well. They score more runs at home too, though not by a wide margin. What's really interesting is that their home run/fly ball rate goes from 11 percent on the road to 12.5 percent at home. That may not seem like much, until you consider that the Cubs have an 11.5 percent mark at Wrigley.
Trying to keep the visitors from providing Chatwood with monster run support will be a former member of their ranks, Clayton Richard. The big lefty is one of what seems like 17 Cubs pitchers later signed by the Padres, who have given him a chance to become a full-time starter for the first time since 2012…when he was also with the Padres.
Richard generates a lot of grounders by leaning heavily on his sinker, though he's really utilizing the slider a lot more this year as well. Different tracking systems have classified it as a curve in the past, but there seems to be consensus on his 28 percent usage of it this season. So you're basically looking at sinker/slider, with the four-seam and change mixed in on occasion.
Those two main main pitches have worked out pretty well for him and, as you can imagine, he's going to keep them down, down, down. He'll generally start hitters off with the sinker, with the slider taking over as an out pitch against lefties in particular. Righties will see see heavy doses of the breaking ball, but the hard stuff is slightly more prevalent.
He isn't going to miss many bats and his command of the zone hasn't been great, especially over his last two starts, so Richard is a very hittable pitcher. But because he keeps the ball down and is pitching in a park not known for homers, the Cubs would do well to take what they're given and play the kind of baseball that saw them post crooked numbers against the Twins.
Start time on this bad boy is 9:10pm CT and you can catch it all on NBC Sports Chicago or 670 The Score.
Here is tonight's #Cubs starting lineup in San Diego. #EverybodyIn

Stream on @YouTubeTV: https://t.co/t4XvcdoeJc pic.twitter.com/5rB2qKa7Dv

— Chicago Cubs (@Cubs) July 13, 2018