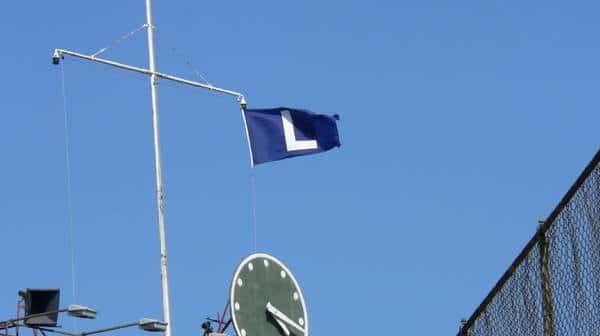 CI Recap (7/11/18) – Giants 5, Cubs 4: Unlucky 13 Sees Giants Walk Off Again
After falling behind early, the Cubs staged another comeback to tie the rubber match against the Giants Wednesday. Unlike other recent games, however, the Northsiders were unable to pull out a victory as San Francisco walked it off.
Chase d'Arnaud led off the bottom of the 1st with a solo homer to left against Mike Montgomery. Later that same inning, a walk was followed by what appeared to be a routine grounder by Brandon Crawford. Monty was unable to corral the tapper and Crawford was given a gift two-out single. Gorkys Hernandez followed by banging one off the right field wall, scoring two. Stephen Duggar made it 4-0 by singling home Hernandez before the inning finally ended.
The Cubs used the home run ball to rally back against Johnny Cueto. Jason Heyward hit a solo shot in the 3rd to make it 4-1. Kris Bryant announced his return with authority, belting a two-run shot in the 5th to cut the lead to one. The tying blow was Javy Baez taking Tony Watson deep to center in the 7th inning.
Chicago's pitching kept the Giants off the board for the next 8 innings, forcing the contest to extras, but the Cubs offense did virtually nothing through the remainder of the game. James Norwood made his major league debut in the 12th and pitched a clean inning. Norwood went back out in the 13th and didn't fare as well, allowing a walk, a single, and finally Buster Posey's walk-off winner. (Box score)
Why the Cubs Lost
The Cubs offense went ice cold late in the game and the bullpen finally failed to provide an answer.
Key Moment
Norwood clearly ran out of gas at the end of his outing with the middle of the Giants' order coming up, at which point the inevitable happened.
Stats That Matter
Montgomery battled after the 1st inning and ended with a decent line: 5 IP, 4 R, 8 H, 4 K, and 1 BB.
Heyward had a walk and two singles in addition to his home run.
Anthony Rizzo went 0-for-6 and looks completely lost at the plate right now. At this point, you have to wonder if an injury is at play.
Bottom Line
Sloppy defense took two winnable games this series and made them losses. That can be the margin in closely-fought games like Wednesday's.
On Deck
The Cubs start a three-game series Friday night in San Diego at 9:10pm CT. Tyler Chatwood duels former Cub Clayton Richard in a game aired on NBC Sports Chicago.