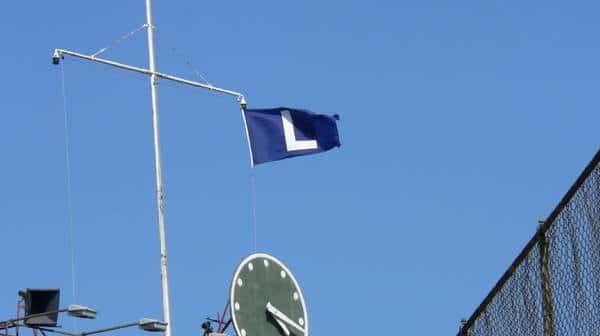 CI Recap (7/9/18) – Giants 2, Cubs 1 : Cubs Fall in Extras Despite Hendricks' Superb Outing
Entering the first game of this three game series against the San Francisco Giants, the Cubs were 51-36, having won nine of their last eleven games. Kyle Hendricks took the mound for the Cubs and pitched a gem in this one, allowing just one unearned run in 8.1 innings.
Hendricks looked better than he has all season and much like the version of himself we've all been clamoring for. Kyle set season-highs in innings pitched, pitches thrown, and strikeouts on Monday and threw 68.8% (rounded up to 69%, nice) of his pitches for strikes. The only run to score with Kyle on the mound came on a botched pickoff play in which Anthony Rizzo couldn't handle the throw from Hendricks, and then Giants' Alen Hanson just kept on running as the ball rolled towards the stands. Javy ranged over to get it, somewhat nonchalantly, and couldn't get the throw home in time. It was a bad play all around.
Unfortunately for Hendricks, the offense couldn't muster much in the way of support. The Cubs lone run was scored on an Addison Russell fielder's choice that would have been a double play with a better throw. The offense got just three hits off Giants' starter Andrew Suarez and only four hits total for the evening.
The Cubs and Giants traded zeroes until the bottom of the eleventh when the Giants loaded the bases against Steve Cishek. Pedro Strop was called in to face Pablo Sandoval with one out, and the Panda promptly delivered a walk-off single to left. (Box Score).
Why the Cubs Lost
This game was a pitching duel from the start, as both starters went at least six innings only giving up one run (Hendricks' was unearned). After only notching three hits against Giants' starter Andrew Suarez, the Cubs couldn't get anything going against the Giants' bullpen outside of a hit and a walk across five innings. With the lone run against Hendricks being unearned, it was a real shame the offense couldn't push across a couple runs to get him the victory.
Key Moment
In the bottom of the eleventh inning, Cishek got Buster Posey to pop out to second base before allowing a single to Andrew McCutchen. Brandon Belt came to the plate, singling to right field to advance McCutchen to third. Pedro Strop entered the game and intentionally walked Brandon Crawford, loading the bases, to bring up Pablo Sandoval to bat with one out. Sandoval delivered a base hit to end the game and send the Giants faithful home happy.
Stats That Matter
8.1: Kyle Hendricks had a fantastic outing tonight, lasting 8.1 innings and only giving up one unearned run to go along with eight strikeouts and one walk. Hendricks generated 13 whiffs with his changeup tonight and threw 75/109 pitches for strikes.
1-for-8: The Cubs were only able to convert on one try with runners in scoring position tonight and weren't able to manufacture runs in this one. We've seen a lot of clutch performances at the plate during the Cubs recent hot stretch, but they just didn't have it in them tonight.
0-5: Anthony Rizzo put up a goose egg at the plate tonight and also had two errors in the field. Certainly not the best night for the Cubs first baseman.
Bottom Line
The important thing in this one was the performance from Kyle Hendricks. Sure, the loss is frustrating, but Kyle pitching anything close to this level for the rest of 2018 would be a huge development for this team. This was vintage Kyle Hendricks, and you certainly hope we continue to see that going forward.
On Deck
On Tuesday, the Cubs and Giants engage in their second game of this three-game set. Southpaw Jose Quintana will take the mound for the Cubs, while the Giants will counter with right-hander Derek Holland, taking Johnny Cueto's place (Cueto was originally slated to start Tuesday but was pushed back to have extra rest). First pitch is slated for 9:15 CT and will air on ABC-7.