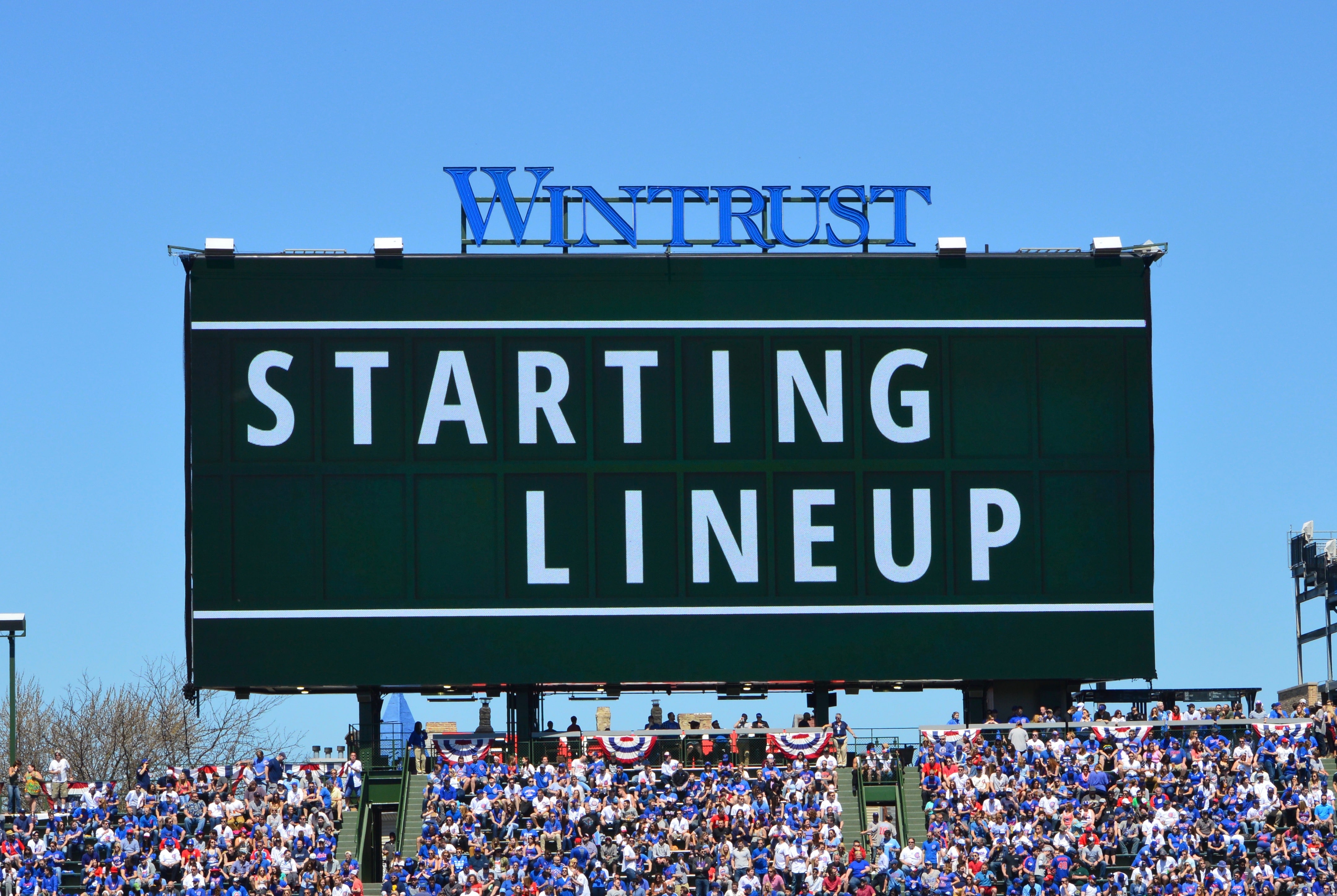 Chicago Cubs Lineup: Almora Leads Off, Contreras Cleans Up, Caratini at 1B, Quintana on Mound
Albert Almora Jr. is leading off in center, Jason Heyward follows in right, and Javy Baez hits third and plays second. Willson Contreras bats cleanup as Anthony Rizzo gets the night off. Rizzo has looked out of sorts at the plate and make some uncharacteristic blunders in the field last night, plus it's a tough matchup.
Addison Russell bats fifth, David Bote hits sixth and plays third, Ian Happ is in left, and Victor Caratini is at first in Rizzo's place. That's seven righty-batting position players, if you're counting.
Jose Quintana goes for the Cubs in this one, so maybe it's good that the game is late and a lot of folks may already be asleep by the time it starts. Though his results have been much better of late, at least relatively speaking, dude is just not fun to watch.
It's almost as though he's trying to guide his pitches away from contact and instead is pitching right into it. But again, the results have been better and he's generally kept the Cubs over his last nine starts. You'd like more from him than just not being awful every fifth day, but it's harder to be disappointed if you dream small.
The talent is still there, it's just a matter of Q being consistent and trusting his stuff. If he can do that, it'll make the late start quite a bit more enjoyable for Cubs fans.
Johnny Cueto was initially start for the Giants, but manager Bruce Bochy has chosen to push the veteran back in order to give him a little more rest. Cueto had a rough go of it in his first start since returning from the 60-day DL with an elbow sprain, so no need to rush it. In his place tonight will be 31-year-old Derek Holland, who's having his best season since 2013.
Holland made 17 starts to open the season, but was moved to the bullpen when Cueto was activated from the DL. It was something of a curious move given the southpaw's solid performance, but the Giants are more concerned with getting consistent innings for some of their younger starters, one of whom the Cubs saw last night. Holland is now in that Mike Montgomery-type role, picking up spot-starts when need be.
There's really nothing remarkable about Holland's repertoire or performance, though he does have a really good curveball that he likes to use early in counts to get strikes. It's got 11-5 break, so it'll come down and in to righties, against whom he'll throw it about 30 percent of the time.
The four-seam, slider, and sinker see pretty much even usage as out pitches against righties, while lefties will mainly see the heater. That's perhaps a bit misleading, since lefties don't get a chance to see much of anything from Holland with the way he's pitched them.
As we saw with lefty Andrew Suárez last night, Holland has been murder on left-handed batters at AT&T Park. He's holding them to a .103/.190/.132 slash with a .158 wOBA and they've got only one extra-base hit and four walks in 43 plate appearances this season. Then again, that's on the strength of a highly unsustainable .121 BABIP that you figure has to come to earth soon.
Righties skew heavily in the other direction, posting a .277/.331/.487 slash on a .385 BABIP that might come down a little. Either way, expect the Cubs to put something together against Holland. Not only is the offense due after barely scratching out one run last night, but this is Derek Holland we're talking about.
First pitch is once again set for 9:15pm CT and can be seen on ABC-7 and heard on 670 The Score.
Here is tonight's #Cubs starting lineup

Game preview: https://t.co/p5rjrcucMS #EverybodyIn pic.twitter.com/o2MOgkXD2I

— Chicago Cubs (@Cubs) July 10, 2018