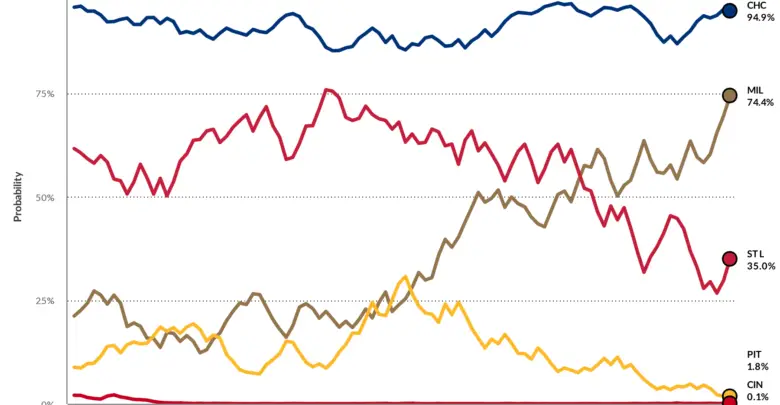 Quantifying Hope: Cubs Boast 95 Percent Playoff Odds, Projected for 94 Wins
Despite looking like anything but a playoff team during their trip the Queen City, the Cubs currently boast the best postseason odds in the National League. With a whopping 94.9 percent chance to play more than 162 games, they have a better overall projection than all but the top four teams in the American League. What's more, their 10.7 percent chance to win the World Series is among the five best in baseball.
According to FanGraphs, the Cubs should finish with an NL-leading 94 wins to take the division title by five games over the Brewers. As you can see from the chart below, the Cubs (top blue line) have been at the top all along.
Ah, but is that just a function of the preseason predictions holding more sway than actual results? Well, yes and no. The Cubs clearly have as much overall talent as anyone else in the league, though their performance at times has been like that "real" team that got waxed by the ragtag bunch of protagonists in The Sandlot.
As such, toggling to the season-to-date stats prediction model gives us a slightly less bullish view of the Cubs' chances. But even at a reduced 87.8 percent chance, they're way out in front of anyone else in the NL with 96 projected wins. The big difference is that the Brewers hang closer in this model, finishing with 94 wins.
If you're feeling like seeing Clint Hurdle and the Pirates really get their comeuppance, the stats model also shows the Reds pulling into a dead heat for fourth place. Just as long as they roll over this weekend and then pick it back up to lambaste the Buccos in the second half.
I know a lot of you are probably thinking, "This is stupid, it's just a projection and there's way too much baseball left to play." If that's you, I'd first like to ask why in the hell you even bothered to read this far. But I'd follow that by agreeing with you and saying that the primary purpose of this is simply to track these odds over time to see whether and how they change.
This QH piece has been a weekly staple over the past two seasons, but it's kind of fruitless to bust it out too early now that the Cubs are expected to make the playoffs by May every year. That said, check back each Friday as I take a look at the Cubs' odds, along with some other ends that catch my fancy.