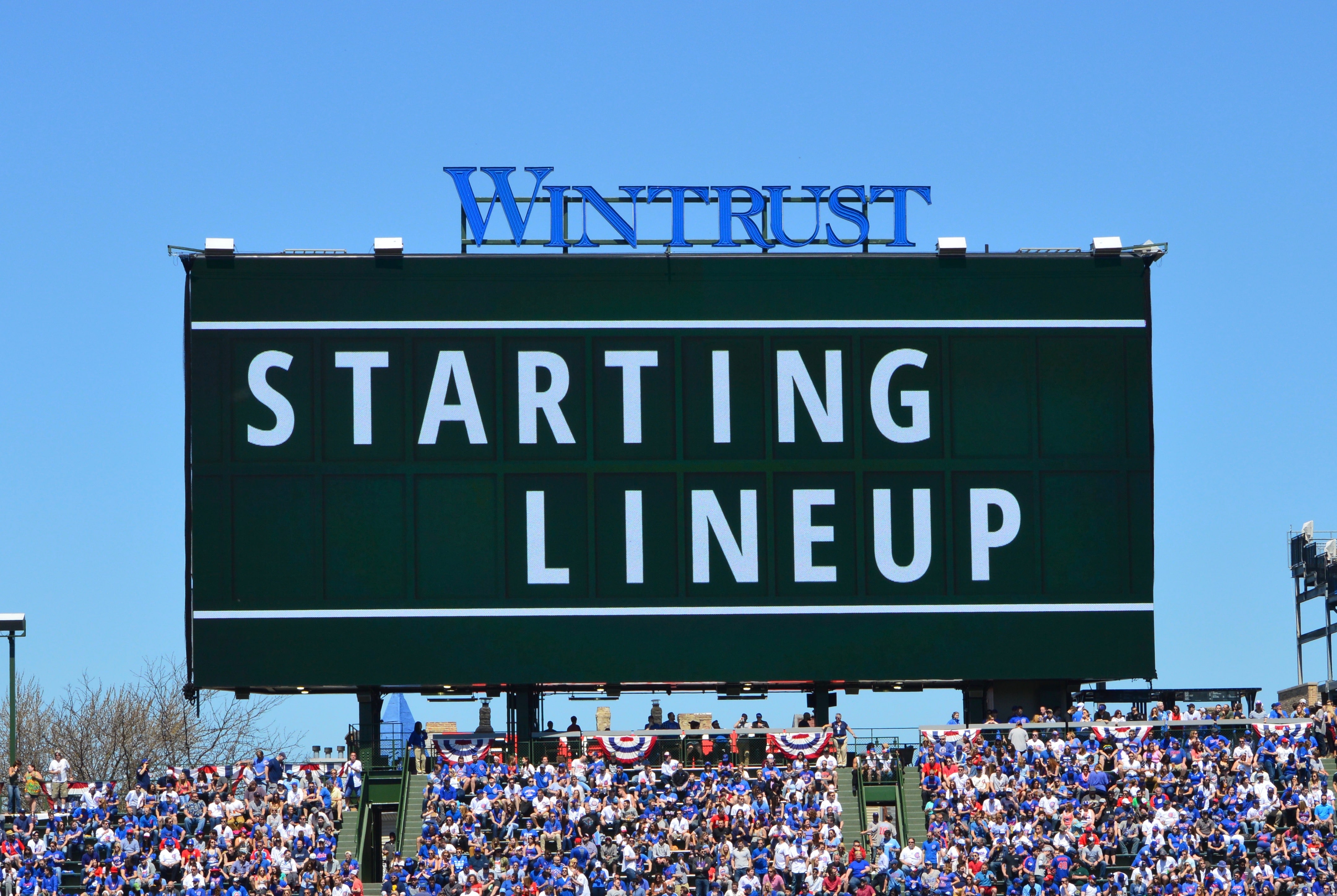 Chicago Cubs Lineup: Almora Leads Off, Javy Third and Third, Monty on Mound
You'd probably like to forget the last time the Cubs matched up with the Reds, but that awful four-game sweep happened so recently that it's still fresh in most peoples' minds. The Cubs were outscored 31-13 over the long weekend, giving away the final game with an extraordinary collapse.
Albert Almora Jr. will lead off and play center, followed by Jason Heyward in right and Javy Baez at third base. Kris Bryant will test out that balky left shoulder again today and could return to the active roster soon. Anthony Rizzo stays in his normal cleanup spot with Ben Zobrist batting fifth and playing second.
Kyle Schwarber is in left, Willson Contreras is catching, and Addison Russell is at short in this one. Given how they're hitting lately, that might be the most potent bottom three in baseball.
Mike Montgomery has allowed seven earned runs in his last two starts after surrendering just four in his first five, so we'll see where he goes in this one. Those last two outings are probably more indicative of who he is than the earlier handful, but we're still looking at a guy who gets a lot of grounders and doesn't walk too many batters.
The Cubs will need him to do more of that in this one, especially with the way the Reds offense has been playing over the last few weeks. Monty's first rough start came in Cincy two weeks ago, so perhaps he can turn the tables. The Reds have the NL's highest walk rate against lefties (10.8%) and their 107 wRC+ is second in the league, so the Cubs southpaw has his work cut out for him
Going for the Reds will be Tyler Mahle, who the Cubs are hoping pitches like he did back on May 20. The 23-year-old righty gave up three dingers over six innings in that one, a sharp contrast to a season debut in which he only allowed the Cubs one hit over as six frames.
Though his overall numbers say he's just pretty good, Mahle has been a dude since the start of June. He's got a 3-0 record with a 2.18 ERA in his last six starts, striking out just over 10 batters per nine innings. I know it's gauche to use wins as a gauge for pitchers, but it can be useful to cite record as a blunt object.
In order to really understand what's going on, though, we need to look a little deeper. And a review of Mahle's supporting numbers say that he's performed just a little over his head of late. His 3.68 FIP — while not bad at all — is a full run and a half higher than his ERA, and his 4.64 BB/9 nearly one walk more than his season average. He's also finished six innings only twice in the last six games.
What's more, Mahle has only turned over an opposing lineup three times in a game on two occasions all season. Both of those have come in his last three starts, though, so perhaps he's settling into a better groove. The weather should be much more conducive to going long in this one, as the forecast calls for sunshine and a high of 74 degrees.
Mahle has been doing a better job of keeping the ball on the ground lately, but he still gives up a lot of contact in the air and a lot of hard-hit balls. Given the way the Cubs have been knocking the ball all around the yard since leaving Cincy, that's a combination that should have them salivating.
Lefty hitters should be particularly happy about this matchup, given the .278/.396/.577 slash and .408 wOBA they've put up against the Reds starter this year as a collective. Schwarber and Zobrist homered from the left side against Mahle in May, with Javy providing one from the right side. Don't be surprised by a repeat in this one, particularly if he hangs a slider or leaves a changeup floating.
The fastball has actually been Mahle's only really good pitch and it makes up about 70 percent of his offerings, he doesn't work down in the zone with it at all and could get in trouble if he leaves it out over the plate. Well, yeah, genius. Lefties will see even more fastballs, righties will see a much higher concentration of sliders.
And Mahle has also used more sliders and changeups against the Cubs than he typically would, so look for him to continue that trend in this one. You can see exactly how he chooses to mix his pitches when the game starts at 1:20pm CT on NBC Sports Chicago and MLB Network (out-of-market only). Or you can listen to Pat Hughes and Ron Coomer agree with other about turning points on 670 The Score.
Here is today's #Cubs starting lineup. #EverybodyIn

Stream on @YouTubeTV: https://t.co/t4XvcdoeJc pic.twitter.com/6Fo7MmJtzN

— Chicago Cubs (@Cubs) July 6, 2018