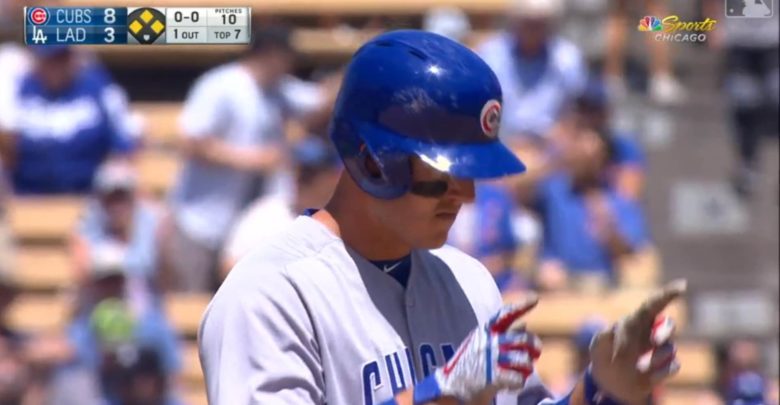 The Rundown: It Was a Good Day in LA, Rizzo Best After Rest, Darvish Suffers Setback, Should Cubs Target deGrom?
The Cubs were being predictably shut down by Clayton Kershaw, who was making only his second start after a second DL stint with a balky back. As such, everyone knew he'd be on a short leash Thursday afternoon. So when Kershaw exited stage left, the Cubs took their cue and bum-rushed the Dodgers bullpen.
With a seven-run outburst in the 7th inning, the visitors broke the Dodgers' will and turned what had been a 3-1 deficit into an eventual 11-3 walkover. I guess you could even say that with a 7, 7-11, 7-11, 7, they even back do'ed little Joe. Except that makes it sound like like they got over on their manager, which definitely wasn't the case.
The other significant thing about the number seven (is it weird that I'm switching between just using the actual number and spelling it out?) is that it's the number of games the Cubs were in danger of losing on the road trip. Had the combo of Walker Buehler and Erik Goeddel not given up nine runs in their two combined innings of work, unrest among the natives would have reached a fever pitch.
What's really interesting about the damage the Cubs did was that it came against two distinctly different pitchers. Buehler's got a high-90's fastball that makes up most of his pitch mix, while Goeddel works heavily with a mid-80's splitter (classified in the MLB app as a changeup). And Albert Almora Jr. welcomed each of them with a hit.
Seeing the Cubs get after the relievers despite their varying styles was pretty refreshing, particularly after their impotence against Kershaw. It was almost as though they were just lulling the Dodgers to sleep before pouncing.
Oh, and did anyone else listening to the radio call pick up that the pitching change when Buehler left was brought to you by Sloan? Get it? Buehler and Sloan. Which brings me to the next section about a day off.
Rizzo relishes rest
His lineups often draw questions, but Joe Maddon is a master when it comes to determining when his guys need a day off. That was the case for Anthony Rizzo Wednesday night. With only two hits in his previous 27 plate appearances, including an ugly 0-for-5 in Tuesday's game, the first baseman was just not himself.
Though he got made a pinch-hit appearance Wednesday, being out of the lineup allowed him a little time to reset.
"I definitely needed that day off," Rizzo told reporters in the locker room after the game (Mark Gonzales video). "Joe's so good at sensing that and our communication's great."
Just like that, Rizzo went 4-for-5 with a pair of doubles and three RBI to spark the big win. It's not as simple as just giving a slumping hitter a day off, but Maddon knew his captain was very much in need of some perspective.
Darvish feels pain
The light may not have turned red on Yu Darvish's rehab efforts just yet, but there's no telling just how long it'll stay yellow. The pitcher felt pain in his triceps during a bullpen session in LA Thursday afternoon and will likely be shut down again for a while until his arm is ready to go again.
"We thought we had a shot at this weekend," Maddon said of possibly getting Darvish back in the rotation (video). "If you had seen the sim game (from last week), oh, he was outstanding. And that was not long ago.
"And [the rehab start] looked good on TV. He was up to 94, I think, or 95. Good slider. But after that game, he was complaining about some things."
Those "things" apparently turned out to be more significant than just the fatigue Darvish spoke about after his start in South Bend. Or at least that's how it seems now. Maddon admitted that the plan had been to start Darvish Saturday against the Twins if his bullpen had gone well, but that has obviously changed.
The Cubs have not revealed any sort of timeline for what happens next in the process, but we'll surely know more before long. It's possible that this could simply be a matter of fatigue and that Darvish will merely be pushed back a week or so in his recovery. It doesn't take too much of a leap, though, to start fearing the worst.
And that means, to paraphrase Jose Quintana's words, that the rest of the rotation is going to have to pick up the slack. Jon Lester and Mike Montgomery have certainly been doing their respective parts, but the same can't really be said for Kyle Hendricks, Tyler Chatwood, and Quintana.
Don't get it twisted, this isn't a bash session on those guys at all. But unless you're totally comfortable sleeping on that laurel mattress, it's pretty clear the Hendricks has a lot of room to improve over the rest of the season. Quintana pitches like he's afraid of contact, which in turn just leads to more contact. Chatwood, well, he's what you'd expect from a No. 5 pitcher but not from a guy who was a big target in free agency.
Trading for deGrom
Even if Darvish returns to full health and vintage performance, the Cubs might still feel they need another pitcher to wrench that competitive window all the way open. Given the weak starting pitching market and the high price for free agents, there aren't really many options out there. Unless the Mets really do opt to part with Jacob deGrom, who's been one of the best pitchers in baseball since he debuted in 2014.
The 30-year-old righty is in the midst of his best season ever right now, posting a very nice 1.69 ERA with 11.19 K/9 and 2.40 BB/9. And he's given up only five home runs, a testament to his ability to prevent batters from squaring up any of his five plus pitches.
What's more, deGrom is only making $7.4 million this season and has two more years of arbitration-dictated club control before he hits free agency. Even with what are sure to be significant raises, you're talking about a guy who's maybe going to cost a team $45-ish million in salary through 2020.
The Cubs should be in on Jacob deGrom. Now, tomorrow, the day after tomorrow, every day possible. That's exactly what they need. Jon Lester's ERA is obviously misleading, and who else can you fully trust there?

— scott pianowski (@scott_pianowski) June 28, 2018
I mean, yeah, of course the Cubs could use deGrom. Every contending team needs deGrom. But what is it going to cost in human capital? The Mets are surely going to ask for a mint of prospects and/or MLB-level players in return for their ace and that's probably not something the Cubs would be able to swing without further eviscerating their farm system.
Theo Epstein had stated earlier this year that they needed to work to build the farm back up, which many people took to mean a splashy trade was out of the question. I'd counter that he never said anything about keeping all of their major leaguers, though no one shy of Kris Bryant is pulling deGrom straight up. Javy Baez would be a huge draw in NYC and would probably be part of an ask, but a deal like this isn't getting done with two players.
As such, trading for deGrom would require Epstein to have extensive reconstructive surgery, since he'd have to cut off his nose to spite his face in order for the move to work. What I mean is that a deal like this would likely deplete the 25-man roster and/or what little pitching depth the Cubs have in the minors to the extent that it'd be a zero-sum game at best.
Or maybe Epstein can just find a way to pry Starlin Castro loose from the Marlins in order to finally swing that long-rumored deal with the Mets.