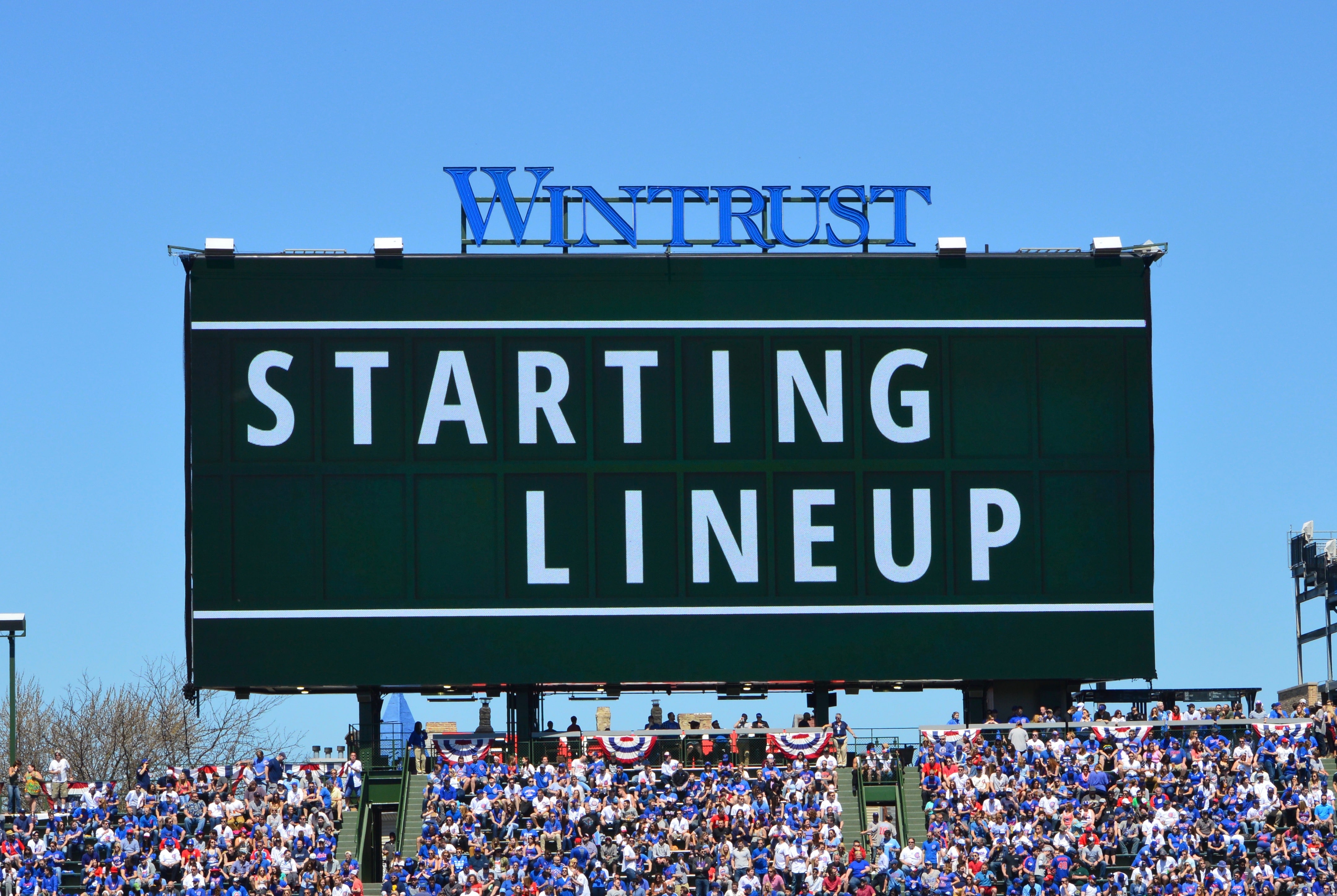 Chicago Cubs Lineup: Bryant Sits, La Stella Leads Off, Farrell Gets Spot Start
Here is today's #Cubs starting lineup.

Game preview: https://t.co/XpsLZhLdIa #EverybodyIn pic.twitter.com/YdPHE2OBcF

— Chicago Cubs (@Cubs) June 23, 2018
After going 0-4 with three strikeouts yesterday, Kris Bryant will sit in favor of tonight's leadoff hitter Tommy La Stella. Maddon is likely trying to give the Cubs MVP another mental rest as his rough June continues (.307 wOBA, .107 ISO).
Heyward remains in the second spot in front of Ben Zobrist (3rd) and Tony Rizzo (4th). J-Hey also went 0-4 against the Reds yesterday, but his overall June numbers are still stellar (.351 wOBA, 120 wRC+).
Contreras, after sitting yesterday, is back in the lineup batting fifth. Sort of like KB, WillCo has struggled mightily throughout the last month  (.280 wOBA, .019 ISO). It actually hurt me to write nineteen as his ISO. Ouch.
Schwarber (6th), Addy (7th), and Happ (8th) round out the Cubs lineup. Schwarber has been one of the hotter Cubs lately, belting three homers in his last four games.
Addison is back in the lineup and has also been pretty hot, too. The Cubs young shortstop has a .373 wOBA in June, but he has sat in two of the last three games.
Happ has had the roughest month of all the Cubs in June (.252 wOBA), but I'm going to call a deep shot for the Cubs utility man tonight.
On the mound for the Cubs will be righty Luke Farrell, whose outing was necessitated by this past Tuesday's doubleheader against the Dodgers. The 27-year-old righty has been solid for the Cubs so far, posting a 3.63 ERA and 4.13 FIP over 12 appearances. His 13.5 K/9 mark has been outstanding and his 3.12 BB/9 is wholly acceptable.
Farrell has only been called upon to go as many as two innings twice, with one of those appearances coming in an emergency situation against the Mets on June 2. He went five frames in that one, racking up seven strikeouts and holding his opponents to only two hits. He'll need more of the same in this one as the Cubs could really use a little rest for the bullpen.
You'd love to say "Hey, it's only the Reds," but only the Reds have worked Cubs pitching over like a rented mule through two games. Dude, the Reds.
Cincy will be sending 28-year-old Anthony DeSclafani to the mound in this one as they look to secure the series win. This will be only his fourth start of the season after dealing with a strained left oblique, and that follows a 2017 campaign that saw him total only 6.2 innings at the lowest levels of the minors with a UCL issue.
He's gone at least five innings in each of his last three starts and has given up a boatload of hard contact so far. And with only four walks, you know the guy is going to throw a few strikes. DeSclafani pitches a little backwards, throwing his slider more often than either the four-seam or sinker, the latter two of which he's throwing with higher velocity than ever before.
Some of that may be due to the new pitch measurements that tend to be a little hotter than they would have been when the Red's pitches were last tracked at the big league level. Not that it matters much, since neither pitch has been very good this year. The slider is his only positive offering, with the four-seam resulting in a 1.446 OPS and the sinker a .797.
The Cubs may see the occasional curve or change, though neither should offer much resistance. When you get right down to it, these hitters are far too good to score only five runs in two games against Reds pitching and they need to jump on DeSclafani right out of the gate. Famous last words.
You can see whether the Cubs are able to get over on their bottom-dwelling division rivals when first pitch takes place at 3:10pm CT on ABC 7. Or maybe you'd rather just listen on 670 The Score.