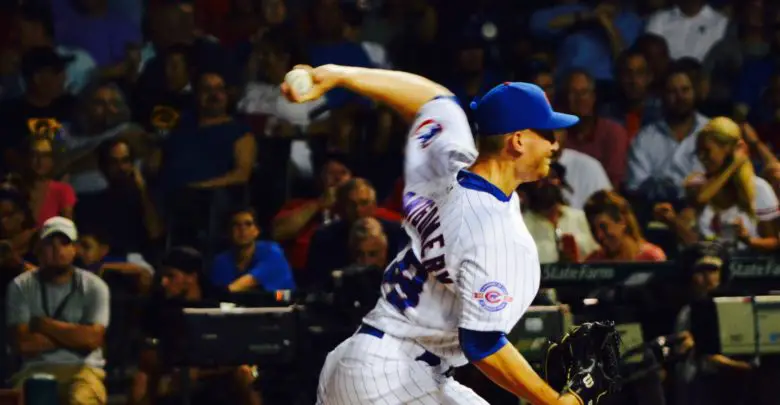 The Rundown: Cubs Split DH, Montgomery Could Remain Sixth Starter, Morrow Injured By Pants
I'm not a fan of the split doubleheader, or doubleheaders in general. It's just too long of a day to dedicate to one thing. It's almost like a muscle and blood job.
Cubs manager Joe Maddon is opposed to splitting it into day/night games.
"My only complaint is the split doubleheader," Maddon said. "I don't like it. I don't think it's a good idea. To be here for a noon game and then a 7 o'clock game, that's wrong. I don't think there's one player, manager, coach who thinks it's a good idea."
"I'm not opposed to the doubleheader, but just play it concurrently," he added. "That gives the body a break. That permits us to have a more reasonable day, whereas guys are going to be here from 9 a.m. to probably midnight with the day game."
I really despise doubleheaders that end in splits. Sweeps happen more than you'd think however. From 2005 through 2014 teams swept doubleheaders 51.8 percent of the time, with the home team sweeping 58.4 percent of those.
The Cubs were one Justin Wilson pitch away from sweeping yesterday. They won the nightcap in extra innings on a walk off single by Albert Almora Jr. after Dodgers manager Dave Roberts intentionally walked strikeout prone Javy Baez to get to the Cubs centerfielder. Baseball can be a frustrating game.
Cubs News & Notes
Every homer Kyle Schwarber hits is majestic.
.@kschwarb12 hits 'em hard and hits 'em far. pic.twitter.com/LKg5fYJwSR

— Chicago Cubs (@Cubs) June 20, 2018
Mike Montgomery is the first Cub since at least 1908 to allow one run or fewer while pitching at least five innings in the first five starts of a season. Montgomery might not be a bad option to move into a starting role as Tyler Chatwood continues to struggle with command. Chatwood walked five Dodgers in five innings in yesterday's afternoon tilt. I prefer Montgomery in the same role he's had throughout his Cubs' tenure.
The Cubs and Maddon aren't necessarily opposed to going to a six-man rotation once Yu Darvish is healthy.
I can't even: Brandon Morrow was unavailable yesterday because he injured his back taking off his pants. Wilson blew game one and Steve Cishek pitched the tied ninth inning in game two. Perhaps Morrow could talk to Clark the Cub about how best to go pantsless.
The Cubs will open the 2019 season playing the Texas Rangers in Arlington, TX.
How About That!
Over his last eight games, Angels OF Mike Trout has reached base in 27 of 36 plate appearances. Even more impressive: He has reached base safely in 22 of his last 27 plate appearances, per the Angels' PR staff.
The Phillies lost 7-6 to the Cardinals on a 9th inning home run by Matt Carpenter given up by closer Seranthony Dominguez.
Still, it might be time for the Cardinals' president of baseball operations John Mozeliak to cut some losses, including Dexter Fowler and Brett Cecil. Fowler is hitting just .169 and has been relegated to the bench in five of the team's past seven games.
The Brewers may not need to add starting pitching at this year's trade deadline with the way Freddy Peralta is pitching. Not to be outdone, Brent Suter is 5-1 with a 3.24 ERA in his last six starts for the Brew Crew. The Brewers aren't going away folks. I said it in February and I still believe that.
Giants closer Hunter Strickland will undergo surgery and miss 6-8 weeks. He fractured his right (pitching) hand when he punched a door in frustration following a very ugly blown save against the Marlins. Shades of Kevin Brown.
Phillies infielder J.P. Crawford didn't punch a door, but he did suffer a fractured left hand in Tuesday night's game against the Cardinals when he was struck by a Luke Weaver pitch in the bottom of the 4th inning. He'll miss 4-6 weeks.
The Rays snapped Houston's 12-game winning streak with a 2-1 victory over the Astros last night despite seven walks from starting pitcher Blake Snell. Snell has been mentioned in trade rumors this season. I'm sure the Yankees and Red Sox were watching.
Tuesday's Three Stars
Johan Camargo – The Braves rookie 3B was 4-for-5 with a home run and 5 RBI in Atlanta's 11-4 win over the Blue Jays last night.
Freddy Peralta – The rookie hurler pitched six innings of two-hit shutout ball with seven strikeouts for his second career win in leading the Brewers past the Pirates 3-2.
Justin Verlander – The veteran right-hander had 10 strikeouts while giving up just one run on six hits in 6 2/3 innings in Houston's 2-1 loss to the Rays.
Hot Takes & Syrup
They Said It
"We'll use common sense. [Montgomery] is pitching so incredibly well. All he's done is taken that opportunity and done all you can with it. We're obviously going to keep that in mind. I'd be careful not to take what I said and turn it into someone losing a rotation spot, either. We have the ability to do many different things. But I would say we've noticed what Mike's done." – Jed Hoyer
"It was personal for me. I learned from my mistakes and didn't try to do too much. But I really wanted that one pretty bad." – Albert Almora Jr.
Wednesday Walk Up Song
Winning Streak by Glen Hansard. Let's close the home stand out with a win and a second straight series victory before the upcoming eight-game road trip.